Case Study: Reducing Cardiology Readmissions & Increasing Patient Engagement with RPM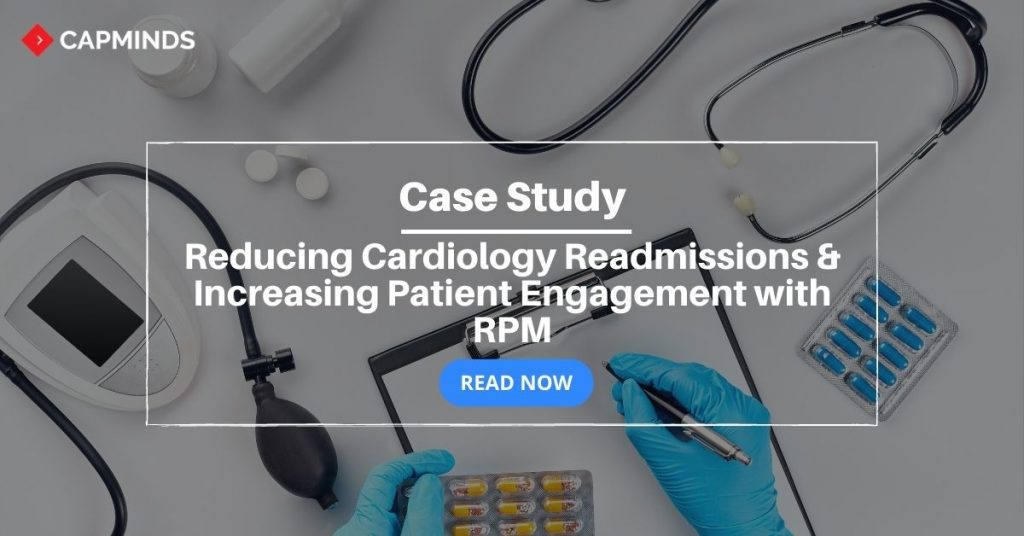 A top US-based hospital specializing in Cardiology, primary care, and urgent care monitors and manages conditions like hypertension, diabetes, heart failure, etc.
They treat patients with in-depth heart conditions who live in rural areas and cannot visit hospitals often for advanced treatments.
With the impact of COVID-19 and the aftereffects, they desperately needed a solution to decrease readmissions and increase easy access to advanced care for those patients in rural areas.
CapMinds' RPM Technology was compatible with them and offered a variety of customized features that could take the hospital to expand grabbing potential opportunities. Once the RPM was implemented, it went through astonishing improvements in its communications and operations.
Business Challenges
High readmission rates: The cardiology hospital had a high rate of readmissions for heart failure patients, which led to increased costs and reduced patient outcomes
Limited patient engagement: Patients were not actively managing their condition, leading to poor adherence to treatment plans and medication regimens
Limited access to healthcare: Patients had limited access to healthcare providers, especially during the COVID-19 pandemic, which further impacted patient outcomes
Our Approach
CapMinds integrated the RPM Solution with the hospital's wearable devices and a mobile app to track patients' vital signs like weight, blood pressure, etc., educate them on their condition, and remind them to take their medication
Proactive care management: The real-time analytics helped the hospital's cardiology team to monitor patients' data remotely and intervene if they noticed any concerning trends. This helped them to contact patients proactively to address any issues and prevent hospital readmissions
Improved patient engagement: The RPM Solution increased patient engagement by empowering patients to manage their condition and providing them with education and resources to help them better understand their condition and treatment
Increased access to healthcare: The RPM program allowed patients to receive care from the comfort of their homes, reducing the risk of exposure to COVID-19 and increasing access to care
The Outcomes
Reduced readmission rates: After implementing RPM, the hospital observed a significant reduction in readmissions, with the 30-day readmission rate dropping from 18.2% to 7.1% and the 90-day readmission rate decreasing from 34.9% to 22.8%.
Improved patient outcomes: It helped patients better manage their condition, improving patient outcomes and increasing patient satisfaction
Reduced costs: The RPM program reduced healthcare costs by preventing readmissions and allowing patients to receive care remotely
Be it treatment for anything, RPM's role is vital. Its use of devices and delivering high-quality care remotely enables patients to relax and forget in-patient visit pressures.
Why choose CapMinds RPM?
Simple new patient enrolment
Manual & automated patient data access
Customizable notification system
Fully compliant billing
Secure & HIPAA compliant
Practice specific support
Real-time tracking
Better at-home chronic care management
Reduced hospitalizations
Efficient Remote Physiologic & Therapeutic Monitoring
CapMinds RPM solution allows patients to use digitally connected devices – like heart monitors and blood pressure cuffs to perform routine tests and share their health data with a healthcare professional. For more details visit our website and get started now with us on your journey to more success.
"Let's make your practice more accessible to people around the world, together"