Apply These 3 Secret Ways To Improve Medical Coding Quality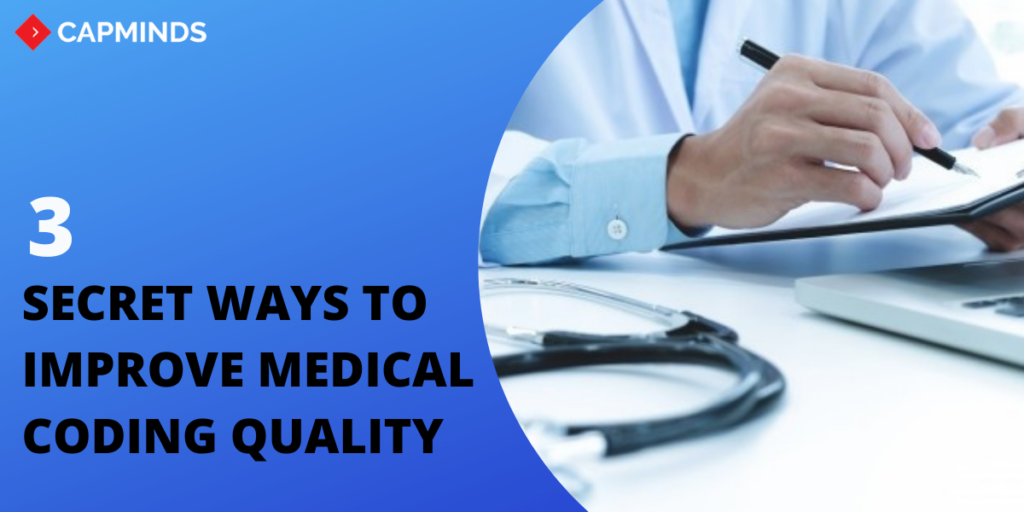 Medical coding quality is a very crucial part of revenue cycle management to ensure clear claims and better reimbursement. So, when done inadequately, it may impact each part of the revenue cycle.
In the past year, the healthcare provider identifies clinical documentation and coding as its greatest revenue cycle vulnerability. Likewise, in the year 2020, the COVID-19 pandemic and increases in value-based reimbursement are considered to be the greatest vulnerabilities that result in decreased revenue.
As the COVID – 19 situations are very serious, the coders started their work remotely and these terms to be one of the challenges with medical coding quality. But still, the healthcare providers can implement expert strategies to improve coding quality and ensure accurate reimbursement whether coders are in-house or working remotely.
This article explains about the secret ways from the experts in the healthcare industry to improve medical coding quality for better reimbursement.
Make the Right Use Of Advanced Technologies
The usage of electronic health records has revolutionized the medical coding. Yes, the EHR software derived a drastic change by bringing the paper-heavy process into the digital age. Though the EHR system is considered to be the most important key to success in the medical billing process, there are also some other technologies to improve the quality and accuracy of medical coding.
Computer Assisted Coding System (CACS)
A computer-assisted coding system (CACS) is software that analyzes healthcare documents and produces appropriate medical codes for specific terms within the document for clinical documentation. According to the American Health Information Management Association (AHIMA), a CACS offers numerous benefits when compared to manual coding.
The benefits of CAC include the following:
Improves coding accuracy and efficiency
Greater coder satisfaction
Eliminates unnecessary paperwork
Identification of clinical documentation gaps
Faster medical billing
Increased coder productivity
Improved revenue due to more detailed bills
To achieve and maintain good coding quality, the existing and new medical coders need to be credentialed by the authorized body such as AHIMA and AAPC and to provide proof of certification. There are numerous coding credentials which include CCS (Certified Coding Specialist), CCS-P (Certified Coding Specialist – Physician-based), CPC (Certified Professional Coder), RHIT (Registered Health Information Technician), and RHIA (Registered Health Information Administrator).
The credentialing ensures that the medical coders have acquired in-depth knowledge and essential training to perform the coding process in a good manner.
Why Accurate Coding Is Important?
The accurate coding benefits the health care organizations and the patient health delivery on various levels including,
Determination of medical necessity and severity of illness
Obtainment of reimbursement
Measurement of quality outcomes
Value-based payment
Regulatory compliance risk management
Use Audits To Improve Medical Coding Quality
The quality coding audit still stays as an essential component for a comprehensive medical coding improvement. According to the 2017 change healthcare study, over $262 billion in claims are initially denied every year largely due to insufficient clinical information. When you audit coders with the goal of continuous professional growth, the positive outcomes ripple both directions within the revenue cycle.
Coders are held to the best practice is to achieve a greater than 95% accuracy rate. There are different auditing methods, but consistency is the key to success. Ensure your audit sampling is statistically valid—the typical sample size is 10% of case volume.
Offer Education And Training Programs
Coding quality audits can uncover key ways to improve medical coding quality. But without a robust education and training program in place, audit findings are nothing more than that.
Creating a learning environment enhances coder performance and keeps them engaged. Providers should communicate audit findings and any changes in coding compliance with coders as soon as possible. Communicating areas ripe for improvement will enable coders to alter workflows immediately to improve coding quality. Communication also ensures coders are on the same page with updates to coding compliance, especially when the unexpected happens.
Final Thoughts
Ensuring high-quality medical coding is important for capturing revenue. So everything you need to do is to ensure credentials, audit quality, and educate. CapMinds offers the best medical billing and Coding services to drive increased revenue and better quality of care.