All About Remote Patient Monitoring(RPM) Devices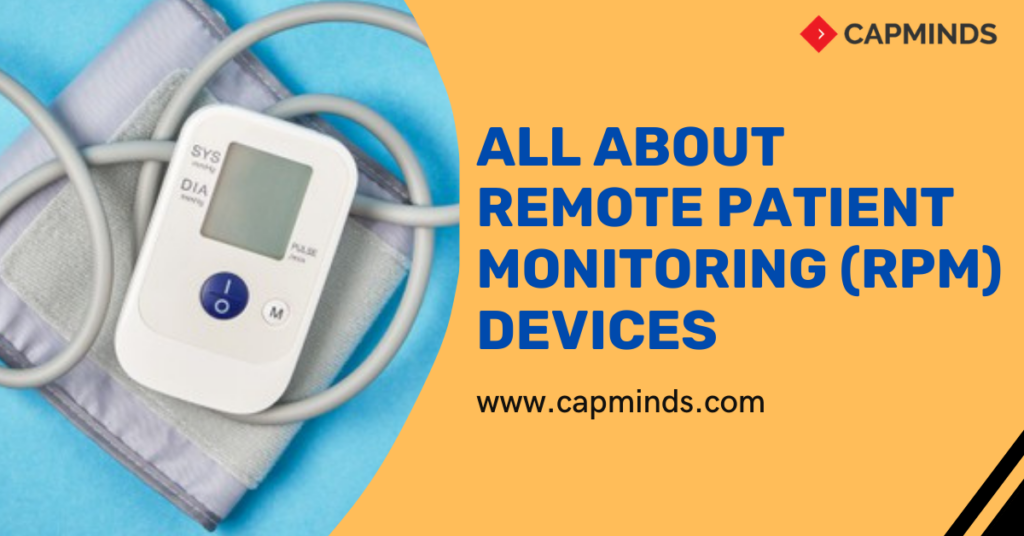 Are you working hard towards delivering timely care remotely to your patients? Remote patient monitoring devices (RPM) can surprisingly make your work easier. The RPM also allows patients to be more engaged about their health conditions and treatments. This guide will explain to you the importance of RPM and the best RPM devices.
What Are Remote Patient Monitoring Devices?
Remote patient monitoring devices help you to observe report and analyze your patient's chronic conditions remotely from anywhere. Patients with a chronic health conditions like diabetes, high blood pressure can able to share updates on their vitals from their comfort of home via RPM devices easily.
The devices such as wearable heart monitors, Bluetooth-enabled scales, glucose monitors accurately gather, transmit, process, and store patient data. so physicians can easily retrieve it when they need it. This kind of health monitoring device helps healthcare providers to take care of their wide range of patients efficiently.
It is very important to research and discuss the functionalities of various RPM tools before choosing them. So here are the best RPM devices every healthcare provider should be aware of before getting started.
Benefits Of Remote Patient Monitoring Devices
The list of benefits includes lower readmission rates in ERs, medical clinics, and care offices. At the point when patients don't need to head out to and fro to offices, they can protect a portion of the time and energy required for healing. Decreasing stress is essential for any fruitful treatment convention—biometrics can show that reality with each adjustment of a patient's condition.
Connected healthcare systems are basic for overseeing individuals with chronic conditions or aging populations with mobility impairments. It empowers numerous individuals to live at home, continue control of their lives, and be completely occupied with their considerations. Remote patient monitoring devices can help diminish the occasions these people should be hospitalized, or if nothing else abbreviate their visits. It can make chronic care management and home consideration more productive and successful.
The Most Common Remote Patient Monitoring Devices
The list of top diseases in the United States includes diabetes and heart disease. Did you know about the RPM devices that help you to track these kinds of conditions in real time? Here we have listed some of the common devices that could save your patients.
1. Blood Pressure Monitor
This simple to-utilize inflatable cuff fills up with air, pressing your arm at that point naturally figuring your patient's pulse and bloodstream by estimating changes in artery motion as it deflates. Some blood pressure monitors take different readings to report everyday midpoints. Home checking can aid early analysis of conditions like diabetes which add to hypertension. It can likewise make healthcare delivery more easily and less stressful.
2. Continuous Glucose Monitor
A continuous glucose monitoring system or CGM is a smaller clinical system that persistently screens your glucose levels in real-time. To utilize a CGM, you embed a little sensor onto your abdomen(or arm), with a minuscule plastic tube known as a cannula infiltrating the top layer of skin. A glue fix holds the sensor set up, permitting it to take glucose readings in interstitial fluid throughout the day and night.
A little, reusable transmitter associated with the sensor permits the sensor to send constant readings remotely to a remote patient monitoring device that shows your blood glucose information. A few systems come with a dedicated monitor and some advanced devices display the information via a mobile application, so there is no need to carry an extra device around with you.
3. Electrocardiography (ECG) Devices
Regardless of whether in handheld, wearable, or fixed structure, this RPM device can help identify perilous conditions. ECG can catch symptoms of arrhythmia, myocardial ischemia, and ST depression—they may even make clinicians aware of cardiovascular chamber anomalies. These RPM devices record electric impulses from a patient's heart and transmit them to a physician in real-time—even during sports training.
4. Heart Rate Monitors
These wearable devices tell you the number of beats a patient's heart takes each moment, so your group can reveal to them when they ought to practice pretty much vigorously—and taking medication more or less again.
Compact mobile devices consequently record and send a patient's pulse information during tasks, work out, distressing occasions, and even rest—which assists clinicians with identifying both symptomatic and asymptomatic arrhythmias, just as atrial fibrillation after cardiovascular ablation.
5. Pulse Oximeter
These non-obtrusive clasps are commonly appended to fingers or earlobes to measure light wavelengths that determine blood oxygen levels. The light estimates the extent of hemoglobin in oxygen-immersed blood. Heartbeat oximeters likewise take a patient's pulse.
These remote patient monitoring devices have been utilized for quite a long time by individuals with persistent heart or lung issues, and by individuals who supplement oxygen to change their stream. That is the reason they're particularly useful in identifying declining lung functions (which, nowadays, may incite a COVID-19 test). This kind of device may also be used for fitness tracking purposes.
Final Thoughts
RPM is going to be on top of advanced technologies and a standard for patient care due to the expansion of virtual healthcare services and the increase in chronic care conditions. The future of remote patient monitoring can be unimaginable. These remote monitoring devices allow healthcare providers to offer smart and timely care to their patients remotely.
Are You Ready To Implement Remote Patient Monitoring?
In today's healthcare landscape, getting started with remote patient monitoring services will help you to promote quality of care and improve practice productivity. By truly understanding the functionalities and benefits of RPM devices, CapMinds will help your health practice to deliver quality care to your patients remotely.