Achieving Healthcare Interoperability: 3 Best Practices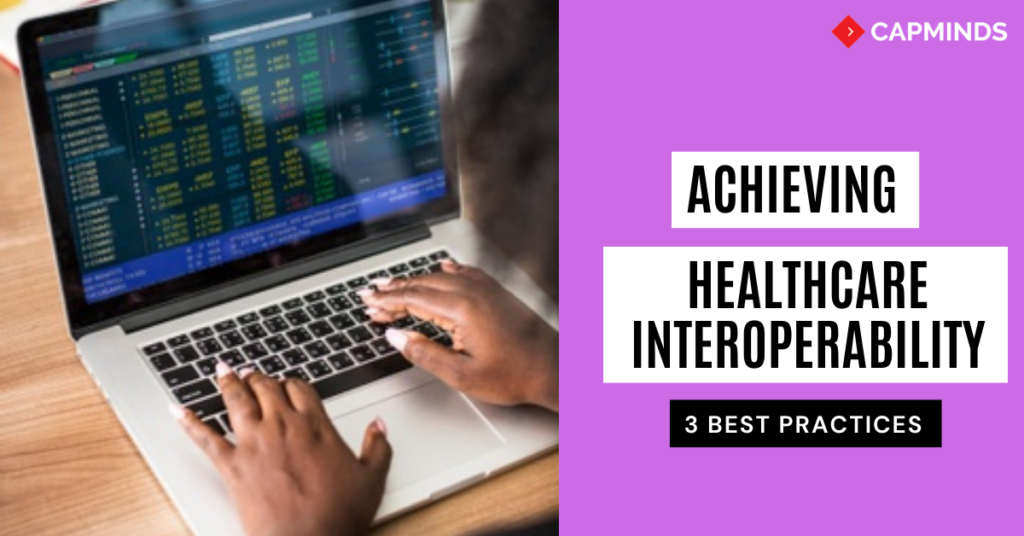 Today the healthcare industry's started realizing the value of interoperability and leveraging the advanced technologies to improve processes like patient access to health records, prior authorization, patient engagement solutions, and remote patient monitoring to create interoperability solutions.
Starting from improving patient experience, reducing healthcare costs to maximizing patient outcomes, healthcare interoperability offers numerous benefits to medical practices, physicians, and patients. Apart from the valuable benefits of interoperability, it results in some complexities for healthcare organizations which include secure data exchange, a mix of cloud APIs, and an interface that serves to be major healthcare interoperability.
The Centers for Medicare and Medicaid Services (CMS) Interoperability and Patient Access Final Rule has prepared the healthcare providers to reevaluate their innovative techniques to support secure healthcare data exchange. So in this COVID-19 pandemic era, achieving true healthcare interoperability is very important. In this article, we discussed some of the best practices which should be considered in improving the interoperability process.
3 Best Practices To Achieve Healthcare Interoperability
1. Direct Secure Messaging For Data Exchange
Today direct secure messaging is considered to be a secure tool to communicate between healthcare providers and patients. And also numerous providers are started adopting advanced secure messaging tools in terms of convenience. From admissions to discharges, appointment scheduling to physician consultation, direct secure messaging platforms are extensively used in care coordination solutions to facilitate seamless patient engagement.
The healthcare Interoperability rule guarantees predominant information security by binding medical care information—which fundamentally supports remote patient monitoring. Healthcare organizations leverage cutting edge innovations to incorporate numerous levels of information security—to guarantee information protection. A few Healthcare practices even charge patients to get to their records—adding another layer of information security and assurance.
Direct communications are intended to be incredibly adaptable and can be coordinated with different stages like mobile, health IT portals, and more. Healthcare secure messaging offers better information exchange by making patient feels more comfortable and also allows healthcare providers to provide better health solutions.
2. Record Based Queries In Healthcare Information Exchange
Record-based queries play a vital part in Healthcare Information Exchanges and are broadly utilized in the 2021 healthcare landscape. A typical system is made by a group of healthcare providers in a specific area to encourage information exchange between professionals.
For example, a patient's healthcare data need to be accessed and analyzed by various professionals like physicians, medical practices, labs, nursing homes, etc throughout their healthcare journey. Here the record based queries provide seamless and secure functioning of data exchange.
Health IT organizations like CapMinds provide advanced interoperability platforms like FHIR to encourage health data exchange between care providers. Other than benefiting physicians and practices, healthcare IT solution providers also additionally provide dedicated networks and Consolidated Clinical Document Architecture (CCDA) for ambulatory care centers, radiologists, laboratories, and post-acute care providers.
3. Cloud Fax For Improving Interoperability
Fax remains the essential communication tool in the healthcare system, where 75% of clinical communication occurs over fax. In any case, significant clinical communication happens through cloud fax, satisfying the essential interoperability guidelines of medical services information exchange.
Health experts can rapidly and effectively interpret data on a bit of paper without requiring a fax machine or a printer. Cloud fax controlled by medical services cloud technologies gives computerized documentation and solutions that can be easily organized in folders and larger document solutions – making it significantly easier to incorporate with your interface. Cloud fax helps healthcare practices to accomplish functional interoperability most straightforwardly and securely.
Final Thoughts
To achieve true interoperability in the 2021 healthcare system, the medical practices can adopt advanced technologies like direct secure messaging, cloud fax, and more as discussed above. The advanced technologies combined with AI will also help to improve patient engagement and achieve better health outcomes.
To adapt to the digital transformation and empower your organization with interoperability, CapMinds provide FHIR integration services to deliver secure healthcare information exchange and improved patient experience.