A Simple Guide To Automated EHR Data Extraction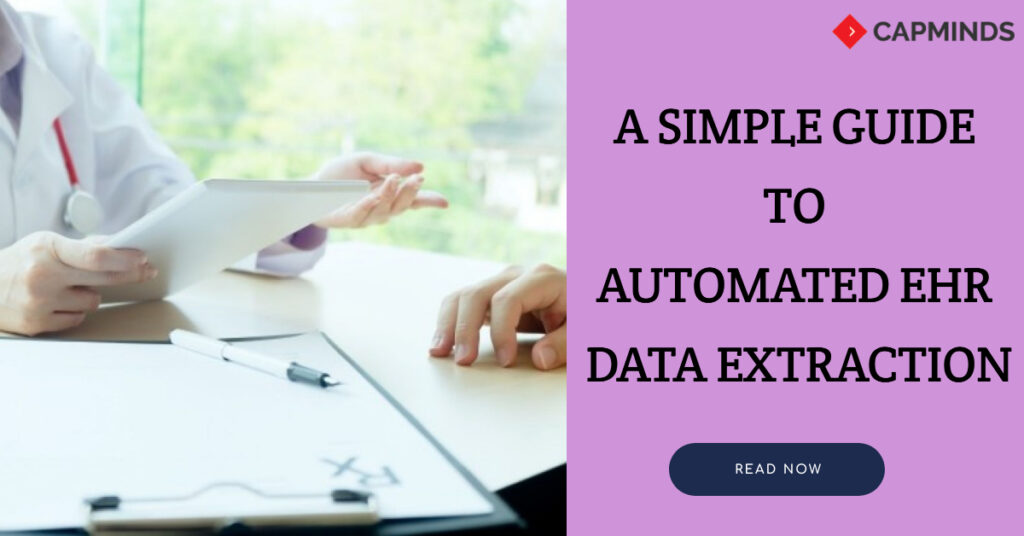 The use of automated EHR data extraction has opened the door to great opportunities for healthcare providers. During this time of COVID 19 pandemic, the physicians have faced a lot of key technical challenges in sending and receive patient medical records, issues related to EHR interface, and most commonly, the defects in extracting EHR data.
As the spread of the pandemic coronavirus is growing, interoperability and patient health data exchange remain to be critical for healthcare organizations, physicians, and payers.
According to the recent report, 40% of hospitals report that public health agencies are unable to effectively receive patient data, which impacts the way COVID-19 is reported and treated. Enhanced interoperability will be important to monitor the spread of the virus and also it offers benefits for physicians as well, such as streamlining care, fostering patient-centered care, and lowering healthcare costs by an estimated$30 billion.
EHR data extraction is a part of EHR data conversion. So in this article, we have explained about EHR data conversion and the benefits of automated EHR data extraction.
What is EHR Data Conversion?
EHR data conversion is one of three essential alternatives to move all data from a legacy EHR system to a new system. This is cultivated through a cycle known as ETL. During an ETL EHR data conversion, patient data is EXTRACTED from the legacy system, TRANSFORMED to align with the map created for the new system, and LOADED into the new system. EHR data conversion can be performed through manual data abstraction or automated data conversion.
Types Of EHR Data Conversion
1. Manual EHR Data Conversion
Manual EHR information change is where significant data is gathered from a patient's clinical record and interpreted into discrete fields or areas inside the new EHR. This is a manual information section exertion where hierarchically characterized, clinically significant components of information are gathered from the legacy system and manually entered into the new target system.
Manual data abstraction and data entry has a lower initial cost. However, costs exponentially increase with each record. Therefore, it is cost-effective when the data set is small, but prohibitive in many instances when the data set includes greater than 30,000 records. Furthermore, this method of conversion is subject to a great deal of human error, and each record runs a significant risk of manipulation.
2. Automated Data Conversion
In an automated conversion, source values are extracted from both the legacy (source) system and the new (target) system to create a conversion map. That map is entered into conversion utility software. Data from the legacy system is run through the conversion utility and transformed to meet the needs of the new system. While it is transformed, the conversion utility monitors total errors, parsing errors, mapping misses, percent complete, date/time to finish, and success rate. After the data has met the standards, it is then loaded into the new system.
Automated data conversion is the most efficient and effective way to retain and access patient data in a new EHR.
Health systems and medical practices have chosen this data conversion path for the following reasons:
• Reduced legal risk
• Clinical convenience
• Preservation of access to valuable data
• Faster decommissioning of legacy EHR
• Full utilization of new EHR
• Efficiency of a single system
• Increased patient interaction time
• No risk of data manipulation
• No delay in inpatient history retrieval
• Limited variable costs
Benefits of Automated EHR Data Extraction
Enhanced Clinical Decision-Making
Ideal point -of-care arrangements offer creative capacities as a one-source, payer-rationalist stage that empowers doctors to quickly access, separate, and electronically export patient health information from a meaningful use-certified EHR to the continuity of care document (CCD).
Physicians' practices should search for an imaginative methodology that upgrades work processes and clinical dynamics. This can wipe out human transmission mistakes which can come about because of faxing and transferring documentation for supplemental information. In particular, this automated EHR data extraction approach closes real-time quality gaps.
This is a chance to regularly extract information created in a doctor's EHR and give a patient's full clinical history, including actionable insights on diagnoses, inpatient/outpatient visits, and medicines at the purpose of care. Viable CCD file extraction wipes out the 30-60-day slack from claims frameworks to close care gaps, makes activity plans, and drives bi-directional communication between the payer and doctor.
CCDs also assist in Transitions of Care management. Typically, when patients switch health plans, claims history does not follow. CCDs improve referral and authorization time and provide a patient's history, all of which helps to reduce patient and provider abrasion/burden and leads to faster care.
Furthermore, when it comes to risk adjustment, the CCD process helps to support revalidation, suspicion of new conditions, and documentation of medical diagnoses that were missed simply because a clearinghouse failed to clear the diagnosis when it was billed.
Final Thoughts
Physicians who need their practices to stay manageable are moving towards value-based models and grasping the tools that give the most effective high-contact care, produce improved results, and empower them to improve financial goals.
Today, physicians across the country need this automated EHR data extraction technology solution to drive data interoperability, optimize care quality, reduce administrative burden, enhance value-based care initiatives and improve financial performance and communication in an effective way.
Ready to switch to new EHR system? Contact CapMinds Today
RELATED POSTS