Top 10 Benefits of Salesforce Health Cloud for Population Health Management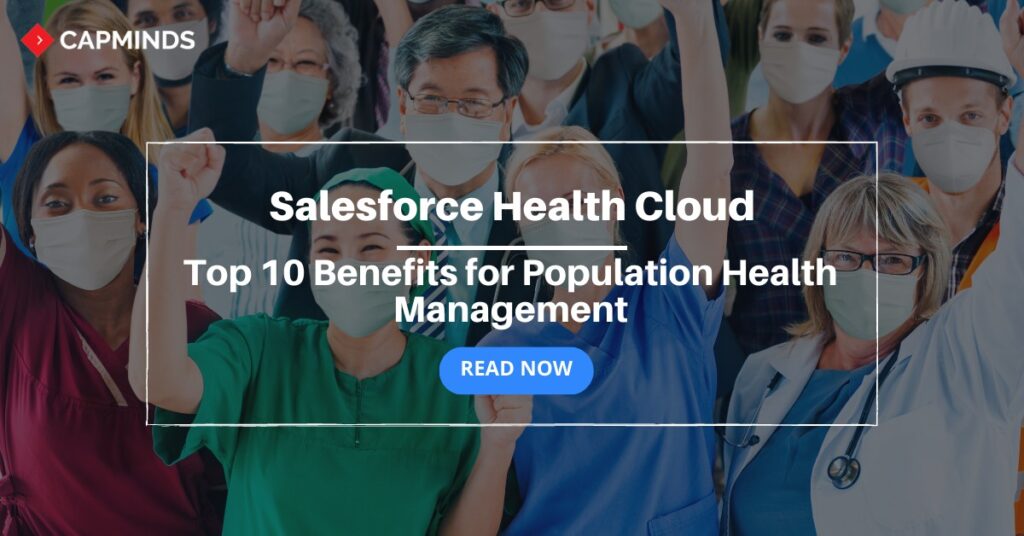 Salesforce Health Cloud is a powerful customer relationship management (CRM) platform designed for the healthcare industry. 
What is WHO?
The World Health Organization (WHO) is a specialized agency of the United Nations (UN) responsible for international public health. The WHO was established on April 7, 1948, and has its headquarters in Geneva, Switzerland.
The organization's primary objective is "the attainment by all peoples of the highest possible level of health." To achieve this goal, the WHO works with governments, non-governmental organizations (NGOs), and other partners to promote health, prevent diseases, and improve access to healthcare worldwide.
The Functions of WHO
Providing leadership on global health matters
Shaping the research agenda and setting norms and standards
Providing technical support to countries and monitoring and assessing health trends
Developing policies and strategies to address global health issues
Advocating for increased investment in health
Coordinating responses to health emergencies and disasters
The WHO is involved in a wide range of health-related activities, including disease control and prevention, maternal and child health, environmental health, nutrition, and strengthening health systems. The organization is also responsible for coordinating the international response to major public health emergencies, such as pandemics and outbreaks of infectious diseases.
The WHO's work is guided by the principles of equity, solidarity, and universality. The organization is committed to working towards universal health coverage and achieving the Sustainable Development Goals related to health.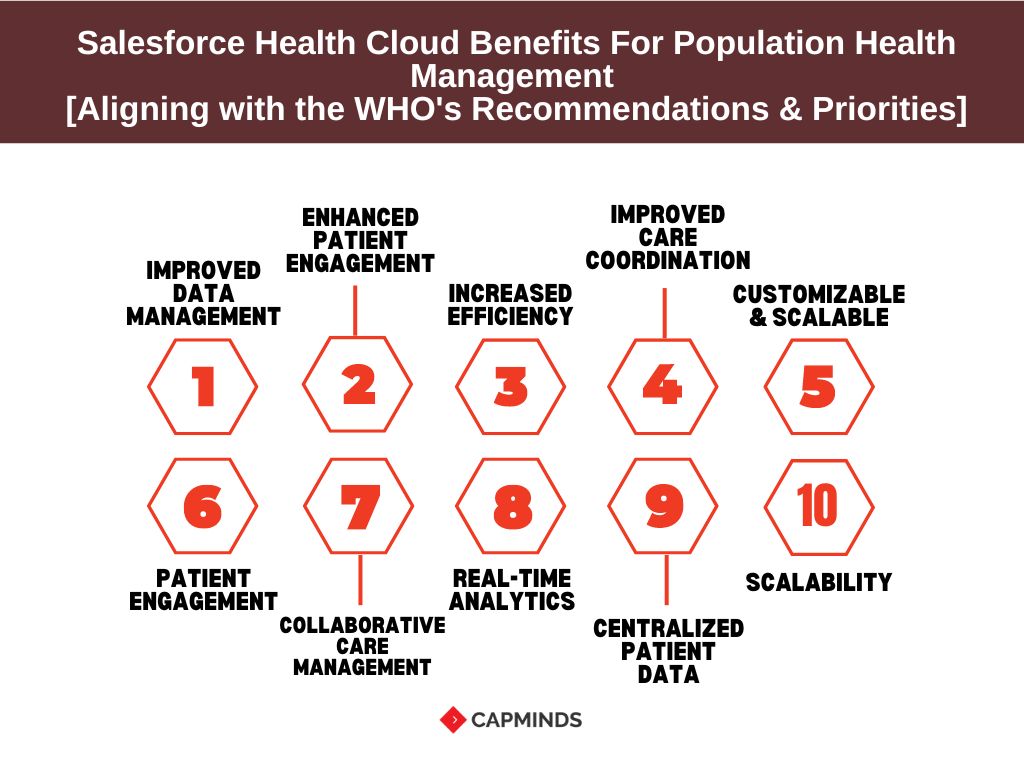 Salesforce Health Cloud for Population Health Management
When used for population health management (PHM), Health Cloud can help healthcare organizations;
Improve patient outcomes
Increase efficiency, and
Reduce costs
The Benefits Of Using Health Cloud For Population Health Management that align With WHO's Recommendations & Priorities
1. Improved Data Management
Health Cloud's centralized platform help providers better manage patient data, which is essential for effective population health management
This leads to improved data quality, better data sharing, and more accurate analysis of health trends and outcomes
2. Enhanced Patient Engagement
Health Cloud's patient engagement tools help providers to improve patient participation in their own care, which is a key component of effective population health management
By encouraging patients to be more engaged in their care, providers can prevent chronic conditions, reduce hospital readmissions, and improve overall health outcomes
3. Increased Efficiency
Health Cloud's collaborative care management features help to streamline care delivery & reduce the administrative burden
This allows providers to focus more on patient care
This improves efficiency & reduces costs, which is important for healthcare organizations operating in resource-constrained settings
4. Improved Care Coordination
Health Cloud's collaborative care management features help providers to improve care coordination among different providers and care settings
This is particularly important in population health management, where patients may receive care from multiple providers across different settings
5. Customizable and Scalable
Health Cloud's flexible platform allows providers to customize the platform to meet their specific needs
It also allows them to scale their operations as their patient populations grow
This helps healthcare organizations to expand access to care & improve health outcomes in underserved communities
6. Centralized Patient Data
Health Cloud provides a single, centralized platform for healthcare providers to store and access patient data
This makes tracking and managing patient health outcomes easier across different providers and care settings
7. Real-Time Analytics
Health Cloud provides real-time analytics that enables providers to monitor and manage population health more effectively
The platform can identify trends & patterns in patient data, which can help providers to develop targeted interventions
8. Collaborative Care Management
It enables collaborative care management, allowing healthcare providers to work together more effectively
Providers can share patient data & communicate with each other in real time, which can improve the coordination of care and reduce duplicative services
9. Patient Engagement
Health Cloud provides tools to engage patients more effectively, including portals, mobile apps, and other communication channels
This improves patient satisfaction, reduces readmissions, and promotes better self-management of chronic conditions
10. Scalability
Health Cloud is a highly scalable platform that can grow and adapt to the needs of healthcare organizations of all sizes
This allows providers to expand their services and reach more patients without incurring additional costs
Health Cloud Security Services from CapMinds
CapMinds offers you the smartest and safest health cloud security and interoperability services across healthcare platforms. Our advanced scalable features, secure cloud, system patching, and version upgrades will transform your organization into a future tech-friendly one. We offer all kinds of integrated services across various health systems and platforms along with unique customization and 24/7 support.
Our medical device integration, connected health, healthcare cloud, and cybersecurity solutions like salesforce health cloud cover health tech startups, the federal government, multi-specialty practices, large healthcare practices, and small clinics.
Our most popular features:
HL7 FHIR
HIPAA compliance
MACRA, MIPS
Meaningful Use
Cloud Security
AI solutions
Cloud-based EHR solution with advanced techs guaranteeing your medical facility 100% cybersecurity
CapMinds' Interoperability and compliance services cover your patients' health data with maximum security, privacy, and confidentiality. We update ourselves with the latest versions like HL7 Version 2, Version 3, FHIR, SMART on FHIR, CDA, X12, Mirthconnect, and security standards. CapMinds offers the best HL7 integration and HL7/FHIR interface development services for the federal government, health tech startups, laboratories, clinics, and practices.
"Unite with us to get the best out of future-proof interoperability services"