Too Many Collections Pending? EHR too rigid?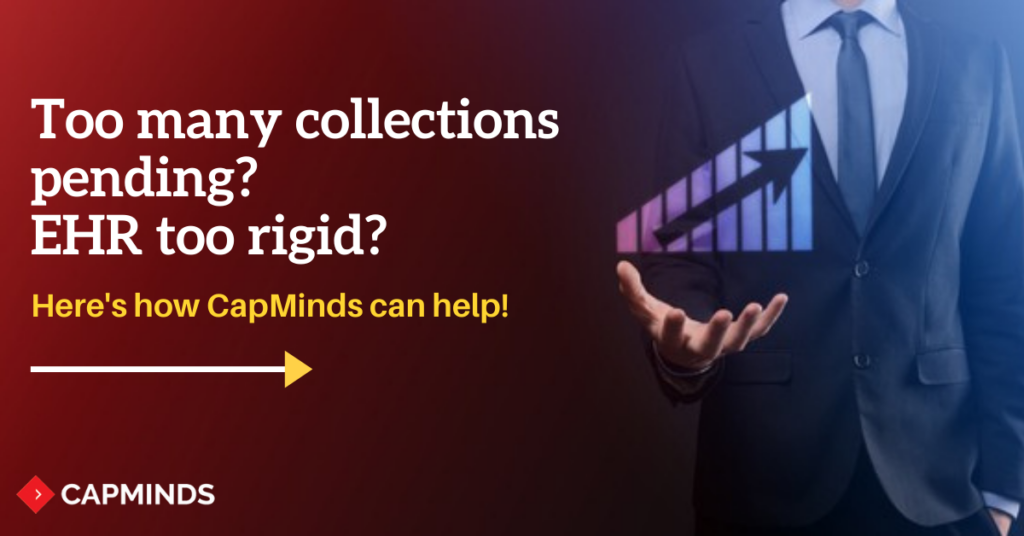 Do you have a lot of collections pending and the EHR is too rigid for your workflow? Here's how CapMinds can help:
Better Communication Between Physician and Financial Staff
On the surface this might sound like an obvious answer but in reality almost 70% of the providers face issues conveying their concerns to the RCM company. CapMinds offers a dedicated Billing manager for your practice and is available 24/7 for anything and everything
Establish Workflow Consistency
It goes without saying that any successful practice needs to establish consistency in its workflow processes to improve revenue cycle management. CapMinds helps you with centralized scheduling that works towards practice efficiency for instance, helping billing managers see ahead of time how many staff members are needed, pre-register patients, and ensure insurance companies and patients know what they owe.
EHR Customization
With state of the art technology advancements CapMinds is able to offer customizations on the workflow of EHR suitable to each individual practice's needs. This enables you to use the EHR the way you prefer. CapMinds also offers various customization options and plans so that you get the customization how you like it and when you like it.
Interoperability
Communication of information in an EHR may be hindered because interoperability is inadequate within components of the same EHR or from the EHR to other systems. CapMinds offers interoperability to any scale and type so that all your data communicates with one another and you get a comprehensive outlook.
Why should CapMinds be your 1st choice?
Do you want to increase your collections, boost revenue and turn your medical practice into a highly reputed star? Of course, that isn't easy!
But there are a few vendors who make your entire medical billing and RCM task easier and quicker.
CapMinds ranks top among those best EHR and RCM service providers. And it's loved by millions of healthcare practices. With CapMinds RCM you can easily improve patients collections with advanced tools – track, collect and post patient copays during the checkout process and more.
We pride ourselves to say that we offer EHR to be a multi-purpose tool that can do more than just the basics and fulfill our client needs.