Reviewing your Practice's AR Aging Report : Is It Important?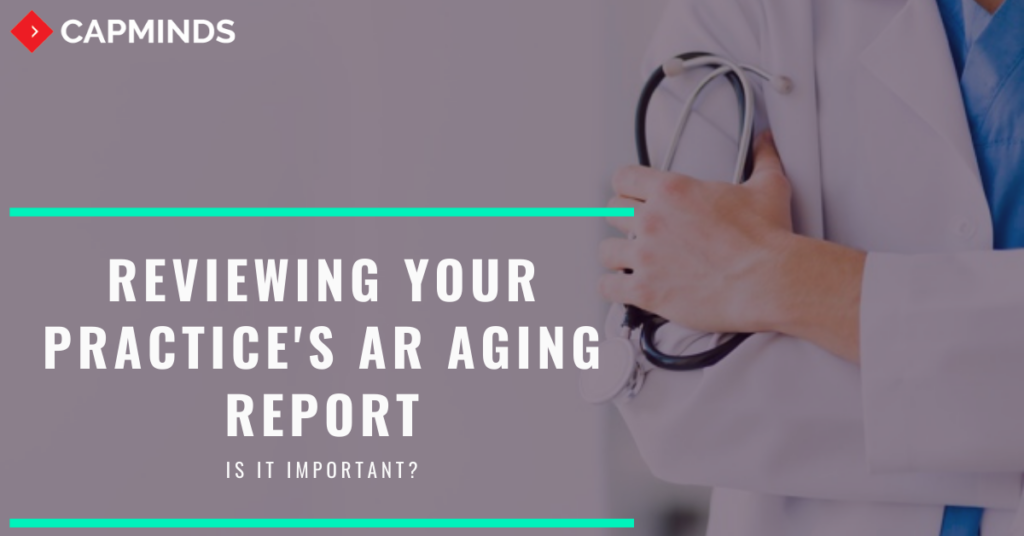 In today's healthcare industry, medical billing and coding process is considered to be a complex and time consuming task. In this process, the important factor to be considered is AR Aging report. Do you correctly review medical practice AR aging report? Here are the importance of reviewing your medical practice's AR Aging report and the ways to improve the Aging process.
For a detailed insight on aging AR, you can divide the Accounts Receivable on the basis of CPT codes and insurance. Such reports will help you find the billing performing metrics and get in you in the loop with the performance of medical billing department.
Most physicians do not check the Aging report as it is assumed as a tedious task for the in-house account department. However, if you go to outsource your medical coding and billing task, the worries surrounding the reviews of AR aging report can be taken care off.
Why reviewing your AR Aging report is important?
The healthcare industry involves the complex process of medical billing a coding process. In this process, one essential factor to be considered in the accounts receivable aging report. This factor helps the company to retain financial stability which eventually leads to success. In order to define what accounts receivable is, we can say it's the amount owed to a company for their treatment of a patient. Therefore, it can be said that AR plays a huge part in the revenue earned by the organization. This means that it needs good management techniques.
One way to reduce account receivable is to make sure there is a minimal gap between the time of submission and payment. The company can follow up claims right after submission to achieve such a situation. The best way is by making sure the claims are submitted within 72 hours after the treatment has taken place. In order to properly handle the account receivables of a company, a process must be followed. The person does not only have to track unpaid accounts but also assess payment action as well as apply procedures. This allows secure payment to take place without any issues.
Proper AR management is important in ensuring that claims are paid. This way no patient has any due charges and the medical billing company is able to generate good revenue. This means that if the accounts are not collected timely, the company might face problems. They might be unable to contribute the right amount of resources to their practice, leading to decreased effectiveness.
RELATED : ALL ABOUT ACCOUNT RECEIVABLE(AR) IN HEALTHCARE
How to improve your AR Aging and make it work for you easier?
Routinely working on report
Routinely working on aging report makes it easier and simple to work as the problem claims are taken care and missed claim are checked. This consistently eliminate the claims that are piled up on reports. You need to know that if you don't adhere to work on claims report regularly then get ready for growing workload.
Always track the actions taken on Suspicious Claims
Keeping a track of points that seem suspicious can reduce the workload. You will only have to keep an eye on the verified claims.
Dispose the Uncollected Claims
Having claims that are not collectable come with an headache and also double up the work. For instance, if you have claims that has no justification for an appeal and you can't even bill patient, then get the claim right out of the system.
Verify the Clearinghouse Reports
Usually the responses to why any calin is not paid are mentioned in the clearinghouse reports. If you will not verify these reports then the cases will remain outstanding with no clarification. When you will check the clearinghouse reports and will take appropriate action on problematic claims. You will discover that either these cases not be on aging report (As they would have been processed) or will have clarification as to why they are i report and any further activity is not required.
Get Enlisted with insurance provider's website for status checks
Checking claims online is less demanding than a call. Enlisting medical billing website and insurance will make it less demanding to work the review the AR Aging report.
Coding Audit
Works with eloving changes in coding and compliance requirements. Make sure that correct coding is used at all times for financial health of clinics, doctors office and hospital
Collection Aging Audit
Collection aging reports are audited preciously, identify the gaps in coding, billing, payer followups, patient followups etc. Also, accurate recommendations will be provided to doctors office
Credentialing & Pre-Auth
Major part of denials happens due to poor credentialing and in-consistent prior authorization. Our audit team finds gaps and related revenue loss in past and recommends recovery strategy