Healthcare Data Integration: All In One Guide For Practices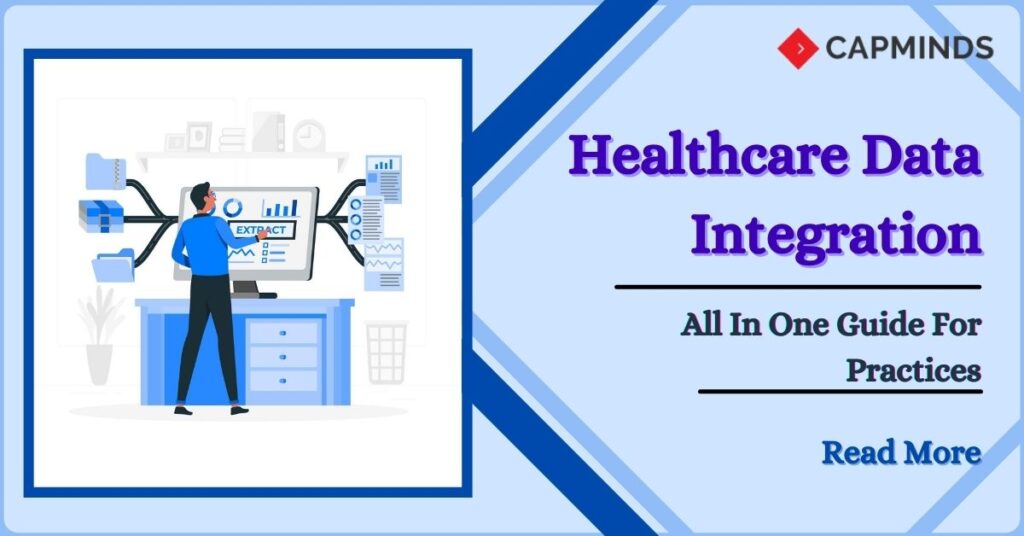 As you all know healthcare industry operates on its prime foundation. Guess what? Yes, it is its "data and information". Without data, nothing can happen in this particular industry. It is so crucial for the effective functioning of any healthcare-based domain. You do agree with us, right?

So think of healthcare without data. Actually can you? Data integration and interoperability are the two key features that make everything operable and sane in this field. Without them, things become tough and sometimes impossible.
Healthcare Data
Health data is any data "related to health conditions, reproductive outcomes, causes of death, and quality of life" for an individual or population. Health data includes clinical metrics along with environmental, socioeconomic, and behavioral information pertinent to health and wellness.
Traditionally, these data included and were collected based on the services provided by the healthcare providers, conditions of those services, and the results/information or clinical outcomes regarding those services.
But now the case has changed with the advancements of e-health and health information technology.
Now the use and collection of health data have expanded, by providing the needed security, privacy, and meeting ethical concerns.
Digital health plays a major role in the expansion of the collection and usage of health data in this digital world.
According to a source, "Data integration involves combining data residing in different sources and providing users with a unified view of them. This process becomes significant in a variety of situations, which include both commercial (such as when two similar companies need to merge their databases) and scientific (combining research results from different bioinformatics repositories, for example) domains".
Let's go deeper into the focused topic now.
What Is Data Integration?
Data integration uplifts the collusion between internal as well as external users.
The major goal of healthcare data is to improve the quality of healthcare and reduce the costs, by which providing significant understanding to the patients, researchers, and the people who use them for their educational purposes.
Why Is Data Integration Important In Healthcare?
This particular domain collects and handles a tremendous amount of data daily. More and more healthcare organizations are investing in big data and artificial intelligence (AI). They need to have a rock-solid big data strategy to collect, analyze and process the data they gather.
This is where data integration comes into place. It collects data from two or more different sources into a single source. Data can be transformed or shared throughout this process. Healthcare organizations use data integration to get a consolidated view of their services.
Data integration gives a 360o view of a healthcare organization's functioning and helps them in effective decision making.

The Healthcare system needs effective data integration tools, as data collection, storage, integration, and analysis are still broken processes in healthcare, without a doubt. Healthcare data integration and unification have been aimed while making standards that are adopted in many countries.
One of the best ways to achieve effective data flow is by employing integration software to combine the data within different applications in your software stack.
In healthcare, the adoption levels of IoT technology might be slower than the other industries, but there is no denying the fact that it is going to play a significant role in healthcare moving forwards.
Clinicians can now take advantage of the ability to seamlessly search across healthcare systems with data integration. This helps to get a whole picture of a patient's Electronic Health Record (EHR).
Concerns About Data Protection
Protecting data and information from hackers and breaches becomes very specific and important when it comes to the healthcare industry. Health information security is an iterative process driven by enhancements in technology as well as changes to the health care environment.
HIPAA has given some standards which are aimed at protecting healthcare data and HL7 standards have smoothened clinical and administrative data communication between applications used by various healthcare providers.
Benefits of Healthcare Data Integration And Interoperability
New standards of data integration by healthcare systems can facilitate the smooth exchange of electronic information.
It also helps in the reduction of costs and problems of building interfaces between different systems.
The important element of data sharing in the healthcare industry is interoperability.
According to Healthcare Information and Management Systems Society (HIMSS), healthcare data interoperability is "the ability of different information technology systems and software applications to communicate, exchange data, and use the information that has been exchanged".
The data and information about an individual/a patient available in the EHR can be shared with ease with other medical providers in case of emergencies.
Patients living in rural areas receive quality care with the help of IoT.
IoT ensures these with the help of telemedicine and data analytics.
The data can be analyzed up to minute particulars, which helps professionals to identify threats earlier.
By holding on to IoT and big data, the real opportunities to access quality, reduce costs, and make sure of every decision made, is the right one.
Challenges faced
In a healthcare organization, each tool and application like billing software, e-mail marketing, EHR, etc, are maintained by different teams. They all have their methods of working. This makes things difficult to be managed.
Maybe the data you search for would not be available in the desired place to integrate.
The data you have may be of low quality or outdated.
Each healthcare organization has its own need and nature. While doing integration, one should use the perfect integration software, which would be suitable for their work.
Too much data may also be a challenge for data integration.
Data formats cannot be standardized.
Medical wearables do not always provide accurate data.
Even though there are more regulations and security guidelines for securing data, there is no doubt that they are still open to being the targets.
Let's Wind Up
Our world is moving at a pace where low-quality services, outdated technologies, invalid data, etc, have become things that nobody wants. Internet is the god of people now. No one can disagree with us regarding that. Data integration, HL7 & interoperability, EHR, everything has become a must included part of the fast-growing healthcare sector.
If they aren't a part of your practice, you even can't survive in this tech-driven healthcare world.
Don't know where to start? Don't worry, CapMinds is here to help you. We provide services like HL7 & interoperability to make your data integration much easier.
Visit our website and contact us for hassle-free data integration services. Have a great day.
"Let's make your data integration easier and safe, together"