What Is IoT In Healthcare? –A Complete Guide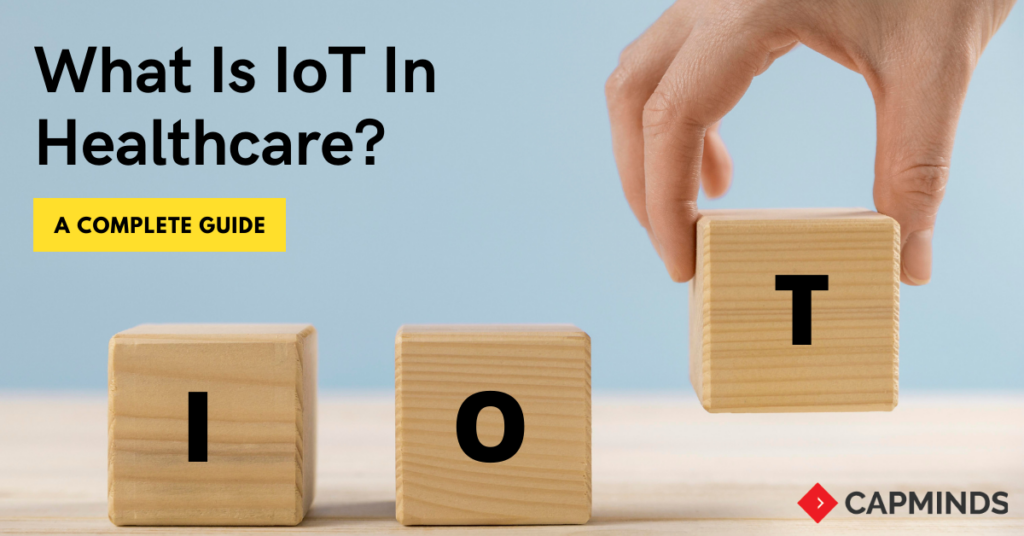 IoT in healthcare is growing tremendously and more people are relying on smart healthcare devices and technologies to access care during their day-to-day lives. To meet the growing demands of the digital world, health vendors are started providing creative solutions to enhance high security, convenience, and comfort with the help of IoT applications.
What is IoT in healthcare?
Of course, everyone knows about the applications of the Internet of Things in various sectors, but what it is in healthcare.
IoT in healthcare refers to connected healthcare devices used in hospitals, clinics, and other medical settings. The healthcare-specific IoT devices usually differ from traditional IoT technologies with specific terms like medical IoT and Internet of Medical Things (IoMT). Some of the common application of IoT devices in healthcare includes body scanning, heart rate monitoring, hand hygiene monitoring, patient monitoring, smart thermostats and more.
Benefits of using IoT in healthcare
Patient-centric care
Medical IoT helps transforms patients into active participants during their treatment process, thus improving the total healthcare outcomes. Furthermore, it helps to improve overall patient satisfaction with healthcare delivery, right from enhanced communication with medical staff to physical comfort.
Reduced healthcare costs
Non-clinical patients can remain at home and use cloud-associated clinical IoT gadgets, which assemble, follow and send health information to the healthcare practice. Furthermore, with the assistance of telehealth software, patients can plan e-visits with medical caretakers and specialists without visiting the emergency clinic.
Reduced readmissions
Patient apps associated with biosensors assist with guaranteeing consistency with a discharge plan, empower brief detection of health state deviations and give a chance to timely contact a health professional remotely.
IoT-based patient care
Medication intake tracking
IoT-based medication tracking allows doctors to monitor the impact of a prescribed medication's dosage on a patient's condition. In their turn, patients can control medication intake, e.g., by using in-app reminders and note in the app how their symptoms change for their doctor's further analysis. The patient app can be connected to smart devices, (e.g., a smart pill bottle) for easier management of multiple medications.
Remote health monitoring
Among examples of employing IoT in healthcare, this use case is especially viable for chronic disease management. Patients can use connected medical devices or body-worn biosensors to allow doctors or nurses to check their vitals (blood pressure, glucose level, heart rate, etc.) via doctor/nurse-facing apps. Health professionals can monitor this data 24/7 and study app-generated reports to get insights into health trends. Patients who show signs of deteriorating health are scheduled for in-person visits.
Helps underprivileged rural people with the extended reach of the doctor so that proper guidance can reduce the death rate in rural are.
Reduce travel and hospitalization costs overall.
Timely access to data by medical personnel increases the potential of this application.
Increasing demand for this type of IoT application in healthcare as anytime anywhere access is possible.
Sends a notification to doctors if the patient does not take medicine regularly.
IoT in Healthcare: Interoperability
Different healthcare organizations started collecting a massive amount of data produced by IoT devices. Collecting those data, IBM Watson and Teva began a new IoT project that will be responsible for creating new methods of treatment and prediction of chronic disease. Healthcare organizations use artificial intelligence and natural language processing to organize this data. It's a perfect example of data science or big data in the healthcare system.
Well, organized data will start a new era of forward-thinking technology.
Historical data will help doctors to find out the exact need of the patient.
An IoT device sends and receives data via cloud storage. As a result, the same data can be reachable by multiple devices that are impossible with the current system.
Data management by IoT technology leads to better patient care.
Each hospital management system could be a research sector for data science.
The Future of IoT in Healthcare
According to a Business Insider report, the market for IoT healthcare technology will rise to $400 billion by 2022. Such growth will be due to the increasing demand, the improvement of 5G connectivity and IoT technology, and the growing acceptance of healthcare IT software. The plans of tech giants like Apple, Google, and Samsung to invest in bridging the gap between fitness tracking apps and actual medical care are sure to contribute to the process too.
Despite the downsides, further digital transformation in healthcare is inevitable and the concept of IoT will continue to capture and change the landscape of healthcare services. Thus, it seems to be high time to look beyond the challenges and embark on the journey to connected healthcare devices.
The use of IoT technology in healthcare will continue to rise in the future due to the growing demand for remote patient care. If you are in need of the best IoT solutions for your healthcare practice, CapMinds is here to help you with advanced services including smart wearable integration, intelligent health management, and real-time location system.