FHIR Mandates: What Does It Mean For Digital Health?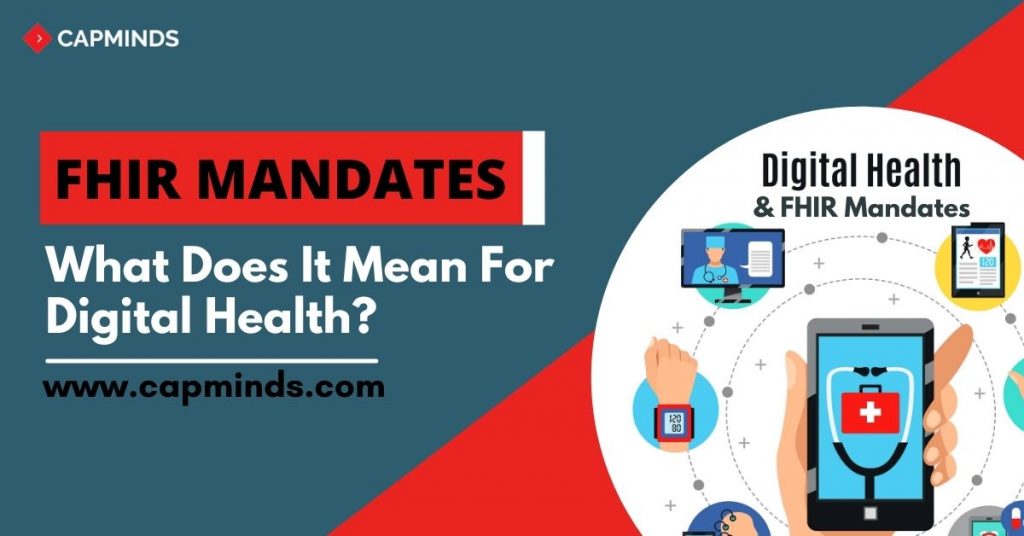 The Health Level 7 (HL7) has been asking a question since 2012, "what health information exchange will look like if modern approaches were used?". Then the U.S. Centers for Medicare and Medicaid Services (CMS) finally mandated the use of Fast Healthcare Interoperability Resources (FHIR), especially for regulated organizations.
There is no need to argue that the healthcare industry is moving faster toward digitalization now especially in the past few years due to the pandemic. Digitalization is the proven future for the healthcare industry.
But for any industry to move forward toward digitalization, a strong foundation must be needed. Every digital corporation depends upon one thing: data. And it is the basic thing for healthcare.
For successful virtual diagnosis, seamless patient experiences, and discoveries in healthcare innovation, the foundation will be patient data. Easy access to health data with compliance is very essential. This will allow the healthcare industry to develop and improves patient lives.
FHIR – The Implementations
According to a source, Fast Healthcare Interoperability Resources (FHIR) provides an alternative to document-centric approaches by directly exposing discrete data elements as services. For example, basic elements of healthcare like patients, admissions, diagnostic reports, and medications can each be retrieved and manipulated via their resource URLs.
In 2014, the U.S. Health IT Policy and the Health IT Standards committees endorsed recommendations for more public (open) APIs. A collaboration agreement with Healthcare Services Platform Consortium (now called Logica) was announced in 2017.
In 2020, the U.S. Centers for Medicare & Medicaid Services (CMS) issued their Interoperability and Patient Access final rule, (CMS-9115-F), based on the 21st Century Cures Act. The rule requires the use of FHIR by a variety of CMS-regulated payers, including Medicare Advantage organizations, state Medicaid programs, and qualified health plans in the Federally Facilitated Marketplace by 2021. Specifically, the rule requires FHIR APIs for Patient Access, Provider Directory, and Payer-to-Payer exchange.
What Is FHIR? And For What It Was Created?
As we mentioned earlier, the HL7 FHIR standards were created for simplifying the sharing process of health information by payers, providers, and patients.
So before its creation, electronic health records (EHR) and many other healthcare data were stored in different kinds of systems, which made it's accessing and sharing difficult for providers across systems.
This eventually increased the costs, decreasing the speed of making decisions, and reducing the outcomes. This is a serious issue that should be tended to immediately. So HL7 worked hard and produced the FHIR standard. It is a developer-friendly one to attain better interoperability across many healthcare systems.
Healthcare data were either sent and received by manually faxing between providers or by using XML-based continuity of care documents before FHIR to transfer records electronically. And neither of these were standardized.
But FHIR is data in a standardized format specially made to allow efficient storage and transfer of healthcare data. It enables quicker connection of health records outside networks. By FHIR standards the core of any health data system, the security, SMART app on FHIR is a protocol that allows access to patient information securely in compliance with HIPAA and other regulations. Everything is done digitally.
RELATED: 5 Steps To Uplift Health Tech Innovations With Data Interoperability
FHIR Vs HL7
FHIR not only supports messaging like HL7 V2, but it also does support different options for enabling data exchange among systems.
Still, the main difference between the two is that, unlike HL7 V2, FHIR uses RESTful services and open web techs, like JSON and RDF data formats. The RESTful API approach replaces point-to-point interfaces with one-to-many. This makes it easier to do the data exchange and also minimizes the time taken to recruit new data exchange partners.
Folio3 Custom medical software Development Company offers Folio3 EHR/EMR integration solutions that support HL7 implementation by integrating third-party technologies and wearable devices to create smarter experiences for both doctors and patients.
Benefits Of FHIR Mandates
Fromm allows providers to deliver faster and helps them render more accurate care for patients, FHIR plays an important role for each associate in the healthcare ecosystem. Let us see them differentiated.
1. For providers
To improve patient outcomes, the providers can communicate all over the care spectrum, regardless of the electronic health records (EHR) being used. Another thing that will reduce administrative costs from gathering patient data from different sources, is data standardization.
2. For patients
To engage the patients in their healthcare journey, FHIR has authorized several innovations. Few of them are integrated at-home health tracking devices, appointment scheduling portals, etc. These are being developed continuously to create a better engaging healthcare ecosystem for patients.
3. For laboratories
Labs can now effortlessly collide and work with different providers due to the increased connection between healthcare networks by welcoming a soaring quantity of testing requests and digitally delivering result quickly than ever.
4. For payers
This is for the insurers. Data standardization allows them to totally streamline and measure the way health records are recovered and analyzed. To notify risk assessments and underwriting, the payers will be able to collect health records electronically.
5. For researchers
Incorporating data sources into one standard format will let stakeholders within the healthcare ecosystem make data-oriented healthcare decisions, resulting in the improvement of patient care and medical innovation.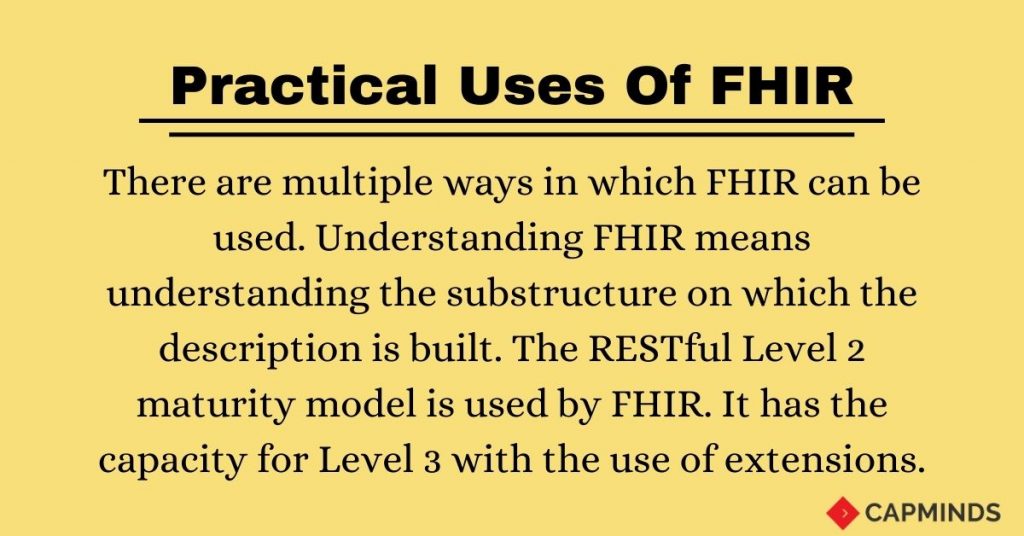 An Overview
Fast Healthcare Interoperability Resources (FHIR) is a next-generation standards framework created by HL7 that powers communications API to simplify implementation while preserving data integrity. HL7 is the standard that helps in characterizing the best possible transmission of information between healthcare applications. And FHIR mandates facilitate the necessary regulations for achieving safe interoperability.
Now that we know how important is FHIR for achieving greater interoperability in healthcare systems and how does it mean to digital health systems. FHIR was particularly designed by HL7 for this mere purpose.
Choosing the best FHIR service provider for your practice is an important task on which your practice's future interoperability depends. Select CapMinds and you won't be disappointed. We facilitate real-time data access and healthcare delivery.
Fast Healthcare Interoperability Resources (FHIR) is a next-generation standards framework created by HL7 that powers communications API to simplify implementation while preserving data integrity. HL7 is the standard that helps in characterizing the best possible transmission of information between healthcare applications.
To effectively convey medical solutions, healthcare applications should be able to share, integrate, exchange, and retrieve data between themselves. With CapMinds HL7 FHIR your data will be available, discoverable, and understandable while maintaining structure and standardization.
Select Capminds FHIR HL7 integration solutions. Visit us for more information.
"We ensure your interoperability will be safer and faster with us"