Do you think you are paying too much for your EHR and RCM services?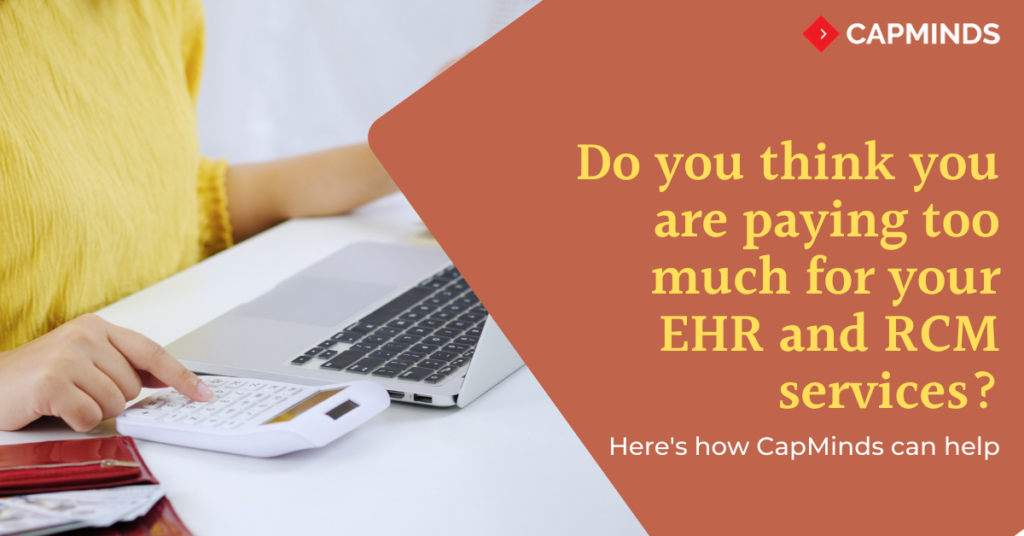 Here's why you might be right.
According to our most recent 2020 Technology Survey, completed by 1,017 physicians, nearly one out of four said they paid more than $10,000 for EHR software alone, excluding hardware and training costs. The Office of the National Coordinator estimates the average cost, all things included, for an EHR is about $35,000 per physician, notes Pandi Paramasivan, CEO of CapMinds Technologies. But he has a set of solutions that will help you reduce the cost multifold.
According to him these steps taken before choosing an EHR and RCM service would ensure your money is spent on the right services and in the right amount:
1. Figure out what you need
Practices that fail to engage in a needs assessment and simply make purchase decisions based on vendor recommendations often find their new product lacking. A solid needs assessment takes into account where a practice is going. Another solution to this is to build your own EHR with your custom needs.
There are technology companies like CapMinds that help deliver custom made software tailored to a practice's needs. This might sound expensive but it's reasonably cheaper(thanks to advanced automation). These companies also offer bundled solutions with RCM that enables them to offer technology solutions at a lower rate.
2. Project ahead
If you're buying a new piece of technology, it's important to look at your long-term goals. CapMinds offers a comprehensive outlook to your EHR and RCM implementation. They are also very transparent with their pricing, a single penny won't be charged without your approval. This will help you keep track of your expenses and be on top of your spending.
3. Partner with your peers
Afraid of going broke after purchasing your EHR? Perhaps you should look into teaming up with cost-conscious peers in your geographic area. There are practices that have bought the same EHR at the same time as their neighboring, competitor practices in order to share money on training costs, and a central IT help desk. CapMinds offers flexible plans that can suit your complex needs.
4. Manage Training Cost
When staff have a difficult time adapting to or understanding the system, errors are more likely to occur. A tool that was originally developed to increase communication and quality of care may actually create a riskier healthcare environment. CapMinds offers free training to it's clients and the staff, So you don't have to worry about training costs
What Makes Your EHR Stand Out?
Whether you're buying a perpetual license up-front or going with a cloud-based service with a monthly fee, every penny matters the most. CapMinds cloud-based EHR holds improved features that encompass huge benefits for both clinicians and patients. Keeping up with the latest trends and updates, they analyze your entire workflow and how your current technology fits into it.
You can also get access to the advanced features including
Order entry/management
Clinical decision support
Public health reporting
EHR alerts
Financial dashboards
E-Prescribing
Reporting on quality measures
Patient portals
Advanced lab integrations
Does Your Current EHR Stack Up?
Does your current EHR check the above features? or are you feeling like overpaying for your EHR and RCM services/features you don't need? Then it's time to make a switch to CapMinds EHR and revenue cycle management services for enhancing healthcare delivery and improving practice productivity.