Creating Patient Focused Telehealth: 4 Pro Tips Even The Experts Miss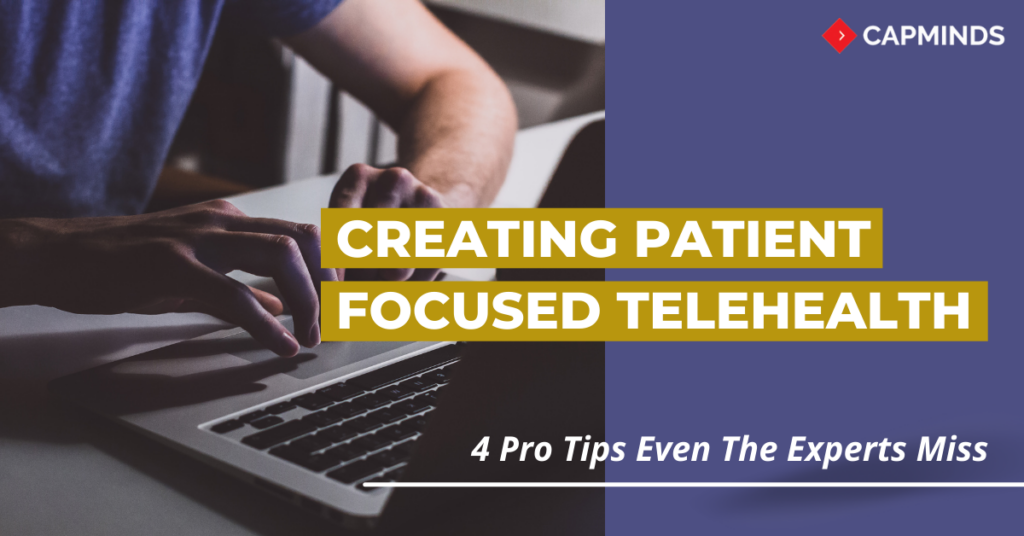 When it comes to patient-focused telehealth implementation, most healthcare providers are unaware of the best strategies to do it successfully. But, for sure these telehealth solutions will be the best way that slows them to continue serving patients remotely and improve their practice productivity.
The covid-19 outbreak has shown the real need for virtual healthcare services in today's technological world. Even though telemedicine is not a new concept to the industry, in response to the pandemic, telehealth has expanded enormously. What may be the reason behind this huge adoption? The virtual visits fulfill the unique needs of allowing healthcare providers to continue care while eliminating the health risks of in-person visits during these tough times.
While telehealth services have it's own advantages, there are some drawbacks too. The healthcare providers are now struggling to keep up with the emerging regulatory changes – which makes it difficult for them to know about when they can offer patient-focused telehealth services & how to ensure maximum reimbursement. Also, some patients are struggling to access telemedicine due to the lack of knowledge of these services.
As we know the huge adoption of telehealth as the new norm, this article serves as a necessary guide to providers on creating and improving patient-focused telehealth experience.
4 Pro Tips For Creating Patient Focused Telehealth
1. Be Prepared To Fix The Technical Issues
The achievement of a patient-focused telehealth treatment session has a ton to do with the technology providers and their patients use previously, during, and after the appointment. In this way, before implementing a telemedicine program in their facilities, suppliers ought to recognize the technology their patients are most happy with utilizing—contemplating those patients who are generalized as being tech-opposed. Most of the seniors are using technology as the year's pass and the providers should not omit them from their telehealth considerations.
As well as checking what patients can deal with technology-wise, building a successful telemedicine program requires having the right equipment and a strong internet connection that can support live two-way video streaming. A successful setup with easy to use and secure internet connection enhances the patient experience.
It's significant that— in addition to using the right tools, healthcare providers should make sure that their tools are working well and capable of handling the demands of the services. For instance, if a facility's internet connection isn't so good, providers should utilize Ethernet cords when conducting telehealth sessions to guarantee that the connection will not drop, yet additionally that they don't miss any significant data relating to their patients' wellbeing.
2. Prepare Your Patients For Telehealth Visits
Most of the patients feel uncomfortable while shifting from in-person visits to virtual visits. The medical visits are typically private so it is very normal for patients to be hesitant while shifting towards online visits.
Thus, it's critical for telehealth service providers to know about the exact patient's understanding. Because today patients are no longer driving to the clinics and waiting for so long to consult their physician – there is a lot of difference between attending in-person visits and online telehealth visits. Some patients may carry out their online visits while cooking or during their office breaks. Providers should be aware of these conditions when running virtual visits. Understanding patient's current situation will help providers to engage with them in new and thoughtful ways.
So, the healthcare providers should make sure that the clinic staff are properly trained and completely comfortable providing these telehealth services from start to finish. Often, patients won't prefer the online visits if the providers feel uncomfortable during a telehealth visit. So, the provider needs to practice conducting telehealth interactions in the best way – this helps them to deliver a better patient experience.
3. Don't Forget To Describe The Services You Offer
Today patients trust online healthcare visits more than ever. All age groups of people are using the services to a great extent. Even though you provide the best patient-focused telehealth program and people are not aware of what services you are offering – it's useless. So don't forget to inform your patients about the features and services you offer. Start by notifying your current and new patients that telehealth is available if they need to continue care with your organization. After understanding their interest in telehealth, describe to them what special with your telehealth visits
Create an attractive message that informs patients about your new telehealth features.
Explain how effective your telehealth program when compared to in-person visits.
Explain how telehealth can benefit patients in accessing care.
Additionally, providers should make use of social media to reach more patients.
4. Go With Your Patient's Choice & Find What Works Well
Telemedicine can altogether improve access to medical services. So providers should carefully select the telehealth services they provide because those services improve overall patient satisfaction and improve profitability.
It's additionally essential to fluctuate your way to deal with patient-focused telehealth relying upon the populace you're serving. For instance, if patients go to your facility explicitly to get manual treatment, remote treatment services will be futile to your customer base. However, there are numerous kinds of patients whose necessities can be met for all intents and purposes—it's simply a question of matching them with the right remote care options.
For example, live video (or synchronous) telehealth visits might be appropriate for patients who require an at-work environmental assessment or the individuals who are searching for more education and guidance corresponding to their care plans. On the other hand, store-and-forward telemedicine instruments might be more qualified to patients who are recuperating from a physical issue at home, as these applications permit suppliers to send pre-recorded materials that exhibit stretches and fortifying methods to help patients securely and precisely execute remedial activities on their own.
Summary
By offering a user-friendly and affordable patient-focused telehealth experience, providers can easily retain their patients and reduce costs by limiting in-person visits. Telemedicine is here to stay and in the future, so the clinics that embrace the virtual patient experience will enjoy better patient outcomes.
Interested In Telehealth Solution For Your Practice?
Need assistance in implementing the right solutions for your practice? Avail of the benefits of telehealth with CapMinds best telehealth services. We are here to provide secure services with HIPAA compliant interface which enables practices to deliver remote care to their patients.
Our telehealth adoption can make a significant contribution to screening, testing, and treatment efforts against coronavirus. Even for patients that have medical conditions unrelated to Covid-19, our telehealth solutions make it possible to deliver care remotely.