Advanced Guide To Mental Health Billing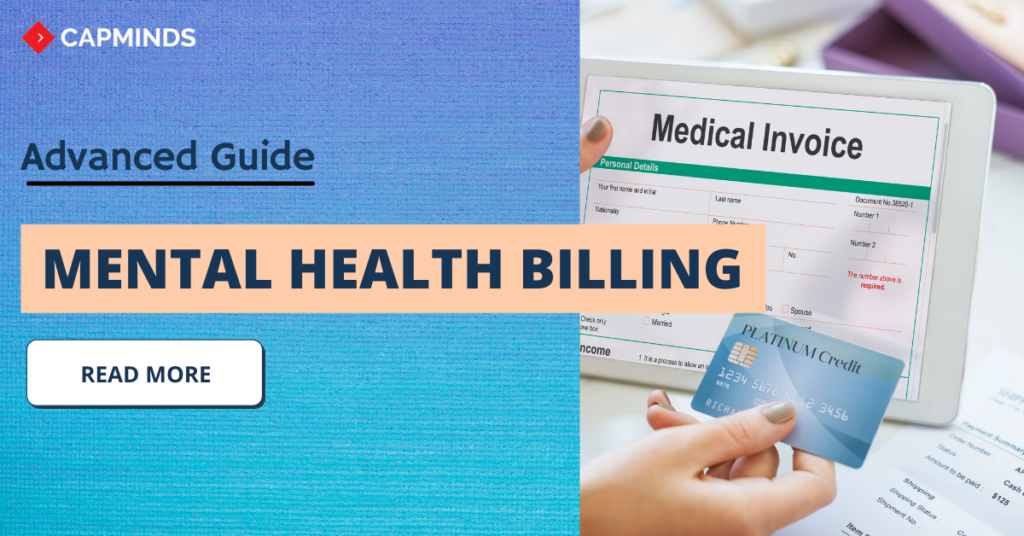 Mental health billing differs from medical billing because of certain variables that are inherent to providing mental health treatment. This guide can help you understand the mental health billing process and set up systems that make the whole affair easier.
How do you bill for mental health services?
1. Understand the difference between ICD-10 and CPT codes.
Both medical and mental health billing require the use of ICD-10 (International Classification of Diseases, 10th update) and CPT (Current Procedural Terminology) codes. The latter is more important because ICD-10 codes indicate the patient's diagnosis, whereas CPT codes denote how you're treating the diagnosis. You can't bill payers for a diagnosis, but you can bill them for your treatment services.
The ICD-10 book includes more than 200,000 codes. There are even more CPT codes, but mental health practitioners will mostly use the codes that start with digit 9. These codes, which are always five digits, pertain to mental health testing, assessment, psychiatry evaluation and management, case management, and telehealth. Some telehealth codes will begin with G instead of 9.
Notably, the length of a patient encounter changes the CPT codes you'll use (which isn't the case for standard medical billing). CPT code 90834 signifies a 45- to 55-minute session, and anything longer gets the CPT code 90837. Properly coding your services based on length makes for an easier billing process.
2. Familiarize yourself with E/M and psychiatric evaluation codes.
The many CPT codes that you should know should fall into two categories:
E/M codes: You'll use these codes in your billing when evaluating a new patient issue. Each E/M code requires the below three documentation elements.
History: Here, you'll indicate the patient's current diagnosis, system review, and family and social history.
Examination: Here, you'll detail the patient's history, current issue and the exams you've performed.
Medical decision-making: Here, you'll state how many diagnoses were given and how many treatment methods were administered during the patient encounter. You'll also list any potential complications and explain the complexity of the patient's data.
Psychiatric evaluation: If your psychotherapy session also includes psychiatric elements, you'll need to bill and code these elements separately. Notably, any time devoted to psychiatric evaluation cannot count toward your time spent providing psychotherapy services. For example, if you spend 50 minutes on psychotherapy and 10 minutes on psychiatric evaluation, you'll use CPT code 90834 instead of 90837.
3. Verify the patient's insurance benefits.
Once you're familiar with the ICD-10, CPT, E/M and psychiatric evaluation codes relevant to your services, you can formally begin the billing process. The first step is to conduct a verification of benefits (VOB) for each patient before their first visit. To do so, obtain a copy of the patient's insurance card. Then, log in to the insurer's provider portal and determine whether the patient's insurance covers your services. If no portal is available, call the insurer.
4. Know which billing form to use.
In both medical and mental health billing, you're likely to encounter two billing forms: UB-04 and CMS-1500 – also known as Form HCFA. If you employ front-office staff, they will use the UB-04 form; practitioners will fill out CMS-1500.
In either case, you should have your National Provider Identifier (NPI) and tax identification number (TIN) readily available. You should also understand the type of information required in each section of the form, since different payers may require different information.
Best practices for billing mental health services
If you follow these best practices for your mental health billing, the tedious process will be more bearable.
1. Always conduct a VOB.
The importance of the VOB process simply can't be overstated: The small amount of time you take early to verify your patient's benefits can save you hours of work later. When your clients know what their insurance will – or won't – cover, they are better prepared to make those payments to you in a timely manner.
2. Make and store copies of insurance cards.
The mental health billing process is based on the data on your patient's insurance card. This information will tell you how to seek and receive payment for your services, so if you get it wrong, you'll face delays receiving revenue. When you have copies of your patients' cards on file, you minimize the chances of such errors. We also recommend saving copies of any forms you file, including invoices and superbills.
3. Collect abundant information.
In the mental health billing process, there's no such thing as gathering too much information. Request as many facts as possible, including the patients' full legal names and current addresses. This way, you're more likely to avoid billing delays.
4. Take notes during and after insurance communication.
When payers speak with you, they'll give every conversation a reference ID and indicate the representative with whom you've spoken. You should do the same – just ask your contact for the reference ID and their name.
This way, if you have to contact the payer again (and you almost certainly will), you'll have a traceable record of all billing steps you've taken to date. This process improves accuracy and streamlines future billing.
5. Don't delay the billing process.
The billing process can be frustrating and generally a big sigh compared to treating patients; however, the sooner you start, the sooner you get paid. And if you're worried you can't complete the process solo, the billing features of medical practice management systems (PMS) or third-party medical billing services can provide invaluable help.
Looking for the right medical billing service for your mental health practices?