Advanced Guide To Behavioral Health RCM Software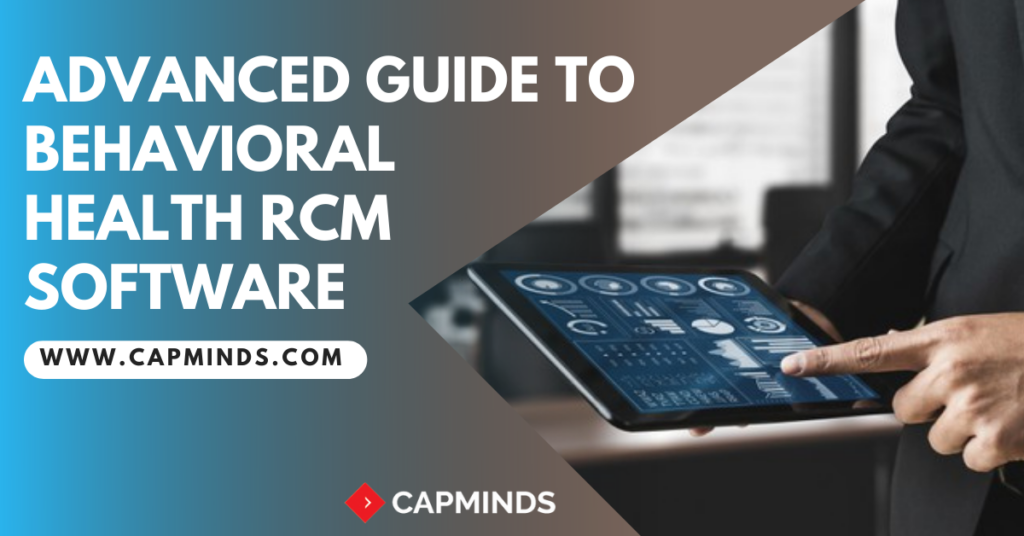 As the behavioral health revenue cycle management offers huge benefits to both healthcare providers and patients, it continues to gain great acceptance in today's 2021 healthcare marketplace.
The behavioral health practices may have a unique set of requirements that are not included in primary care practices. So managing behavioral and mental healthcare practices in the best way is quite difficult when compared to the other practices. Ready to know about behavioral health RCM? In this article, we cover the basics about what is behavioral health RCM software and why outsourcing revenue cycle management is important for behavioral practices.
What Is Behavioral Health RCM?
Behavioral health RCM is a specialty-specific RCM software that helps behavioral health care practitioners to handle successful claims, process payment, and drive better revenue. It simplifies the billing process and helps to speed up the complete revenue cycle.
The best Behavioral Health RCM software enables improvement in A/R, decrease in billing cost, decrease in insurance denials, and improves overall cost efficiency.
9 Steps In Behavioral Health RCM Process
Charge Capture: The provider assigns their clinical services charges in a centralized system.
Coding: While the provider gives each service a charge, they can also match them to the proper ICD codes.
Pre-Registration: During their first contact with a client, the provider obtains basic clinical and financial information.
Registration: After pre-registration, the provider will get further information and the client's permission to create a clinical record.
Claim Submission: Before requesting a payment from the client, the provider must submit a claim to the insurer using software or by contacting them.
Third-Party Follow-Up: If necessary, the provider will also get in touch with any third-party payers.
Utilization Review: The insurance company determines if the service received is covered under the plan and clinically/medically necessary.
Collections: Once the insurer reviews the claim, the provider can calculate the client's bill and charge it to them.
Remittance Processing: After the client submits their payment, the provider reviews all aspects of the bill and accepts or rejects the payment.
Pros & Cons Of In House RCM
If you have limited familiarity with using in-house RCM software, a bit of an introduction is in order, concerning its advantages and drawbacks. Each behavioral health practice will have its own unique set of circumstances, patient population, and medical professionals to take into account when evaluating the potential in-house deployment of Revenue Cycle Management software.
One of the chief advantages of in-house RCM is the potential for a healthy return on investment. This is a factor when your practice has been in business for many years and you have already allocated sufficient resources toward purchasing and installing the application and then on staff training. Another advantage is that if something should go wrong with billing, you can work on the problem locally instead of dealing with a third-party billing services firm.
Behavioral health practice managers who prefer to have more financial control over their operations often turn to in-house RCM software. Drawbacks of using RCM software in your practice include financial liabilities because of the potential for greedy, unscrupulous employees to embezzle from you. Careless employees may leave sensitive information in plain view for unauthorized people to access, which is a major breach of privacy that you must strive to avoid.
If you are short on staff, to begin with, and then a member of the billing department goes on vacation, falls ill, or is terminated, the results could be a disaster for your cash flow.
Benefits Of Outsourcing Behavioral Health RCM
For many owners and managers of behavioral health practices, it makes perfect sense to outsource their medical billing.
Managing your medical collections can be a major burden on your time and staff resources. The complexity of coordinating care for behavioral health patients simply adds to the work that must be done. Another thing to keep in mind is that by outsourcing these tasks, you remove accountability from your staff. If a member of your team makes a crucial error in ICD coding or other important data, the penalties will be your responsibility.
But outsourcing this work shifts the burden to the third party staff. Since they have much more training and spend more time on RCM processes than your internal team could ever hope to achieve, the experience levels and knowledge they possess will outstrip the capabilities of your staff. You can therefore move your focus from RCM tasks and devote more energy toward engaging with your patients.
How To Choose The Best Behavioral Health RCM Provider?
It pays to take your time when evaluating potential providers for your outsourced medical billing. Before you make a decision, check to see if the provider has the following qualities and abilities:
Make sure they offer specialty-specific behavioral health solutions. Failing to understand the complexities of billing for this specialty can lead to unnecessary delays.
By all means, verify that the company has significant experience in the medical billing industry and a proven track record of improving the revenue cycle for the practices they serve.
Your provider should also have a policy of keeping up with trends in the industry, so you can ensure that your practice is consistently using cutting-edge technology for RCM.
Another important factor is that the company will provide adequate training to staff. Insufficient training leads to more mistakes, which will further slow down the flow of revenue in your organization.
Finally, and perhaps most importantly, you must be assured that the provider will keep the lines of communication open. You want them to contact you immediately in case of a problem, and they should respond quickly to any inquires you have regarding bills and provider reimbursement.
Working in behavioral health has its own unique set of rewards for the medical professionals who devote their lives to helping this vulnerable segment of the population. For your staff to do their very best, it makes sense to outsource revenue cycle management services to a third party, putting less strain on your internal resources.
In the long run, outsourcing has so many benefits, you can envision expanding your practice much sooner than your business plans initially called for since third-party billing experts will be taking care of RCM for you while you focus on patient care.
Final Thoughts
Now, you may be very clear about the behavioral health EHR software and how to outsource RCM services to the best provider. The benefits of behavioral health RCM may not be familiar but offers tons of advantages to the healthcare practice. So, the healthcare professionals should make the right usage of advanced development for effective revenue cycle management.
CapMinds RCM is tailored for Behavioral and Mental Health programs. Our medical billing & RCM features are customizable according to the changing trend in the behavioral health industry including the top features – medical credentialing, AR follow-up, claim submission, insurance verification, charges entry, denial management, and more.