A Complete Guide To Wearables In Healthcare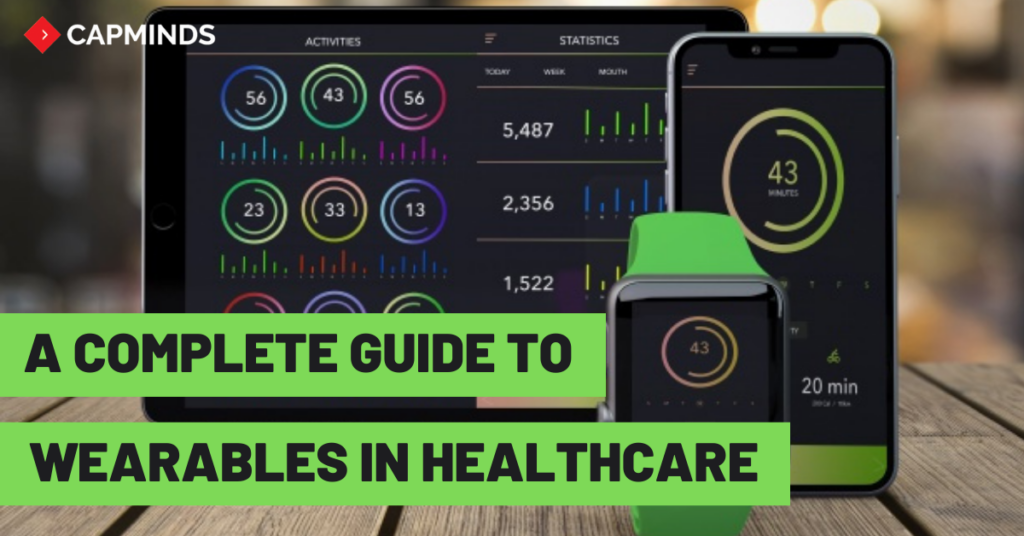 Remote care is becoming a critical part of health operations during this COVID-19 pandemic. It is also expected to continue to be a robust tool for both healthcare providers and patients. As we know, telehealth adopting is reaching great heights in U.S healthcare. However, the telehealth system cannot be successfully achieved without digital devices.
Along with the video consults, the wearables in healthcare offer a great way for physicians to monitor and manage patient progress, even at remote distances. Are you a beginner in this healthcare field? Here is a complete guide to wearables in healthcare which will be useful for beginners to get the start over.
How Wearables Are Changing Healthcare?
Healthcare wearable technology offers many compelling opportunities for improving healthcare in 2021 and the future. Though wearable tech in healthcare begins with relatively simple devices such as smartwatches capable of monitoring heart rate, the 2021 market has now expanded to include more in-depth advanced features and medical information. The healthcare specialists, family doctors, and ongoing care providers, wearable healthcare devices provide the right solution to monitoring their patient's healthy lives.
The advanced healthcare services accessible presently are intended to screen key indispensable boundaries as a way to screen and prevent a scope of illnesses and issues. A large portion of healthcare organizations coordinates wearable technologies into their administration system.
The technology is planned for the right detection of different medical problems. Wearable devices can change medical services by empowering open, consistent, and longitudinal healthcare monitoring. Featured with the actionable health data such as blood pressure, heart rate, and other data, the physicians are better prepared to meet the evolving needs of patients and to improve continuity of care during this pandemic situation.
The Top Reasons For The Rise Of Medical Devices
An increasing number of smart devices and digital tools with IoT
The increasing ability to access timely healthcare support
Increased awareness about accessing healthcare and wellbeing
The wide applications of wearables in home-based healthcare
The rapid adoption of wearable gadgets due to the COVID-19 pandemic
Technological advancement in the field of healthcare
What Wearable Medical Devices Do?
Wearable health devices permit the formation of a novel part of medical care in particular telehealth. This field includes the utilization of digital health data and communication advancements, like PCs and mobile devices, to get to medical care benefits distantly and deal with your medical care. The primary advantage of telehealth is that the data about persistent ailments can be accumulated whenever, anyplace outside the clinical settings, which saves time and above all lives.
An ever-increasing number of individuals use smartwatches and wellness trackers to screen vitals and in overall healthcare, while patients are furnished with gadgets to screen and control sicknesses to find proactive ways to alleviate potential results.
Wearable devices in U.S healthcare permit specialists to give total consideration to every patient without investing a lot of energy. Remote information transmission and alert systems permit the speedy submission of a notification to the clinic or your clinical expert. This allows taking effective steps immediately in case of early symptoms.
Healthcare Wearables Keeps Patients Engaged
Patients will turn out to be considerably more drawn in with their well-being if they can utilize healthcare wearable tech to screen themselves. By gaining admittance to ongoing information which is persistently gathered from the gadget, clients will want to remain educated about their healthcare. Rather than having your information gathered simply by specialists' tests, wearables help patients feel like they're in charge of their wellbeing by permitting them to screen themselves.
At present, most wellness trackers can screen things like activity levels, pulse, and rest quality, among others. Clients can follow these measurements over the long run by inspecting the information gathered by the wearable device so they can see when issues happen, or when things appear to be sporadic. This can likewise spur individuals to improve these measurements by getting more exercise, getting more rest, and participating in other solid practices.
Numerous trackers incorporate highlight where weight and calorie admission can be followed, which advances a sound eating regimen. Having the ability to track progress makes healthcare wearables stand unique in the market.
Steps To Consider Before Getting Started With Wearables
The wearables in healthcare hold equal points of advantages and pitfalls. So how do healthcare organizations implement wearables effectively?
This first thing starts with communication among patients and providers. It's the responsibility of providers and staff to let patients know about the devices and how they can be used effectively.
Before deploying wearable devices, healthcare organizations should evaluate expected risks, for example, confirmation and approval issues, and convey compelling guards, such as multifactor or geolocated access prerequisites.
No advanced devices and tools are completely protected from attacks. Accordingly, suppliers should be set up to recognize, distinguish and remediate dangers to their digital device organizations.
To meet patient expectations around wearables and privacy, incident recovery must include straightforward discussions of any device compromise to reduce ongoing risk.
Final Thoughts
Wearables in healthcare are here to stay and offer fruitful benefits for healthcare providers and patients. While some pitfalls exist, effective steps for security management and privacy risks can help healthcare organizations to overcome the challenges and truly deliver the health benefits of wearables to patients.
How CapMinds Can Help you?
We help healthcare providers and patients to strongly build and manage IoT-powered smart technologies with complete security. Our smart wearable integration services help you to exchange health data securely, monitor patients' health, and also increase overall patient satisfaction.