World Health Day 2021: Improve Quality Of Care With EHR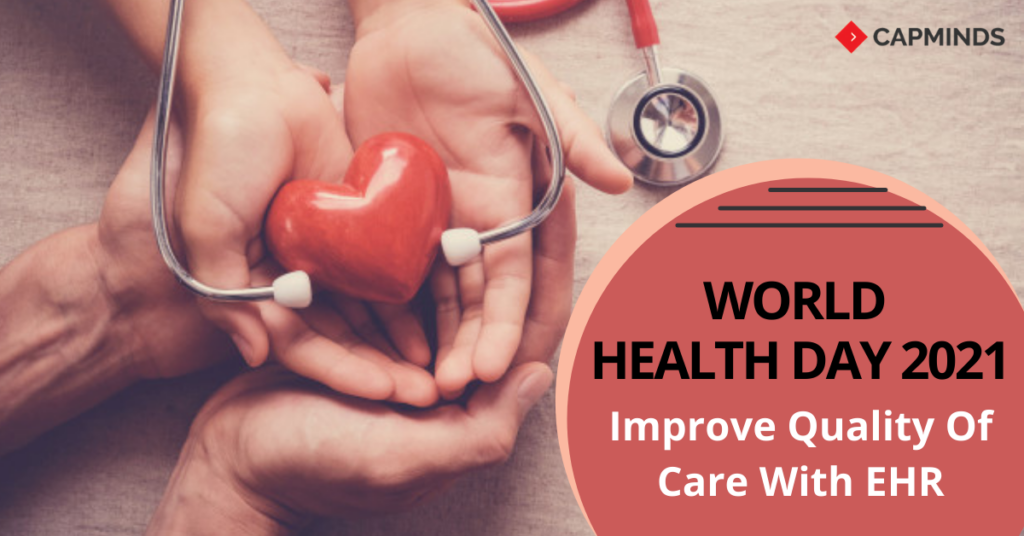 To spread real awareness about quality healthcare and especially in times of the COVID-19 crisis, today is a very important day to remember forever; it's our world health day. World Health Day 2021 is celebrated every year on April 7 and this year with the theme of building a fairer, healthier world. Explore how improving the quality of care with EHR is important today.
Quality Healthcare Delivery With EHR
The COVID-19 pandemic presents the U.S healthcare system with huge challenges in delivering quality care with the help of EHR and patient safety. Right from tracking coronavirus outbreaks, staying updated with the vaccination details to keeping track of the patient's health information, the entire health system is now a challenging one.
Analyzing a huge set of data and finding the best information that correctly suits the patient's health condition is a thing to concentrate on more. To date, we have some key issues of knowing what data is important and what prevention plan best suits each patient.
Healthcare providers still facing continuous problems in various phases such as usability issues, user interfaces, interoperability among systems, and the quality of healthcare data. This key issue creates risks for the clinicians to deliver care during this COVID-19 crisis.
To address these needs, the implementation of EHR software should go beyond improving interoperability. It should also address the fundamental problems raised due to the pandemic. The electronic health record must also support the ability of healthcare providers to adopt the new value-based care models.
Better Health Information Enhance Quality Of Care
The EHR software supplies health care provider's data in formats that were impossible with paper charts. Primary care providers can now observe and mark graphs of values such as weight, cholesterol levels, and blood pressure, tracing changes across time. Electronic medical records can give treatment goals or alerts to prompt providers when specific preventions are due or out of date. With enhanced access to laboratory data, there is a decrease in duplication and losses.
The formatted EMR data give the patient to enter point-of-care data that can be utilized to notify practice and conduct analysis. Among meaningful use, including standard and logical data records in particular fields, the EMR data show the physician with relevant practice-level data. This data can be employed for practice-level interventions such as recognizing patients who have not undergone certain tests such as bowel cancer screening or mammograms. This information gives feedback to the primary care providers regarding the status of their care, such as screening rates and defensive target accomplishments.
Improving Patient Engagement With EHR
EHR quality improvements, Patient Portals, telehealth software are important determinants to aid patients in getting extra engaged in their care. EHR-enabled patient portals offer patients access to critical healthcare data, such as treatment history, lab and other diagnostic test outcomes, prescriptions and investigations, and more. Rather than asking for a printed version that needs a tour back to the provider's clinic, they can easily log in to the patient portal for easy access to the data they want.
EHRs give the patient a way to current medicinal records, and let them examine notes or medication outcomes in near real-time – and even permit patients to send messages to providers inside a secure system. Granting patients access to their medical records places them in the decision-making process with you, granting them higher authority over their care. This may also provide a clear understanding of their medical records.
Moving Towards Intelligence Oriented EHR World
The focus on EHR implementation has been transactional: EHR documentation, lab results retrieval, prescription management, and more. This kind of special focus has already reduced some types of EHR medical errors and made it easier for clinical order is complete.
The EHR must provide the ability for clinicians to easily analyze patient data to discover new treatments, uncover safety issues, and identify unusual clinical findings. Such capabilities would have enabled, for example, the much faster discovery of blood clotting in Covid-19 patients.
Intelligence can be leveraged to help address clinician concerns with EHR usability. The logic that presents the physician with data and potential actions tailored to reflect the patient's conditions, the physician's preferences, and the medical evidence can save the physician time and improve the quality of care.
Final Thoughts
The COVID-19 pandemic has shown us that health care collaboration at its best. Maintaining the healthcare information in an easy-to-access way is very important. This World Health Day 2021, let us all take a giant step ahead to enhance the power of EHR and provide quality care to all. CapMinds EHR software allows you to record patient's health data, prescribe medications, and connect with your patients remotely.