What Is FHIR? Why Hospitals Should Care?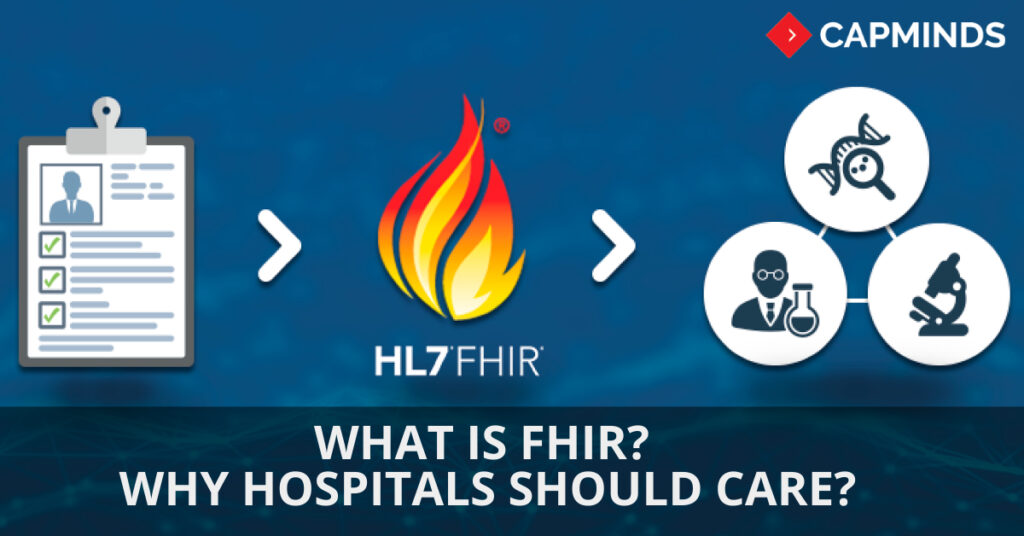 Fast Healthcare Interoperability Resources, or FHIR, is a specification for healthcare data exchange developed by Health Level Seven (HL7). HL7 developed many advanced standards for secure data sharing and the data could be EMR, PHI, or Diagnostic Data, and Administrative information. Here is a close look at FHIR, how it works, and its potential benefits.
What Is FHIR?
FHIR is an interoperability rule that creates a standard for sharing and exchanging clinical records between professionals or organizations with the help of various software which results in cost-efficient care.
FHIR was built with modern web technologies that are now being utilized in different enterprises. It is mainly focused on simplifying system integrations with well-defined data models and application programming interfaces (APIs) to improve interoperability.
Why Is HL7-FHIR Important For Healthcare?
As health IT and EHR continued to be afflicted by interoperability issues, FHIR emerged in the year 2014 that enables health IT providers to quickly build applications for EHRs and to exchange and retrieve data faster from those applications.
At first, the FHIR was started as an experimental project for HL7, but sooner it acquired great support from the top EHR vendors such as Epic Systems Corp., and Cerner Corp. HL7 – FHIR actually has the right potential to solve real-time market demands. In fact, this lays the foundation for making a successful standard.
How FHIR Works?
The main aim behind the development of FHIR is to create an accurate framework that can adapt resources and can be interpreted by any system. In that way, FHIR can be used in different applications, such as mobile applications, cloud communications, EHR-based data sharing, and among institutional healthcare providers.
FHIR is built upon the concept of "resources" – the basic units of interoperability which are used as building blocks that can be incorporated in existing systems to try to resolve clinical, administrative and infrastructural problems in healthcare.
The resources must have a common definition and method of representation, a common set of metadata, and a human-readable part. The FHIR is designed specifically for the web applications and provides resources built on the XML, JSON, HTTP, Atom, and OAuth structures.
FHIR provides software development tools and resources for administrative concepts such as patients, providers, organizations, and devices, as well as various clinical concepts including problems, medications, diagnostics, care plans, and financial issues, among others.
Benefits of FHIR
The goal of FHIR is to standardize the exchange of health care data, enabling health care suppliers to simply share patient data even they use different software systems. With FHIR, each resource is associated with a unique identifier this makes it to access accurate data from any application devices.
By creating standards URLs, FHIR eliminates the process of sharing individual documents between different systems which creates fast, reliable access to accurate data. The key benefits of FHIR include,
1. Easy implementation
2. Provides fast healthcare delivery with secure real-time access to quality data
3. Structures data for automated clinical support
4. Provides secure real-time access to quality data
5. Reduces burden for reporting quality measures
Reduces implementation burden by aligning CMS eCQM reporting with industry clinical data exchange framework
Automatically enable data retrieval from EHRs and quality data submissions via standards-based APIs
FHIR additionally offers built-in mechanisms to HL7 RIM and different content models to support alignment with existing best practices, although they don't have a deep understanding of RIM or different deviations of HL7 v3.
FHIR Creates A New Framework For Healthcare.
FHIR introduces application stores and micro services design. The current healthcare organizations are trying to serve every function, to every user, but it a time-consuming process and takes time to implement and update.
FHIR creates an ecosystem of connected healthcare applications developed by different vendors. With the help of this, the organization can able to choose the best and simplest components developed by other companies and bring them together into the ecosystem.
These organizations can easily adapt to the solutions developed by one company with solutions developed by another company without spending a significant amount of time and money on integrations. We at CapMinds have been adapted FHIR years ago for providing strong support on interoperability and information exchange between healthcare systems.