EHR Best Practices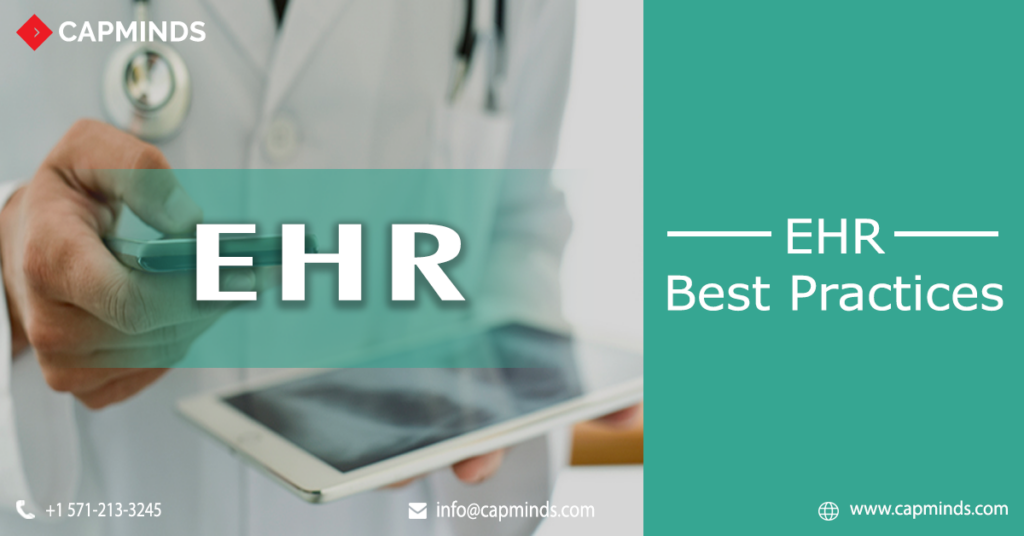 Did you know that there is a lot of opposition to EHRs? Given the fact that it makes the lives of healthcare professionals easier, you would think that everyone would be happy to adopt EHR. Thankfully, EHRs are not going to go into oblivion any time soon. Also, the only reason why there is opposition to EHR is because the system is new and might take some time for everyone to feel at ease when using it. Well, if you think about it, even computers faced opposition when businesses were trying to digitise everything.

If you are a healthcare organization and you are trying to make your workers adopt EHR, then this article is for you. Here are some of the best practices that you should follow:

Use the quality metrics dashboard:

Good EHR systems provide you with a dashboard that tracks quality measures. All one needs to do is to follow proper documentation protocols to see the results on the dashboard. The correct usage of dashboard can help the healthcare organizations immensely as it is a one-stop destination for you to find everything that is happening.

Know when to start an EHR optimization project:

EHRs might not be something that healthcare practitioners look forward to working with because it doesn't have to be easy to work with from the word go. Practitioners might even be able to find out inconsistencies and inefficiencies after they work with it for quite some time.

You need to start an EHR optimization project with the guidance of both technology and workflow experts based on the goals of the hospital. It will be able to fix any technical hiccups so that the hospital can fix the workflow goals.
Use EHRs for care coordination:

Care coordination means the ability for caretakers from different departments to communicate with each other about the care that is required for a particular patient. This information exchange is easily achievable with the help of a good EHR system.

Not only does it help save money for the patients, but it can also ensure that no unnecessary treatment is done for the patients. EHRs coordinate the communication process with the help of a good Health Information Exchange (HIE) provider which allows service providers in different locations to care for the patient using the data available on the EHR.

Staff selection:

If you don't have computer savvy staff, then it will be extremely difficult to navigate the features and use the EHR system to the fullest. Does your staff know how to scan and print documents that will be used later? Do they know how to attach documents from a particular folder? These might look like activities that a child can manage these days. But you'll be surprised to know that not many are comfortable navigating tasks such as these.

The first step is to identify staff that are open to learning. You need to simplify the tasks and give them step-by-step instructions that they can use. The initial training should be focused on activities that they will be performing on a daily basis. This will increase quick adoption since they would be doing these tasks repetitively on a daily basis.

Proper training:

The staff need to be equipped technically so that they can be better prepared to use the EHR system and leverage its full capabilities. The transition from manual systems to EHR systems would be easier when the staff are slowly transitioned into it where there is ample time for them to make mistakes which won't have any impact on the bottomline. They should be given the opportunity to grasp the vicissitudes of things that are involved with shifting to a completely new system.

Evaluation and Feedback:

If you want to keep your staff working with the EHR system as efficiently as possible, then you need to evaluate how they do their jobs and give them timely feedback. Remember that training is going to be a regular affair and not a one-time thing. There is no way someone is going to get proficient at something with just a single training.

They might face technical difficulties which might be completely new to them and they would not be equipped to handle it at all. These are activities that need to be finished in a timely manner, so it is important that they be given quick access to someone who can help them tide over this problem.

Create a knowledge base:

Do you have resources built that can be used as references by anyone who works with the EHR system? Is the resource in a language that everyone can understand and implement? Is it jargon-free?

Do you have video recordings of how you can do things? Do you have step-by-step tutorials for the uninitiated so that they can take full advantage of the EHR system?

No matter how simple or complex a mechanism is, there should be supplementary resources that can be taken advantage of. If the answers to all the above questions are a resounding yes, then the EHR vendor you have signed up with knows what it takes to build a superior relationship with healthcare organizations and you have chosen well.
Conclusion:

You can make the most of your EHR system with the above tips. As technology evolves, EHR systems will undergo changes as well, which is why you need to indulge in optimization programs when the time arises. Both the stakeholders and users should have an effective communication system in place so that the full capability of the EHR system can be leveraged.