Towards The Big Vision Of Interoperability In Healthcare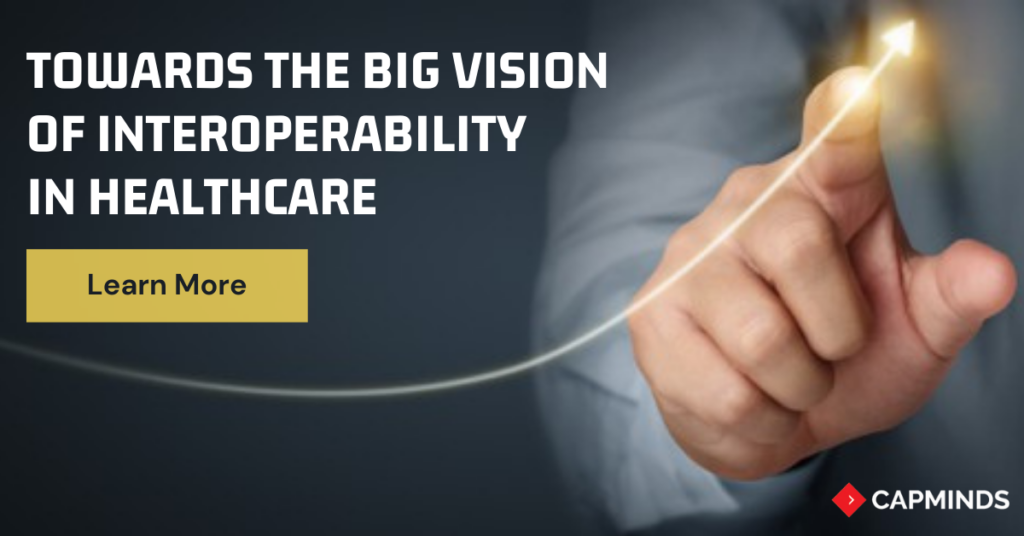 Healthcare data exchange will be efficient across the healthcare system and routine for individual organisations and their clients. Although the federal requirements created a path to more streamlined data exchange, health data interoperability is effective in progress today.
While the health technology companies are at numerous stages right from start-up to establishment – most of the crucial challenges are related to data exchange or interoperability. The difficulties mainly based on the data access and sharing with electronic health records (EHRs).
Each and every healthcare firm are set with some goals and priorities which include:
Clearly showing the health data integration as a capability.
Reducing the time spent on troubleshooting issues related to data integration.
Pivoting quickly to new opportunities
Forging strategic relationships with partners
The challenges related to healthcare interoperability always depends upon these important business goals.

Interoperability challenges mess up practice workflows
As healthtech firms are dedicated most of their time and resources to interoperability, they find EHR as a big pillar and the entire process is full or challenges to overcome.
The shift in meaningful workflows depends on the ability to move from the EHR into a third party stem or from third party software to the EHR system. Above all, the EHR system which you are using for your practice must stay up-to-date for quality data management and increased productivity.
Whether the software is a personal health records or remote patient monitoring application deployed by a healthcare provider or a health plan; all use cases have a similar pattern. Here integrating health data from the EHR and sending back to it is very challenging in improving both clinical and financial outcomes and it is very crucial for the patient cantered healthcare. Here are some of the expert tips to achieve positive outcomes.
Tips to achieve patient-cantered healthcare
Connecting both clinical care and public health ecosystem for effective care coordination.
Collecting health data from wearables and remote patient monitoring devices and adding into the patient's EHR for more proactive treatment options.
Seamless data exchange across and within the health record systems.
Building a strong connections between urgent care visits, virtual health, and every other patient care interaction
Sharing patient data with newly implemented tools like patient portal for better patient experience.
Supporting health analytics with reliable data sets for healthcare
How the difficulties with data integration make data exchange slower?
The healthcare organisation who get started with the EMR data may be realised that the integration process is not that much easier to do it quickly. The integration experience varies for EHR to EHR. The health IT vendors clearly knows that the implementations of EHR vary and highly customizable. These customized builds make EHR data integration very challenging.
EHRs were often designed to not easily share health data. Because of the evolving nature of healthcare, sharing this data is now very important. This results in complicated EHR integrations. Even when healthcare organisations merge with other organisations that make use of the same vendor's EHR, integrating the data is still complex because of different versions and data specifics. To overcome these difficulties, EHRs are required to support FHIR API in future.
Why healthcare providers are turning to interoperability experts?
Health technology companies are finding that an interoperability partner can accelerate time to market and time to value. When a partner provides an interoperability solution with transparency and experts with longevity, the healthcare technology company can focus on its core business or service. A few benefits of this approach include:
Access to expertise. An experienced healthcare interoperability partner will have deep familiarity with EHR builds, healthcare data standards, and the regulatory/security concerns of healthcare provider organizations
Time savings. Every go-live will be more streamlined, while the partner does the heavy lifting of technical work and project management. The interoperability partner will manage the build, testing, go-live, and ongoing maintenance/monitoring, saving significant time for the digital health company.
Pivot immediately. Interoperability doesn't have to be a barrier to pursuing a new use case or market, or even to a merger and acquisition scenario.
Scale as needed. Rather than investing in a whole team of FTE experts in health data standards, the company can scale up its support for go-lives and down again for maintenance, as needed.
Respond to any scenario. A versatile interoperability partner will have many tools in their toolbox, from expertise in FHIR and other APIs to deep knowledge of HL7, XML CDA, DICOM, X12, or even non-standard options such as SFTP.
Go beyond FHIR APIs. A fully managed solution can work flexibly with health data to push and pull, read and write, going beyond current FHIR API capabilities.
Know that data is safeguarded. With current security concerns, an interoperability partner can handle time-intensive security work, including ensuring that the data exchange includes redundancy and disaster recovery.
Final Thoughts
The proven healthcare integration solutions are helping digital health organisations bring customers and manage resources efficiently. With the help of right interoperability partner like CapMinds, healthcare data exchange becomes faster, secure reliable and most importantly creates an opportunity to build trust.