Top 6 Physician Credentialing Mistakes To Avoid In 2022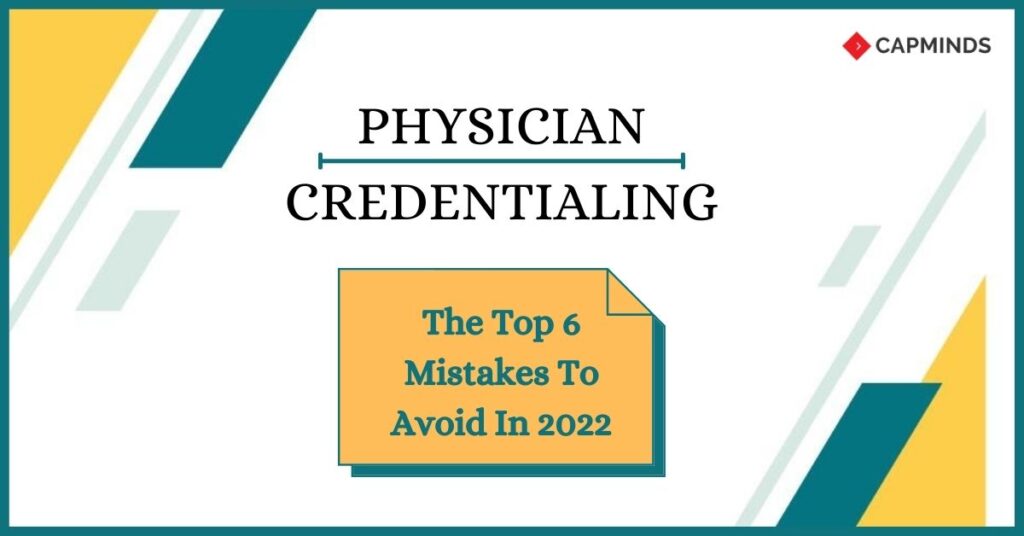 We double-check everything we buy, eat, say, and do without any laziness. That easy we ensure any future regrets and mistakes. Also as an organization, we tend to do this process many more times and with accuracy while appointing an employee.
Let me ask you a question now. How much it is important to credential a physician before employing him/her? It is the most important thing to do before anything. Physician credentialing becomes important as the patients' health, well-being, and the organization's reputation, all depend on it.
Now, What Is Meant By Credentialing?
According to a source, credentialing is the process of establishing the qualifications of licensed medical professionals and assessing their background and legitimacy. Many health care institutions and provider networks conduct their own credentialing, generally through a credentialing specialist or electronic service, with review by a credentialing committee.
It may include granting and reviewing specific clinical privileges, and allied health staff members.
There are four common types of credentialing. They are,
1. Medical/insurance credentialing
2. Personnel credentialing
3. Political credentialing, and
4. Paper credentialing

Here, physician credentialing comes under medicine. It is a comprehensive review of all the authorizations provided to a physician assistant, medical doctor, or nurse practitioner at each organization/institution at which the person has worked previously.
This is done to determine the risk profile for them at the new organization/institution. It helps the practitioner in both receiving practice insurance and the ability to bill insurance for the care delivered to a patient.
It also certifies legal and administrative body requirements, like Joint Commission.
Top 6 Physician Credentialing Mistakes To Avoid In 2022
Medical credentialing may seem to you like a never-ending, tiring task. But if you skip or execute it without care, that can result in a serious chain of troubles. Credentialing mistakes are mistakes that should not be done at any cost.
This may lead to many consequences such as fines, penalties, harm to patients, financial losses, delays in claim reimbursements, and prohibition from federally funded programs.
These mistakes may lead to encouraging malpractices by physicians. Negligence in credentialing can reveal a healthcare organization to accreditation problems and malpractice suits.
This will always be an essential practice when it comes to medicine. Here to help your organization to avoid risks, we give you the six most credentialing mistakes which should be avoided in 2022.
1. Peer review- take it seriously
Peer reviews and investigation gives a good detailed overview of the person. These results may not be visible in the academic status, education, training, or license status.
It is a simple thing but the peer review should be taken seriously and evaluated during the process of credentialing, as it uncovers the true self of the particular physician.
The process of physician credentialing may be tedious, but it saves the organization from future risks and noncompliance.
If It's done, it should be done thoroughly without negligence, to avoid costly consequences. Do not rush the process. This may lead to errors, missing information, and reimbursement delays.
2. Reporting unfavorable actions to the NPDB
A hospital or a health system will be held responsible for a physician's omission in reporting adverse actions. Physicians are required to report unfavorable/adverse actions such as suspension, voluntary handover of medical staff membership, license revocation, clinical privileges, etc.
This requires a thorough investigation of the past and present adverse action to be performed.
National Practitioners Data Bank (NPDB) requires reporting by the physician and facilities that fail to report for the below-given actions
Adverse clinical privileges actions
Negative actions or findings by private accreditation organizations and peer review organizations
Medical malpractice payments
Federal and state licensure and certification actions
Healthcare-related criminal convictions and civil judgments
Other adjudicated actions or decisions
3. Ensure timely updating and verification of information
Timely renewing licenses and credentials by the practitioner regularly, to the laws of the state in which they practice, is a must. To ensure that the physicians are up-to-date with their board certifications and licenses, initial credentialing and re-credentialing are a must for every three years.
If this is not done, creates a way to potential negative patient outcomes and this, in turn, may result in costly malpractice suits.
4. Allow patient treatments only after proper credentialing
Some physicians or surgeons may falsely claim that they had privileges at nearby or reputed hospitals. Without proper credentialing, this may not be noticed. If the hospital allows such physicians to treat and work on a patient, and operate on them, they might face crucial consequences.
There are cases in the past, where surgeons' who were not credentialed properly, resulted in negatively impacting patients' life. This might be a result of the hospital's urgency to increase the number of cases booked and improper credentialing methods.
5. Complete physician enrollment application
An enormous amount of data and information are required for an average physician enrollment application. Danials of claims and delays in reimbursement might be the result of negligence in filling the application accurately.
6. Appointment of adequate staff
This is the most important mistake done by most organizations. Physician credentialing requires a large set of data and information to be collected, background checks and investigations to be made about the physicians, verification of all certificates and licenses, education, medical training, residency, etc.
Credentialing properly involves an enormous amount of work for a small group of people to handle. Not allocating adequate staff or resources for this process, results in stress, loss of revenue, and mistakes by the overworking staff.
So, the appointment of lesser people for this huge process is a great risk that an organization should avoid.
Final Thoughts
Physician credentialing is one of the most important things to do accurately and properly as long as the healthcare industry strives. Good credentialing increases patient flow into the organization and also improves goodwill.
Making mistakes in it can cause serious damages for both the patients and the organizations. Do physician credentialing promptly and raise your organization to a better and safe place for patients.
Visit CapMinds for availing yourself of our healthcare services to make your practice better.
"Let's make your healthcare services better, together"