Practice Management Vs EHR: Why You Need Both For Practice Growth?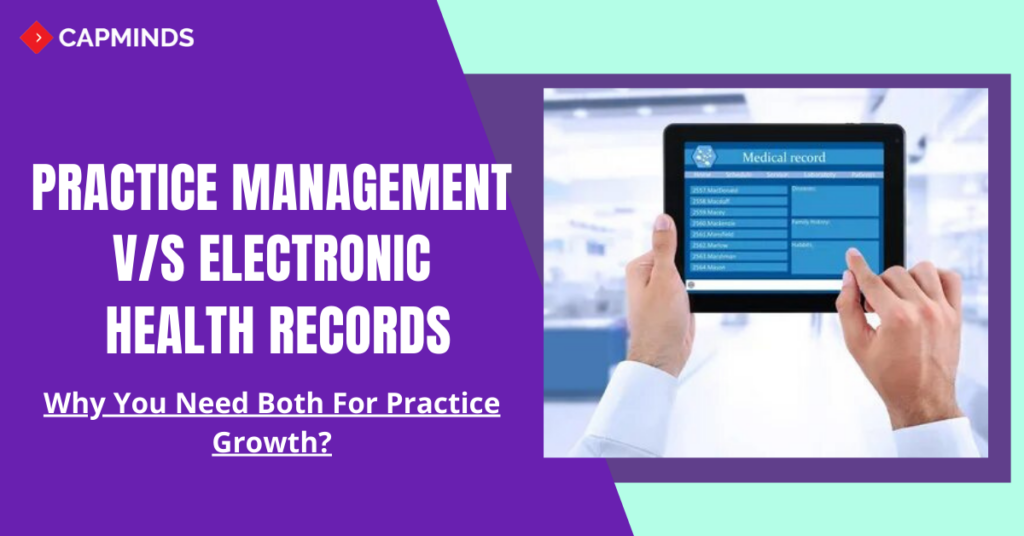 For your basic understanding, Let's first look into the terms – "practice management software and Electronic health records". Practice management, in general, is limited to the front-desk operations of the medical provider/hospital. But, when it comes to Electronic Health Records (EHR), it's the process of managing all the patient's history electronically, from the side of the provider.
There are some distinctions between them and in healthcare, it even becomes a bit difficult to find the differences. It usually seems like they are dependent on each other and in general, feel the same. Both help in improving the productivity and efficiency of the provider. So, It is necessary to understand the dissimilarities between them. Without any further ado, let us look into these, in detail.
Practice Management Software
Practice Management Software (PMS) is one of the software used by healthcare providers which helps them to double up their efficiency and productivity for achieving their desired goal.
This software deals with the day-to-day functions and operations of a medical provider/hospital.
It allows the users to schedule appointments, medical billing, maintain the records of insurance payers, report generations, and keep records on patients' demographics.
Practice Management Software is divided into three:
1. desktop-only software: This software type is used only on one computer, by one or a small number of users, sharing access.
2. Client-service software: It commonly constrains the practice by obtaining or leasing a piece of service equipment, and operating the server software on that hardware. The main advantage of using client-service software is that it allows sharing the data and workload among many users. And the cost of running the server is its major disadvantage.
3. Internet-based software: It decreases the need for practices to run their server. They need not worry about certainty and dependability. But there is a risk of security of its own because it removes patient data from the practice's establishment.
PMS: As a support system
Practice Management Software helps the professionals to do all their financial and administrative functions like medical billing, report generation, etc., digitally to save them from paperwork. It is the overall process of entering and tracking patients, electronically.
It helps them to keep up-to-date surveillance of a large set of data, including the list of providers, facilities, procedures and diagnosis, billing, the list of medical insurance companies, and much more.
Practice Management Software Features
1. Complete appointment scheduling
This software enables the users to schedule appointments easily without complications. Some providers provide their users with facilities like multi-view calendars, early insurance eligibility status, reminders, and changes to be made for upcoming appointments, etc.,
2. Efficient billing system
If the patient has a valid private or public insurance policy, at the time these services were provided, the charges are then sent out as an insurance claim. The process of sending charges may happen on paper, usually with the use of the CMS-1500 form. Nowadays most claims are submitted using an automated software process. CPT/ICD-10 codes in the practice software are updated annually by some practice management software vendors.
It makes everything easier for the users. It ensures accuracy and decreases denials.
In some cases, if the patients don't have any proper insurance or coverage to fully pay the charges, the practice can send out patient statements.
The front-desk staff can easily see what is due from patients. By using this software, they can send reminders regarding their payment via e-mails, and mail invoices.
3. Demographics of the patients
Once the patients' demographics get fed, there will be no need for re-entering the same data in other areas.
There will also be the availability of questionnaires regarding the upcoming visits and so, in their patient portal. Patients can get access to them.
For more details go to our website – "Capminds"! This will take you to an advanced level of practice management services. Let us now move on to our next topic, EHR vs PMS
Electronic Health Records
EHR is the digital version of a patient's paper record. Electronic Health Records software helps the healthcare providers or the physicians to manage the patients' medical records easily without taking much time and increases the provider's efficiency by automating the clinical workflows.
In simple words, it is aimed at documenting and storing a patient's medical information/history digitally. This helps to make a more accurate diagnosis and treatment.
It helps in reducing the time taken for the providers by eliminating manual tiresome work.
It's a modern and sophisticated tool that uses graphical representations, chart notes for recording a patient's medical history, allergy information, test results, etc. In short, all the information regarding the patients.
EHR: In improving the care provided to the patients
If a patient goes to a hospital/a healthcare provider, with some physical or even a psychological problem, the main question the doctor asks the patient, after a basic diagnosis, would be of their medical history. Right?
The patients have to carry all their history files which give details about the allergies, medications, discharge summary, lab results, previous medical conditions, and so on. This is where EHR helps authorized health care providers in helping their patients.
EHR tirelessly does all these works.
There will be no need for manual recording by means, paper recordings, after starting using this software, except for some situations.
They are automated and reduce costs and improve maintenance.
Benefits of EHR Implementation in healthcare
We are living in a world where it looks like people are digitally dependent on everything. Digitization made every work easier for mankind. With EHRs, information is available only a click away.
Some of the gains of using EHR in healthcare practices are,
Increase in practice productivity and efficiency
Easy access to information from anywhere
Patient care has been doubled
Improved diagnosis and follow-ups
Positive patients participation
Tele-health services
Protecting against breaches and ensuring HIPAA compliance with increased security measures of PHI (Protected Health Information), and so on.
EHRs use patient portal software and telehealth facilities to make everything more easily accessible and available. It is a very patient-centered resource.
Practice Management Vs EHR
When PMS deals with the administrative and front desk works of an authorized healthcare provider/a hospital, Electronic Health Records (EHR) deals with real-time patient-centered records that enable the authorized users to access the patients' information instantly and securely.
PMS only deals with fewer functions associated with the front desk work. But EHR helps the user to collect and record every information they need to know about their patients for future medical references. By using PM services, the provider can efficiently regulate the functions like billing, fixing appointments, preparing the list of insurance companies, etc, for easy handling and immediate access.
The functions are restricted to fewer in number, as compared to EHR.
Electronic Health Records software enables the health care providers to keep track of their patients history and make better diagnoses and plan treatments according to them, digitally. They can ensure good communication with their patients. The information fed to the software enables the users to get hold of it anytime, anywhere. Thus, improving the quality of service provided.
Come, let us start your initiative together.
Both EHR and Practice Management increase the chances of better productivity and efficiency of authorized medical providers.
We all want to upgrade our services to an excellent level to avoid competition and achieve great success in our field. We, at CapMinds, are here at your service. Let us help you by providing these services and software for making your business even better than now. We make your dream of excellence come true.
We promise you that it will not be some boring, tiresome, long process. We ensure engagement from both sides. Visit us through the link and avail of the services provided by us, to outshine the market. The exploration starts here, with us.
"Let's make your healthcare processes efficient and engaging, together"