Optimizing Your Claim Denial Management Process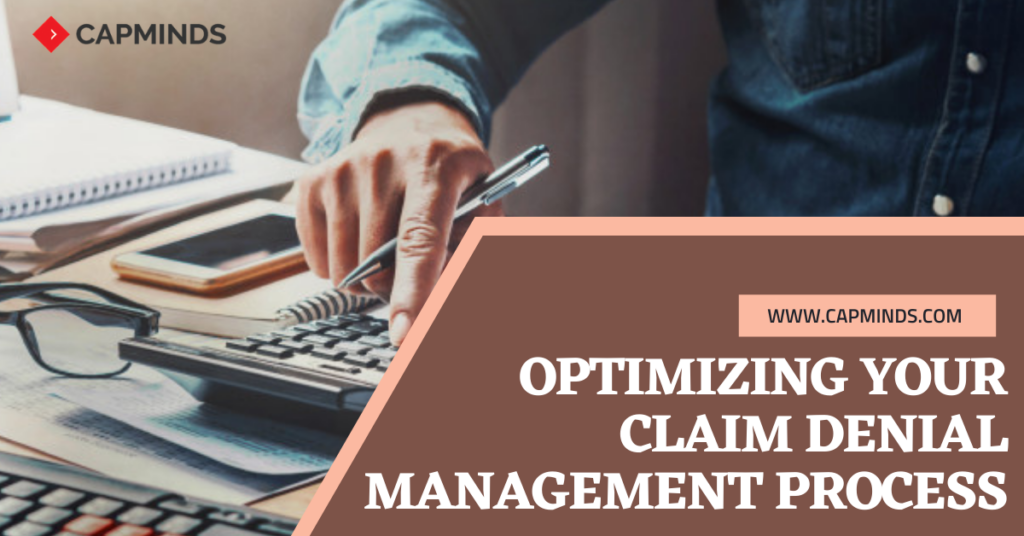 When discussing successful healthcare claim management, it is very important to build an effective system that manages rejected claims at initial. Of course, all healthcare organizations get worried if their medical claims get denied. The only solution to overcome these issues is to initiate an efficient medical claims denial management process.
Proceeding with this will create a huge impact on your practice's productivity. Here are the 5 best steps to optimize the claim denial management process and improve the overall cash flow.
What Is Denial Management In RCM?
Denial management is an important aspect of a healthy RCM and improved cash flow. The denial management team creates a trend between individual payer codes and common denial reason codes. A good medical billing and coding service provider help you to quickly determine the cause of denials and get paid faster.
Steps To Optimize Claim Denial Management
Create A Streamlined Procedure For Claim Tracking
It's imperative to keep a streamlined method to follow denied claims progressively. It helps in observing the advancement of claims all through the cycle, and if one experiences a disavowal, you can rapidly address and resubmit it. Denied claims will trigger a significant delay in your practice cash flow when they take a long time to resolve. You may even avoid the period that you need to resubmit.
Find Out The Reason Behind The Claim Denials
Applying denial management software can be amazingly useful, as it keeps workers from examining claims, so you can discover places for a change. It could likewise be that you need to fix coding issues, or it very well maybe that you need to follow patients/methodology all the more precisely to guarantee that they are ensured by extraordinary plans. Tending to these angles will add to upgrading the rate of cleaner claims.
Increase The Capacity Of Claim Scrubbing
Claim scrubbing is the process of distinguishing and eliminating errors in the billing codes before claims are made to the payers. This viably diminishes the number of claims that are rejected or denied along these lines working with on-time payments. Most claim denials are set off by inaccurate codes, and changing them can save huge resources, more money, and time.
Get Started With Automated Claim Verification
The major reason behind the claim denials is that the patient's plan doesn't include the actual service provided. This can occur for a few reasons: the patient may have modified insurance plans and missed to tell the facility, or their coverage may have expired. This can be a costly oversight in any situation. You can't effectively optimize service time or get medical care revenue until you first verify coverage. So automating your claim verification will help you to optimize your claim denial management process.
Outsourcing Denial Management Process Is The Best Choice
If you wish to avoid claim denials and get paid faster, then outsourcing is the best option. Outsourcing the denial management process to a specialized revenue cycle management firm will help you to increase practice cash flow. When you outsource medical billing, you don't need to worry about denial rates or anything. You can just happily concentrate on providing quality healthcare to your patients.
There are many specialized firms are available in the market like CapMinds who are providing the best denial management services. Choose the one that offers advanced technological implementation, 24/7 support, and cost-effective solutions.
5 Key Benefits of Healthcare Claims Denial Management
Fixing claim denials is an important part of the medical billing process and it holds numerous advantages. Some of the key benefits of healthcare claims denial management include:
As the reason behind denial causes is identified correctly, the practice cash flow is maximized for sure.
By collecting and interpreting denial patterns, their root cause can be identified easily and an effective solution can be created for such categories.
Collecting related information on denial appeals, including status, correspondence with healthcare payers helps in increasing recovery amounts.
Giving exact and convenient reports to the administration permits them to settle on better business choices and prevent future denials.
Helps you track, focus on, and appeal denials based on federal and state resolutions and case references preferring the clinical supplier's appeal.
Final Thoughts
The healthcare organization must engage and follow these important steps to remain on the top of today's current healthcare system and ultimately reduce the potential denial rate. The submission of a clean claim is the initial step towards effective RCM and revenue collection.
Leverage CapMinds best practices and proven techniques to bring excellence to your RCM including the denial management process. Schedule a free demo to get insights on why your claims are denied and how to avoid it & get paid faster. Contact us today to know how we can help you to optimize medical billing and increase practice revenue.