Optimizing Community Health: OpenEMR's Third-Party Integrations for Better Care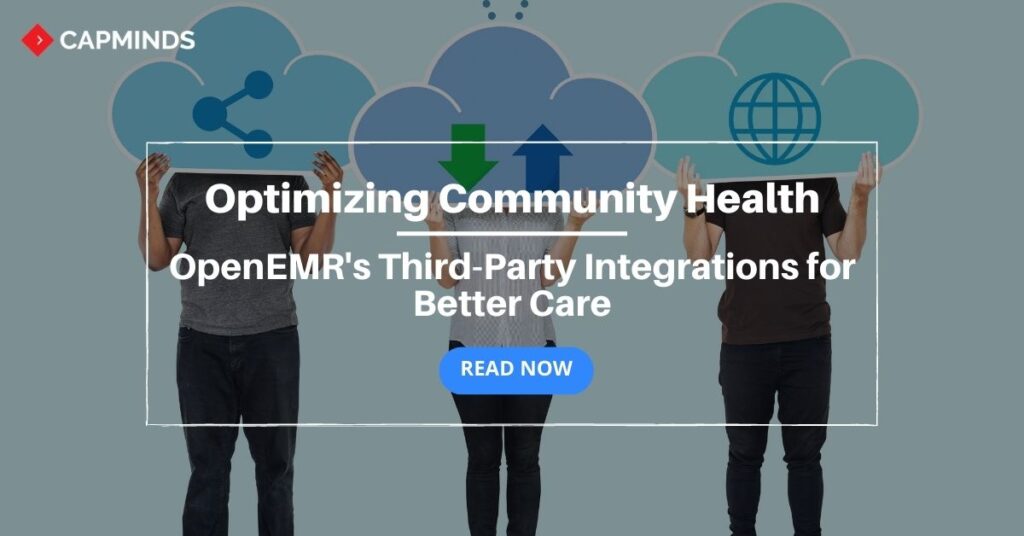 Community health centers play a vital role in delivering comprehensive healthcare services to underserved populations.
To optimize their operations and improve patient care, community health centers often leverage electronic health record (EHR) systems like OpenEMR. However, the capabilities of OpenEMR can be further enhanced through strategic integration with third-party solutions.
In this article, we will explore the benefits and possibilities of integrating OpenEMR with various third-party systems for community health centers. These integrations can streamline workflows, improve data exchange, enhance patient engagement, and optimize billing and revenue cycle management.
The Benefits of Integrating OpenEMR with Third-Party Systems
Integrating OpenEMR with various third-party systems brings several benefits to community health centers. Here are the key advantages:
Enhanced Care Coordination
Streamlined Workflows
Improved Patient Safety
Accurate and Up-to-Date Records
Simplified Reporting and Compliance
Financial Efficiency
Patient Engagement and Empowerment
Data-Driven Decision Making
Interoperability and Future-Proofing
Real-Time Possibilities of Integrating OpenEMR with Third-Party Systems For Community Health Centers
1. Health Information Exchange (HIE) Integration
Community health centers are part of a larger healthcare ecosystem, and seamless information exchange is crucial for delivering coordinated care
Integrating OpenEMR with a Health Information Exchange (HIE) enables community health centers to securely exchange patient health information with hospitals, specialists, and other care providers
HIE integration facilitates access to a broader patient health record, including lab results, imaging reports, and medication histories
This comprehensive view empowers providers to make more informed decisions, improves care coordination, and enhances patient outcomes
2. E-Prescribing Integration
Medication management is a critical aspect of healthcare delivery, and integrating OpenEMR with e-prescribing services can significantly enhance this process
E-prescribing integration allows providers to electronically send prescriptions to pharmacies, reducing errors associated with handwritten prescriptions and improving medication adherence
Through integration, OpenEMR can provide real-time access to medication history, drug interaction alerts, and formulary information, enabling providers to make safer prescribing decisions
E-prescribing integration not only streamlines the prescription process but also improves patient safety and satisfaction
3. Laboratory Integration
Efficient management of lab orders and results is essential for community health centers
Integrating OpenEMR with laboratory information systems automates the ordering and receiving of lab tests, eliminating the need for manual data entry and reducing errors
Seamless transmission of lab orders and results between OpenEMR and external labs improves efficiency, accelerates turnaround time, and enhances the accuracy of patient records
Laboratory integration ensures that providers have timely access to critical diagnostic information, enabling prompt decision-making and effective patient management
4. Immunization Registries Integration
Community health centers are actively involved in immunization efforts, and integrating OpenEMR with immunization registries simplifies reporting and improves immunization management
By integrating with state or regional immunization registries, OpenEMR can securely transmit immunization data, ensuring accurate and up-to-date records
This integration facilitates compliance with reporting requirements, reduces administrative burden, and enhances immunization tracking and monitoring
Providers can easily access immunization histories, identify gaps in immunization coverage, and take proactive measures to protect their patients and the community
5. Billing and Revenue Cycle Management Integration
Efficient billing and revenue cycle management are essential for the financial sustainability of community health centers
Integrating OpenEMR with billing and revenue cycle management systems streamlines the billing process, claims submission, and reimbursement management
This integration enables accurate and timely claim submission, reduces claim denials, and accelerates payment cycles
Additionally, integrating with billing services provides comprehensive financial reporting, allowing community health centers to analyze revenue streams, monitor financial performance, and optimize reimbursement strategies
Billing and revenue cycle management integration ensures financial viability while minimizing administrative burdens
6. Patient Portal Integration
Patient engagement is crucial for community health centers to promote self-management and improve health outcomes
Integrating OpenEMR with patient portal solutions empowers patients to securely access their health records, schedule appointments, request medication refills, and communicate with providers
Patient portals improve access to care, enhance communication between patients and providers, and promote patient education and self-care
By enabling patients to actively participate in their healthcare journey, patient portal integration supports shared decision-making, encourages adherence to treatment plans, and fosters a patient-centered care environment
Final Thoughts
Integrating OpenEMR with third-party solutions expands the capabilities of community health centers, streamlines workflows, and enhances patient care.
Health Information Exchange integration improves care coordination while e-prescribing integration enhances medication management. Laboratory integration simplifies lab order and result management, and immunization registry integration facilitates compliance and monitoring. Billing and revenue cycle management integration optimizes financial processes, and patient portal integration boosts patient engagement.
By leveraging these third-party integrations, community health centers can deliver higher-quality care, improve efficiency, and achieve better patient outcomes in their underserved communities.
OpenEMR Services from CapMinds
CapMinds OpenEMR consigns clinicians with the best features and ways to integrate. It makes their workflows more efficient and filtered. The integrated features will allow them to combine the ability of patient record management with conceptual and concurrent reminders. This enhances the process of decision-making and improves patient care and quality.
At CapMinds, custom solutions like OpenEMR are developed with much curation and accuracy to match the special practice needs
It will be low-cost, the perfect budget solution to the typical traditional subscription-based ones for your behavioral health practice's long future
CapMinds OpenEMR prioritizes secure data management & ensures compliance with industry regulations, offering healthcare providers peace of mind
Exclusive: "Clients can own the code and resell it"
Get the best technologies and HIPAA-compliant and efficient OpenEMR that can be tailored to fit your practice from CapMinds Technology. Our OpenEMR services facilitate a Modern User Interface (UI), customization, production support & training. Also facilitates billing, report & specialty enhancements, clearing house integrations, e-prescription, cloud, and more.
"Get the most experienced, proven, and perfect professional support for OpenEMR"