Healthcare EDI: Gearing Towards Interoperability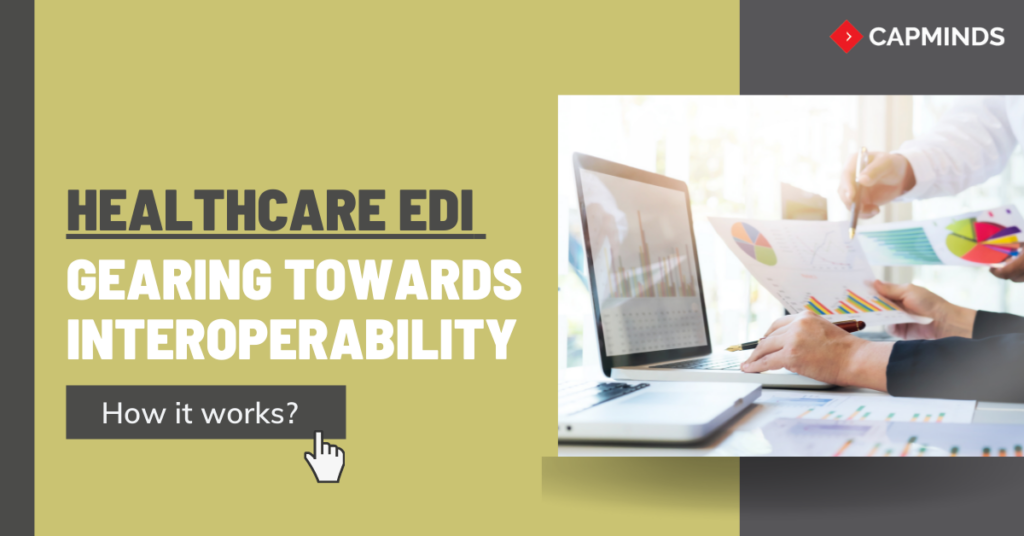 In the current scenario, healthcare facilities, such as hospitals, aged caregiving centers, etc., have been bombarded with unprecedented challenges. The global pandemic has only highlighted these roadblocks further. Medical institutions are constantly trying to find a balance between operational efficiency and infrastructure requirements, increasing demand for virtual care and technological advances, telehealth solutions, EHR systems, medical billing solutions and patient satisfaction.
In order to enjoy the real success several considerations to be made with choosing the right technology partner, analyzing the amount of investment required, and gauging its returns, customization, remote health monitoring systems, and more to achieve real interoperability.
Moving towards interoperability
The healthcare industry is at a disruptive point. Only those organizations that leverage technology to adapt to the need of the hour are the ones that will cross the finish line. With constant changes in regulatory requirements, demographic shifts, and new and improved providers – there is a culture of exchange and mutual beneficence being set into the healthcare sector. Interoperability is the key to success.
Comprehending and navigating toward this new world of caregiving will need agile technologies to offer superior integrated healthcare solutions. Whether it is medical billing, operational processes, or data management, healthcare EDI will allow the complete supply chain to seamlessly navigate from one point to another. So, what does EDI stand for in healthcare? This article explains you all about the EDI in healthcare and its benefits. Let's dive in!
What is EDI in healthcare?
Healthcare EDI or Electronic Data Interchange, in a nutshell, opens up the power of automation. EDI solutions are the answer to healthcare expansion and consolidation. As the caregiving momentum grows onto sophisticated electronic data exchange platforms, EDI in Healthcare can go a long way in providing a better caregiving experience while handling complex and greater loads.
This applies to organizations in the private and public sectors, wherein healthcare EDI can fulfill operational efficiency with the same or even reduced resources. An electronic data interchange solution adapts toward competition, regulatory requirements, compliance, and periodic change.
EDI allows organizations to transmit data back and forth using standardized formats. Information sent electronically virtually eliminates manual errors. As a result of fast, more efficient data processing, supply chain communications can occur at or close to real time.
Importance of EDI in Healthcare
The healthcare sector is one with many dimensions and considerations. Caregivers who work tirelessly to provide quality health improvements, administrative staff that works through the processes of medical billing, claims, and medical informatics, and agile technologies that fuse automated processes into operations.
Although this may not be instinctively obvious, there is a mountain of paperwork involved with healthcare workers. As soon as a HIPAA-compliant EDI system is incorporated, this paperwork is reduced by more than 80%. The quality of care is almost immediately improved.
EDI and data integration benefits
Security:
EDI's format prevents unauthorized parties from being able to access patients' personal information in a human-readable way. Higher security through healthcare EDI transactions and MFT lowers the risk of HIPAA violations. EDI-based communications protect patients from breaches and organizations from financial penalties and reputation risk
Improved productivity:
EDI and related data integration tools can lower costs through higher productivity. EDI transactions reduce time wasted entering data by hand and resolving incorrectly entered information. Healthcare EDI removes uncertainty and the need to confirm the recipient got the information they need.
Healthcare transactions, when done electronically, boost productivity through accurate coding, efficient processes, and high speed.
Cost saving approach
Efficiency and greater accuracy yield greater cost savings for healthcare organizations. EDI and MFT eliminates the time and effort required to support paper-based processes. The US government estimates that healthcare EDI can save $1.49 per claim for physicians with digital transactions
5 Steps of healthcare EDI process
Step 1: The first step toward electronic data interchange payment begins with an inquiry from the caregiver toward the payer.
Step 2: This medical electronic data interchange requires the submission of the medical data field on patient information.
Step 3: The next step involves receiving this communication by the care provider, which is then communicated to the payers.
Step 4: Medical electronic data interchange is then sent back to the practice management system.
Step 5: If there are no discrepancies in the information, this then completes the electronic data interchange payment process.
What Makes FHIR Different from EDI?
FHIR is an API-driven data standard, while EDI is a document-driven data standard. This difference has two major implications:
FHIR data payloads can be more flexible, since they are based on API resources rather than full EDI documents
FHIR data transfer is simpler than EDI (FHIR uses the same transfer technology used by ordinary web browsers)
Interoperability is another benefit of moving towards API-driven communication. The simplicity and flexiblity of API resources helps tremendously during the process of converting data from various disparate sources into an outbound API request. In other words, FHIR makes it easier to convert your data into the format required to communicate with others.