Heading Towards The Future Of Healthcare Interoperability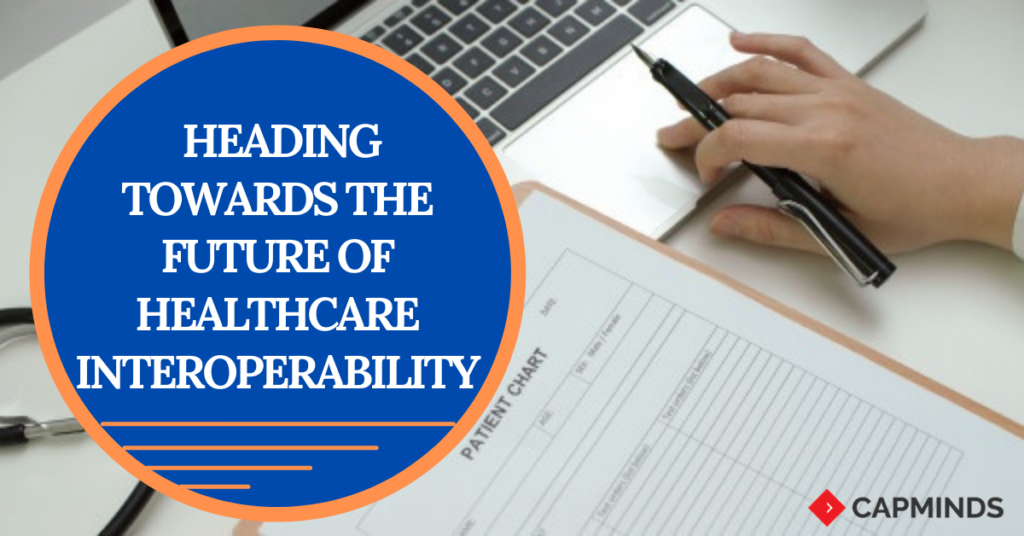 As the technology continues to evolve day by day due to the impact of the COVID-19 pandemic, healthcare organizations are gaining access to advanced healthcare tools to seamlessly exchange health data and for better healthcare information management. While this kind of development offers fruitful benefits to physicians, the data generated by this technology is continuously leaving a great impact while health information exchanges.
Nowadays patients are more concerned about their care and also showing interest in understanding their healthcare treatment plans, medication histories, and more. As the patients move from one physician to the next, they expect their health data to be readily available for sharing and exchanging.
Based on the recent report from the Center for Connected Medicine, nearly 4 out of 10 health systems are successfully sharing their data with other systems. For more healthcare organizations, cloud APIs and interfaces present a major challenge in achieving healthcare interoperability. As a result, many of the top tech companies are working towards finding the right solution to achieve true interoperability. So how the future of interoperability would be? Have a look at why interoperability means a lot and how to improve patient safety by leveraging FHIR.
The Future Of Healthcare Interoperability
Interoperability in medical care likewise referred to as healthcare data interoperability incorporates the advancements utilized in inpatient care to empower the sharing of information to meet the objectives of delivering quality healthcare. The current absence of interoperability in medical care can compromise patient safety leads to clinician burnout and also results in huge revenue loss. A recent report showed that the lack of healthcare interoperability costs the U.S. healthcare system more than $30 billion per year.
As you would expect, the absence of interoperability in medical services additionally prevents improvement, which might be the greatest missed opportunity for a healthcare interoperability environment. Pioneers in medical services face difficulties getting to information, integrating into highly-customized environments, and scaling semantic interoperability across a variety of data landscapes. So, the innovators frequently avoid the healthcare market since developing interoperability in healthcare services is very challenging.
While the medical care industry has gained progress forward to characterize interoperability guidelines and assist suppliers with understanding what does interoperability implies, there is still a lot of work to be done as new difficulties face the healthcare system brought about by the COVID-19 pandemic.
Healthcare Interoperability In Improving Patient Safety
The interoperability of electronic health records offers clinicians the simplicity that the PHI they input is much secured. At the point when PHI is gone into an interoperable framework, overseers of the framework can pinpoint users, track their activities as they input information, and successfully deal with their access rights, getting quiet information and securing their protection simultaneously. It additionally can help those getting care by diminishing or taking out patient-confronting tasks, for example, filling out various forms or re-clarifying their clinical history. This could spike quicker and more exact treatment accordingly.
Leveraging FHIR
If all healthcare organizations upheld application programming interfaces (APIs) that utilized Fast Healthcare Interoperability Resources (FHIR) to store and access information, developers would just have to compose clinical decision support programs once. The program could run any place that the framework was agreeable with FHIR standards.
Guaranteeing healthcare organizations hold fast to safe practices is a top industry need, and far and wide interoperability could help suppliers across the business exchange information and implement similar best practices with the help of clinical decision support (CDA) tools.
Similarly, accomplishing seamless healthcare interoperability may help healthcare firms to reduce mistakes and prevent medical errors. Expanding the utilization of FHIR across the business is critical to empowering health IT advancement and permitting suppliers to use Artificial Intelligence(AI) and other blossoming innovations for improved clinical decision making.
Final Thoughts
Healthcare interoperability will continue to grow as new technological advancements are booming day by day in the healthcare sector. To achieve true interoperability, healthcare organizations and IT leaders should make use of advanced applications to communicate and exchange patient health data efficiently and securely. CapMinds healthcare interoperability solutions – HL7 FHIR integration services help the healthcare practices to access and standardize health data seamlessly.
Are you ready to learn more about CapMinds interoperability solutions?