6 Things To Do Immediately About Interoperability In Healthcare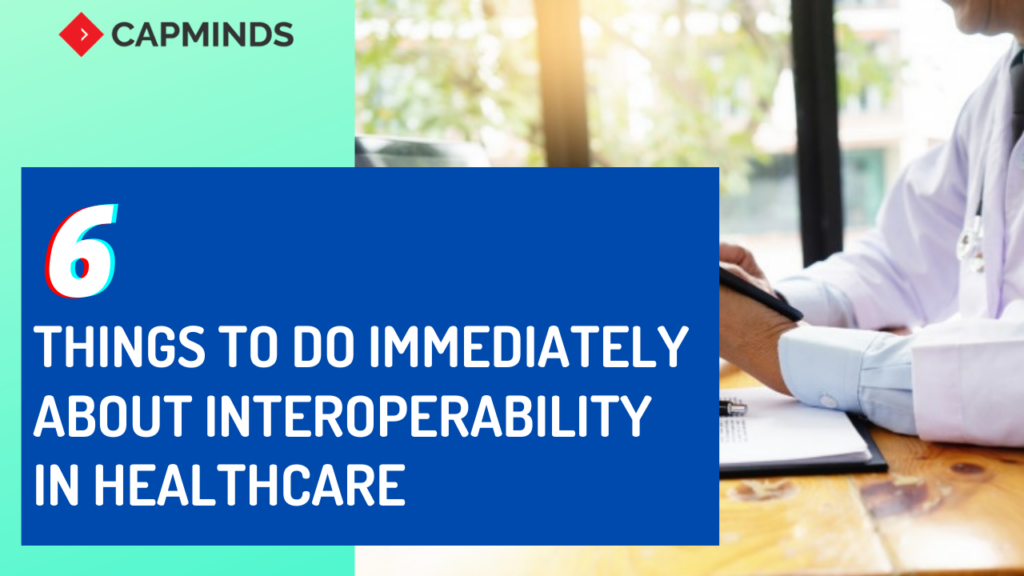 Achieving interoperability in healthcare has been a hot trend in health IT and the healthcare providers are searching for the best strategies to better access patient's complete medical records. In this article we described some of the best strategies which help to individual healthcare provider organisations to improve interoperability.
Interoperability: A Powerful Healthcare Tool
The healthcare providers care more about their patient's health and their time. What can interoperability do for patients? The term interoperability should be defined as a powerful healthcare tool to help achieve prioritized organisations goal for medical practices and patients. The health IT leaders should also think about how interoperability improves patient's experience and how to save them time.
1. Set An Effective Strategy To Improve Interoperability
Whether a healthcare organisation takes a decision of implementing a new EHR system, or optimising the existing EHR with the advanced technologies, healthcare providers often gather with multiple health IT vendors and outside partners to create and manage their large-scale IT projects.
The first step in defining an effective strategy is deciding what you want to achieve from your data. Then you need to align your priorities and necessities, to enjoy the greatest value from your data. Finally make the right decisions that optimise processes for your strategy. For example, a healthcare organisation can partner with hundreds of healthcare providers throughout the country to manage their quality data which helps to improve healthcare interoperability.
2. Adoption Of Standard Terminology
The first and foremost healthcare organizations need to know where they stand relative to the adoption of standard terminology. If your organization has a long history of adopting standard terminology in its core business practices, you are in a much better place to take advantage of interoperability technology.
Most of the latest technology presupposes that there is a common language spoken between provider organizations. Unfortunately that is not always the case. Oftentimes the ability to be interoperable starts with a lengthy terminology mapping process.
An organization's ability to adopt and optimize the technology depends upon having that standard language in place. As an organization continues to build new content, having the discipline to require that the content is in standard terminology code sets will facilitate your ability to continue to take advantage of interoperability technologies.
3. Dedicated Team Of Experts
In order to build a high-functioning interoperability practice, healthcare CIOs need to build strong, dedicated teams that think broadly about optimizing operations across the full enterprise.
Healthcare IT leaders should continuously invest in their teams to regularly upgrade their skills as emerging technology trends continue to evolve, including API-based standards, FHIR or artificial intelligence/machine learning. With a strong team, an organization can create an enterprise interoperability strategy that gives equal weight to technology as well as the people behind it.
4. Interoperability For Value-Based Care
The next best practice for optimizing interoperability technologies is ensuring interoperability for value-based care. The value-based care can create a better experience for patients, and providers can get rewarded for better outcomes. Ideally, a system will know what the practice needs to do for each member of its population and at, each encounter, reach out to the network to pull in the right information, at the right time, into the right workflow.
5. Interoperability For Better Patient Outcomes
CIOs need to understand that clinicians do not want interoperability technology simply to have more data; instead, they want interoperability tools that help them to deliver better patient care and outcomes. Clinicians need solutions that deliver clean, organized and actionable data that enhances their understanding of the patient's health without having to search through clinical spam to find the precise information they need for clinical decision-making.
Interoperability solutions that deliver clean data give users the ability to leverage the use of AI-based solutions, such as advanced business intelligence systems. If the interoperability technology delivers data from another EHR in an unstructured, free-text format, then finding the specific information that clinicians need to improve care is a manual and tedious process. But if the interoperability tool delivers and stores the information in a structured format, clinical details can be easily extracted and available for advanced analytics or to create clinical dashboards.
When clinicians have clean data that can be fed into dashboards, for example, they are better equipped to improve patient care and outcomes because they have a visual representation of patient populations.This is especially beneficial when treating patients with chronic conditions such as diabetes or arthritis because they provide at-a-glance insights into a patient's current condition and a better understanding of the ongoing care needed to optimize clinical outcomes. Such tools can drive greater physician productivity, improve clinical decision-making and give clinicians more time for direct patient care, he added.
6. Interoperability Technologies – Two Key Areas For Optimization
Data formats: There are many data format standards to accommodate. For example, claims data follows the X12 structure. Lab data follows the HL7 structure. EHR data may follow HL7/CCDA/FHIR structure. On top of that, each "standard" format may be customized. A robust interoperability practice needs to manage different types of interfaces and file formats as well, including HL7, FHIR and X12.
Frequency and volume of interfaces: In order to effectively manage a wide range of interoperability projects, an organization should define standard approaches to managing the frequency and volume of interfaces, including daily, monthly and batch versus real time.
Summary
With the help of advanced technologies available in healthcare industry today, the physicians and healthcare providers not only match patient records, but readily share medical data necessary for decision making. Many providers miss opportunities to leverage interoperability solutions due to lack of IT resources. If you are ready to achieve true interoperability, then it's time to check with CapMinds HL7 FHIR interoperability solutions.