EHR Evaluation Checklist 2023: Select the perfect platform for your growth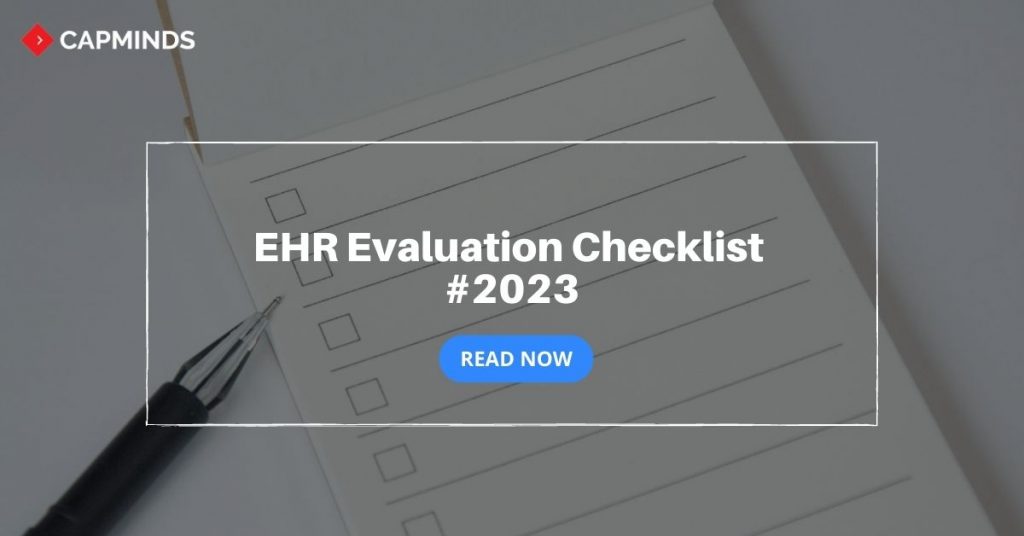 Implementing a new EHR software or switching to a superior system? We have your back.
We are here with the perfect EHR evaluation checklist to achieve what you are aiming for.
Let's cover the basics first: What is an EHR?
EHR is the digital version of a patient's paper record. EHR software helps healthcare providers to manage patients' medical records. Without taking much time it increases the provider's efficiency by automating the clinical workflows.
In simple words, it is aimed at documenting and storing a patient's medical information/history digitally. This helps to make a more accurate diagnosis, better treatment, and decision-making.
It helps in reducing the time taken for the providers by eliminating manual tiresome work. They are automated and reduce costs and improve maintenance.
EHR Clinical Features Checklist
What is the basic purpose of an EHR system? It should provide physicians and clinicians with uninterrupted real-time access to health records. Prefer a cloud-based EHR system that has tools and features that allow streamlined admin works for providers.
The EHR system should also offer integration & customization options to fit your facility's needs.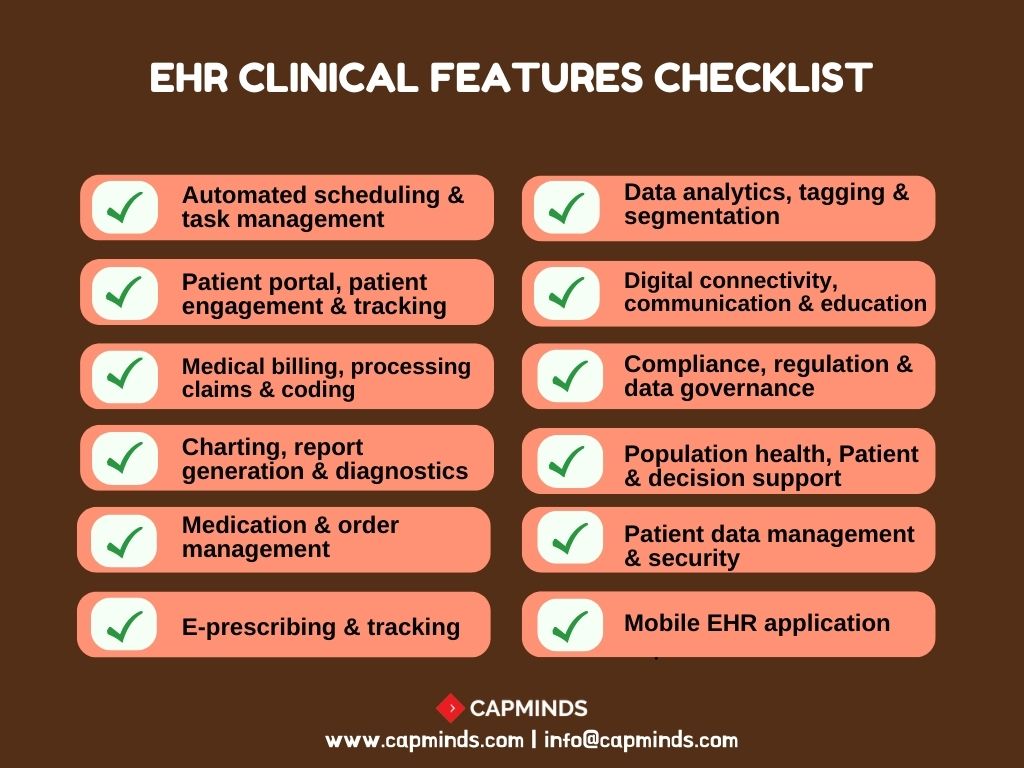 Specialty EHR
Specialty EHR is an EHR type that is designed to support specialty practices. Each specialty has distinct operations and workflows that cannot be managed with normal EHRs.
EHRs can be customized and integrated into each specialty's needs. Make sure your EHR has this added gem.
EHR Evaluation Process
EHR implementation might have issues like complex workflows, poor data display, integration lacking, and more. These can be managed or avoided by carrying out pre- and post-implementation assessments. Here are some methods that will help you do the evaluation easily.
Methods of EHR Evaluation
1. Formative method
This method ensures whether the EHR system satisfies your organizational needs or not.
You have to consider the following points in this method;

The effectiveness of the EHR technology
The financial impacts the implementation does
The organizational issues that could hinder the implementation process
2. Summative method
This method includes expert review analysis, conducting risk assessments, and system performance testing.
This lets you compare the goals you had to the actual outcomes.
NASA Task Load Index can be used to check intellective workload for deciding the required resources to complete tasks.
3. Heuristic method
This method helps you identify problems within a user interface.
This evaluation requires you to form a team of 3 to 5 technical employees.
They have to rate the issues on a scale from 1 to 5, with 1 being the minimal problem.
It needs professional evaluators to get accurate results.
Factors to be considered before implementation
1. Does It Fit Your Expectations?
Know your specialty first or for which you need an EHR. Each specialization requires specified features.
Like in primary care, the practitioners see patients with various conditions, and an OB-GYN has its own tests & examinations. You should define and understand the need for an EHR for your practice, whether you need a new product or to update an old one.
Your main focus should be that the EHR must meet the need of your specialty/practice.
2. Compliance
Many standards are to be met in the healthcare industry. When it comes to patients' data privacy, interoperability, and efficiency of the integrated system.
Check whether the EHR provided by the vendor enables you to share information with different EHR systems. Interoperability should be a priority. If the EHR system does not support interoperability, better avoid it. Check whether it has complied with HIPAA standards.
The Act known as the Administrative Simplification (AS) provisions, requires patient data to be kept private and safe. It also proposes strict civil and criminal penalties for violations.
It helps in improving the effectiveness and efficiency of the healthcare system as a whole.
3. Distribution
You have got choices from which you can select when it comes to the formation of your EHR. Each comes with its pricing and usability. So there are two software deployment choices for you to choose from.
Cloud-based software: This type is arranged, managed, and maintained by the software provider/vendor. Sometimes is it redistributed to a third party. Usually, this type of EHR software is handled using a safe login platform on a browser and the charges are made on monthly basis.
On-premise software: This is the traditional way. It is installed, connected, and run on one or more computers on office premises. Using this option will allow you to store data locally. It avoids the payment of regular fees to the host/vendor and can access data in the cloud.
4. Guidance And Training
Proper attention and resources may be needed when implementing a new EHR system. The vendor you are choosing should provide the proper required guidance. For some providers who give functional training, ongoing communication & client support it will be easier to manage new changes.
Make sure your vendor has a support team to help you with the process. You may have questions and doubts during some processes. They must be ready to serve you with answers and solutions without making you wait for a long time.
5. Services
An EHR system should have certain common features to enable your practice functions effectively. Some of the features are,
General ones:
Charting: the data and documentation must be created, recorded, and stored electronically. The data re-entry should be allowed to be done using shortcuts, without going through the whole procedure again and again.
Clinical decision support: The EHR system should enable the user to make better treatment decisions. Using patient-specific information should ensure patient safety and value-based care. It should support you with your clinical decisions. It should have clinical decision support capabilities like identifying the right drug interactions. This ensures you are serving your patients by prescribing the right medications, at the right time.
E-prescriptions: The EHR system which you are going to deploy must have the feature of e-prescription. It must allow you to send accurate, error-free, and clear prescriptions to pharmacies while ensuring 100% safety.
Other features
Patient Portal: EHR systems should allow patients to access health data, lab results, and others. It should allow them to read messages from their medical provider.
Appointment scheduling: Scheduling appointments should be automated for easy workflow. The EHR should help to reduce no-shows. It should ensure better patient collection through online appointment scheduling & automatic reminders via email or text.
Telemedicine: Remote patient care has become necessary due to the pandemic now. Telehealth should attract new patients, and ensure your patients in rural areas get the better care they deserve. It should also improve patient outcomes.
Cloud-based EHR from CapMinds
CapMinds cloud EHR & integration services simplify and quicken access to medical records across various electronic software solutions. Our advanced customization & integration services provide sophisticated features tailored to fit your practice requirements. Our solution is easy-to-access and improves your clinical care. Its smart integrative tools like the patient portal, e-prescribing, CDS, RCM, and automated billing make care better. It also improves the patient experience.
By leveraging our comprehensive services & partnerships, we can together develop customized solutions to fit your facility for pure expansions, increased revenue, growth, and patient satisfaction.
"Let's make your integrations and practice easier and more efficient, together"