Effective EHR Dashboard Boosts Productivity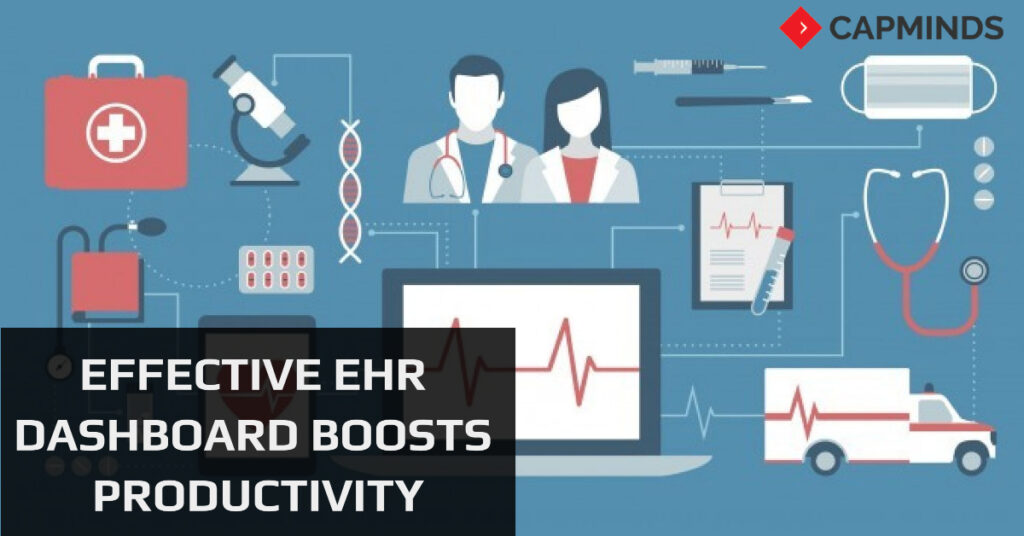 EHR dashboard plays a key role in increasing the productivity of the practice. Nowadays practice managers and physicians are wondering about how some practices are greatly enhancing EHR for practice productivity and some not?
There may be a lot of features such as intuitive user interface and design, but what makes one EHR stand apart from their competitors is the high quality of the EHR dashboard.
Effective EHR dashboard is the one-stop solution for accessing real-time, high-quality data. The data includes patient records, financial workflow, open tasks, and more. A good dashboard, not only benefits physicians, it helps practice managers, coders, and billers to identity the key areas where they should focus more to increase their return on investment. Here are the four ways of an effective EHR dashboard that will boost practice productivity and efficiency.
User-Specific Information
A user always wishes to see only the relevant and important information on their dashboard. Because this only helps to easily get a clear picture of the information provided. A clumsy irrelevant data needs user's extra efforts to identify and access to it. So an EHR dashboard should provide the most important information and provide immediate analytics to keep the practice running smoothly.
For instance, a practice manager likes to view the data about patient visits, copayment information, eligibility data, and more. They should be able to quickly view open tasks, such as patient portal messages that require a healthcare provider response and insurance information that requires updates. They also need real-time financial data such as billed procedures, charges, adjustments, refunds, accounts receivable (A/R) balance, and more.
Likewise, after signing into the EHR, suppliers should see a rundown of patients coming in for that day (counting who has checked in and is fit to be seen) alongside simple access to the explanation behind the visit and clinical history. They ought to likewise have the option to rapidly observe 'open tasks' that require consideration. For example, clinical notes that require finalizing and lab results that require review.
In the case of Coders and billers, they like to see the important and relevant data about claim denials and rejections and be able to trend financial data easily. With the effective EHR dashboard the medical coder, billers, and providers can delegate tasks and follow-up accordingly.
Data Visualization
Nowadays the healthcare providers and patients are becoming very tech-savvy. They don't have time and patience to read a summary of the healthcare information. They prefer visual representations and trending analysis than just data. So an effective dashboard should not include tables and columns, it should be created in an eye-catching manner with attractive visuals that help you and your patient better understand his or her health status.
Clinical and Financial Integration
Most of the EHR dashboards fall short because they only include clinical data or financial data but not both in a single view. For effective results, practices need a consolidated view of clinical and financial data. This helps to gain positive results and better reach because it reflects the entire patient experience from the moment the patient contacts the practice through to the claim payment.
Easily accessible data
An effective dashboard not only provides important data alone, but it also allows users to easily access data and generate reports quickly. This keeps the users more informed about all the medical information, that's why a dashboard designed with usability helps a practice to boost their productivity within a short period and save their precious time and concentrate more on patient care.
Take Away
EHR dashboard shows appointment status including historical statistics in a tabular format.
Total co-pay collected over various periods is shown as part of a quick financial overview of the practice.
Visit counts over months are shown in a graphical view for quick monthly practice visit performance analysis.
Quick access to today's appointments, patients in the office, notes in progress, and any encounters that have not been billed yet.
Quick access to incoming messages and pending lab results that require your review.
The EHR dashboard shows all your frequently-performed workflow elements in a single location for a remarkably convenient way to manage tasks with greater ease & speed. Contact us today for an effective EHR dashboard for your practice.