Cloud-Based EHR Vs In-House EHR: How To Choose The Best?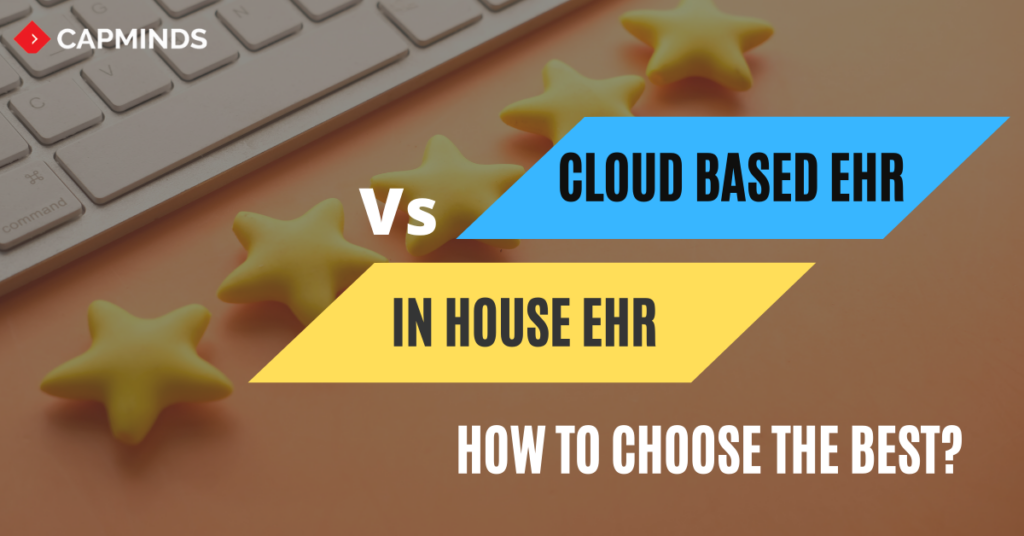 Today, the electronic health record (EHR) list on the top among the most powerful tools in the healthcare market.
Is it cloud-based EHR that works well for your practice? Is it an in-house EHR? Is it both? These questions have popped up time and time again with the healthcare community. The real fact is, the difference does matter – as these two types of EHR can bring very different results for your healthcare organization.
Let's finally put an end to this question and uncover when healthcare experts should turn to cloud-based EHR vs in-house EHR for their practice,
Switching your medical practice to a cloud-based EHR? This guide will ultimately explain to you how effective is cloud-based EHR today and how it benefits healthcare practices.
Both are effective, but different results
Both cloud-based and client-server have to work with the health records, but they each serve their distinct purpose. Knowing this difference will help you to determine which method you need to employ to achieve successful results. So, it's worth considering the benefits to choose the right one for your healthcare practice.
What statistics is saying?
Two third of IT leaders for health systems reported that they are currently using cloud-based technology (HIMSS Analytics)
93% of healthcare experts said their top priority was cloud-based solutions for easy access to data.
Nearly 82% of small practices in urban areas have already switched over to cloud-based EHR systems & 81% of practices reported that they are satisfied with the adoption.
What's the difference between cloud-based EHR and in-house EHR?
The EHR systems fall into two categories: Cloud-based systems and in-house systems. The bigger difference is where the data lives. Cloud-based store the data on external servers where they can be quickly accessed via the web. All you need is only a computer with a good internet connection to access the data.
Same way, the client-server system stores the data in-house, where a server, hardware, and software need to be installed additionally. While the in0house EHR has become old and traditional, more and more practices are switching towards the cloud. While there are both pros and cons regarding cloud-based and in-house EHR adoption, security considerations, cost savings, and data sharing are the top benefits to make a switch to the cloud system.
Effective benefits of cloud-based EHR system
1. Reduce capital investment
Setting up a new EHR system can require substantial capital, especially when you opt for an in-house system. Depending on your requirements it may cost you more than $40,000 associated with hardware, licensing, maintenance, and regular upgrades. Since cloud-based systems don't require hardware installation or licensing fees, implementation is cheaper and you don't need any additional IT resources.
2. Enhance data security
Security is a big question that arises when we talk about EHR adoption. The important information like patient name, lab results, social security numbers are all included in EHRs. Having a client-based server means you are completely responsible for its security. So health experts consider cloud-based EHRs as more secure than in-house EHRs. Also, EHR security gives patients a kind of trust and prevents potential data threats and breaches.
The safety and security of patient health information is the most important part of EHR adoption. In that way, a cloud-based system will guide you in the right direction.
3. The cloud prioritizes interoperability
Healthcare interoperability is critical in today's modern world, enabling better access to information to patient care. Cloud-based EHRs allow systems to be interoperable and the healthcare data sharing can be done securely, while also helping EHR vendors to boost their interoperability capabilities.
Interoperability boosts clinician satisfaction with EHRs which is difficult to achieve with on-premise EHRs. Poor usability is a major issue that impacts clinicians and causes clinician burnout. On-premise systems may suffer from poor usability, difficulty to exchange data securely. In turn, cloud system helps to overcome interoperability challenges and improves patient outcomes.
By enabling experts to access and exchange data through a secure, single source, then the result would be faster, more accurate resulting in smoother transitions of care. So switching from an in-house EHR to a cloud-based EHR may be a great step forward for health systems to focus on interoperability.
4. Easy data access is possible with cloud-based EHR
One of the huge benefits of a cloud-based system is that real-time patient data can be easily accessible from multiple locations. For healthcare practices with multiple offices – patient data can be stored on cloud-based systems can be accessed from PCs, tablets from anywhere at any time.
For the patients who visit different specialists as a part of their healthcare, this EHR on the cloud will be very beneficial, as they can access their health information from any location. These cloud-based servers also provide medical staff with the wonderful option to work from home – especially during this Covid-19 pandemic situation.
5. Complete data privacy
A question may rise that cloud-based EHRs are subjected to privacy?
By using a cloud-based system, healthcare practices no need to worry about storing confidential patient health information and personal data on their servers. Everything will be taken care of by the EHR vendors like CapMinds.
In addition to privacy, EHR on the cloud allows physicians and practice staff to control who all can access sensitive information. By monitoring who can access information, physicians can able to securely transfer health records with other physicians and patients who have proper authorization.
Understanding the types of cloud
There are three different types of cloud – public, private and hybrid cloud.
First, the public cloud will be available to multiple clients who can easily access the same hardware, services, and network devices with a good internet connection. The users who are utilizing the public cloud should pay a subscription fee to use their portion of the cloud.
While users pay to store and access data and use resources, the cloud services provider is the one who controls the data architecture configuration, data security, and availability of services.
Second, the private cloud will be owned by a third-party service provider, but the users will be given access to a dedicated server that won't be shared with other entities. Healthcare organizations can also use private clouds hosted by third-party service providers. Here the third party takes control of managing and maintaining the cloud.
Finally, hybrid clouds work as a combination of both public and private clouds. Users can make use of the private cloud to store more sensitive information and the public cloud to manage low-risk information. In-house EHR systems differ from private clouds because they are hosted locally and managed without the involvement of a third-party service provider.
Healthcare organizations with in-house EHR systems must ensure the IT team manages all controls. All these types of cloud will have their advantages and disadvantages. So before deciding between a cloud-based EHR or an in-house EHR system, healthcare organizations need to evaluate how closely each option fits for your organizational priorities.
How to choose between cloud-based EHR Vs in house EHR?
Every healthcare organization may be looking for a cost-effective EHR solution without an in-house expert team to maintain and manage health IT resources.
Large medical practices that want to maintain complete control over their data security, IT infrastructure, and optimization may prefer to choose an in-house EHR system. However, the health systems considering in-house should note large IT organizations are investing in cloud-based technologies and preferring it as the best option for data security.
In today's digital world, as health IT companies are moving towards the cloud, some experts also predicted that the cloud may be the future of health IT. So no matter which system you choose health leaders should assess their capital, capacity to invest, and resources before getting started with on-premise or cloud-based EHR.
If implementing an EHR system will flexible payment options, IT support, free updates, advanced integration features is your need, the EHR on the cloud may be the best option for your practice. If implementing a system with full IT infrastructure control is your top priority, then an in-house EHR system may be the right fit for your healthcare organization's needs.
Switching your healthcare practice to cloud-based EHR?
Of course, implementing or transitioning to a cloud-based EHR system comes with its concerns. By doing effective research and finding the right EHR partner will make your work easier and help you to remain focused on quality patient care rather than IT resources.
Whether your practice is small or large, CapMinds cloud-based EHR will help your practice to be prepared for growth and expansion. The flexibility of our cloud-based system allows physicians to make the right use of EHR by easily customizing it to meet the specific needs of your practice without a lot of expense or downtime. Among countless benefits, CapMinds helps you to eliminate the out-of-pocket expense and the cost of establishing an IT support team.
Schedule a free demo with CapMinds to know more about EHR services and plans.