Case Study: Transforming a Legacy ASC System into a modern tech with EHR Implementation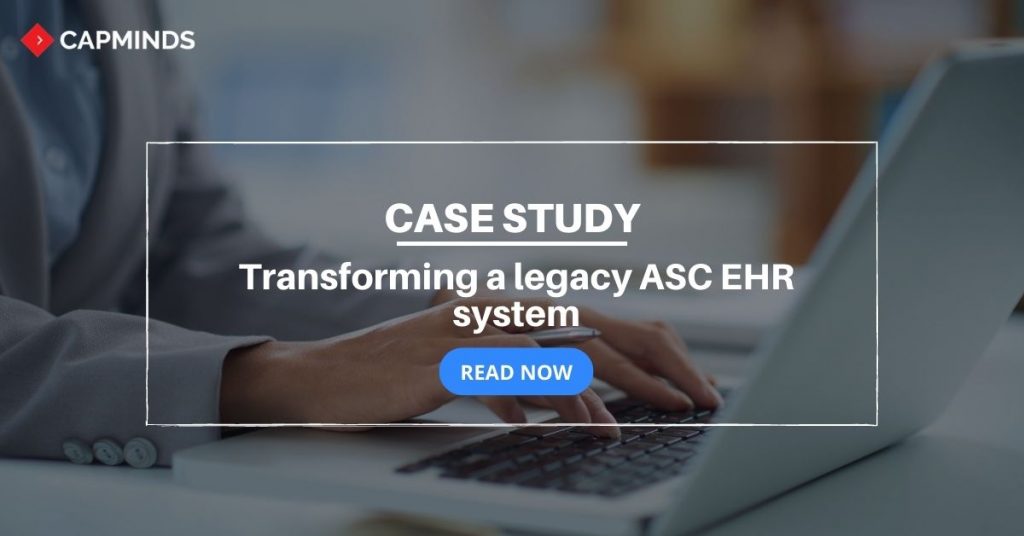 Client Overview
A top US-based clinic planned to turn a failed ambulatory surgery center into a working center.
Transforming the legacy system into a new one came with its problems and inefficiencies. They included a health record system that was still maintained with paper documentation.
CapMinds Technology was compatible with them and offered a variety of customized features that could open opportunities. Once the EHR was implemented, the center went through astonishing improvements in its revenue and patient satisfaction.
Business Challenges
Implementing a viable and trustworthy EHR system with advanced and customizable features was their utmost priority.
Their legacy system being a small but enough one, was undefendable and blocked their vast vision to increase revenue.
From a business perspective, they found that their system was inefficient to fit the health tech competition.
The legacy system dragged down the talents and abilities of staff members.
They needed to upgrade to an EHR that eases things for surgeons and increases patient satisfaction.
Our Approach
CapMinds' EHR cloud services included an automated billing solution that improves profitability. CapMinds meets all the peculiar needs of healthcare clinics and practices for satisfying its patients. It has the capabilities and recording metrics, a surgery center needs. CapMinds customize & integrate EHR features to fit whether it is a large or small clinic.
The Outcomes
With the implementation of CapMinds EHR services, the ASC had significant growth within its system and staff satisfaction.
When the clients entered a patient record, all the information like progress notes, assessments, diagnoses & medical information, etc, showed up on a single screen.
The surgeons felt relieved & their decision-making improved with the easy access to health records.
The customized services fit the center well without overwhelming functionalities.
CapMinds EHR services made them join the healthy competition & helped widen their vision for better services.
Their staff was able to overcome the technical difficulties and were free to use their capabilities to the utmost.
The new upgraded EHR let them concentrate more on patients and avoid paper documentation. This resulted in increased patient satisfaction.
ASC EHR Services From CapMinds
CapMinds cloud-based EHR ASC services simplify and quicken access to medical records across various electronic software solutions. Our advanced customization and integration services provide sophisticated features tailored to fit your practice requirements.
The CapMinds cloud-based EHR solution is easy-to-access and improves your clinical care. Its smart integrative EHR tools like the patient portal, e-prescribing, CDS, RCM, and automated billing make care better. It also improves the patient experience.
By leveraging our comprehensive services & partnerships, we can together develop customized solutions to fit your Ambulatory Surgical Center (ASC) for pure expansions, increased revenue, growth, and patient satisfaction.
"Increase your ACS revenue and patient satisfaction with CapMinds EHR Services"