Case Study: Hospital Reporting With Seamless Data Analytics Integration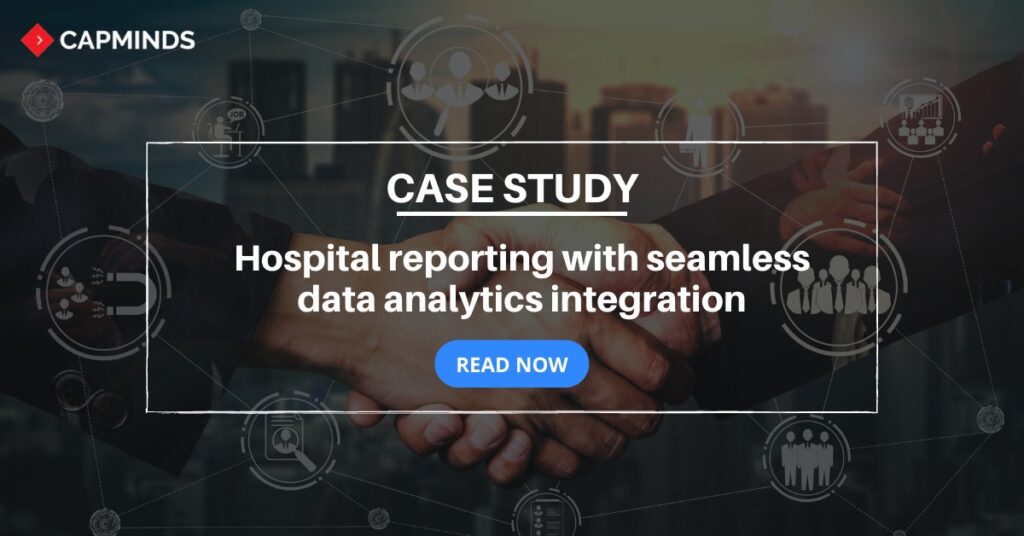 Client Overview
The U.S based client offers comprehensive implementation & management services, cloud-based software solutions, research, and strategic consulting.
In the USA, hospitals, health systems, and doctor's offices rely on its business intelligence software and services. To deliver its prized high-quality metrics and useful reporting, its solutions must consolidate enormous amounts of different administrative and clinical data into provider-specific data repositories.
Business Challenges
The client's software solutions require the proper validation and analysis of massive amounts of clinical and administrative patient data from a diverse group of healthcare providers. This data must be aggregated via a variety of real-time and batch data channels, accurately parsed and cleansed, and then loaded into the client's proprietary analytics platform.
The enormous volume of work and real-time processing that had to be completed in a short period presented some challenges for the team. Among the major challenges are;
Their existing integration tools, a mix of home-grown and commercial software, were proving incapable of handling the organization's growing diversity and several data feeds.

More traditional tabular batches of data, such as comma-separated files, are included in the data sets (CSVs). Real-time messages are also processed, including HL7 2.x messaging and XML.
While the data representation can take many forms, it usually includes a semantic payload from which the client can obtain anonymous historical patient information on which to base population health and quality reports. After receiving the data, it had to be transformed into their specific format before being placed into normalized relational database tables.
Another challenge that the client encountered was that the data being distilled came from a variety of sources.

They had reached the limit of the number of different mappings and transformation rules that could be supported by their current solution of homegrown and commercial software.
The status quo had become difficult to manage, and data quality issues were becoming more common.
Our Approach
Before selecting CapMinds, the client thoroughly evaluated all major interface engines in the industry. Understanding the need for a quicker time to market, Team CapMinds has come up with a solution that can be implemented and deployed faster.
CapMinds proved to be the only solution capable of solving and completing each specific use case's integration challenge.
The client worked with the CapMinds professional services team to implement the CapMinds integration engine solution. The designed solution was an enterprise-level "data acquisition" framework that was a high performance, accurate, and scalable. This designed solution can accept any data format from providers and transform it to feed any of the firm's cloud-based solutions.
Using a combination of custom components, the CapMinds solution has provided the architectural flexibility to adapt to diverse data formats. Among these components is a custom X12 EDI parser that was created and is capable of accurately and quickly parsing the client's volumes of disparate X12 EDI files.
The Outcomes
The CapMinds enterprise-level solution provides all divisions within the organization with a unified architecture through the use of a federated integration model.
Each division that holds the expertise can now be responsible for its governance. The product's modular nature maximizes the potential for reuse, allowing the client to bring on new customers more quickly.
With the help of the CapMinds integration solution, the client can now populate its databases with patient data more quickly and accurately.
New client implementations are completed faster, and the client is delivering higher-quality analytics in less time.
Improved service levels have increased existing customer satisfaction, while increased productivity enables the client to expand more quickly without increasing implementation staff.
The Succeeding
The client supports HL7 FHIR as a modern standard for accelerating healthcare interoperability. Support for new standards can be easily added to the product with the CapMinds integration solution's highly extensible architecture. Now, the client is well positioned to support the widespread adoption of the HL7 FHIR standard by leveraging the newly introduced FHIR capabilities.
CapMinds' support for the new FHIR standard includes;
An FHIR Format Reader with Profile support, and
Full specification support in the product's Data Mapper, including metadata.
CapMinds has already implemented support for many core technologies that FHIR users will benefit from web standards like JSON, HTTP, and so on, as well as RESTful architecture.
CapMinds was confidently chosen because it enables the client to take advantage of the most recent standards and technology. Customers with FHIR-compliant EHR systems can well communicate with the client's systems thanks to CapMinds' new FHIR support. They can process millions of clinical records, expand connections to even more customer systems, and increase their market share more rapidly, and exponentially.
Healthcare Integration Services From CapMinds
CapMinds health tech innovations have tremendously simplified how healthcare integrations get done. Today we proudly present the most flexible and greater support for healthcare integration of any product on the market. Our healthcare integration suite includes end-to-end support for all healthcare data formats such as HL7 2.x, HL7 3.x, FHIR, CCD/CCDA, JSON, XML, X12 EDI, NCPDP, etc.
"Reduce your upfront investment and generate a higher ROI by choosing CapMinds HL7 integration services"