Can telehealth flatten the COVID-19 curve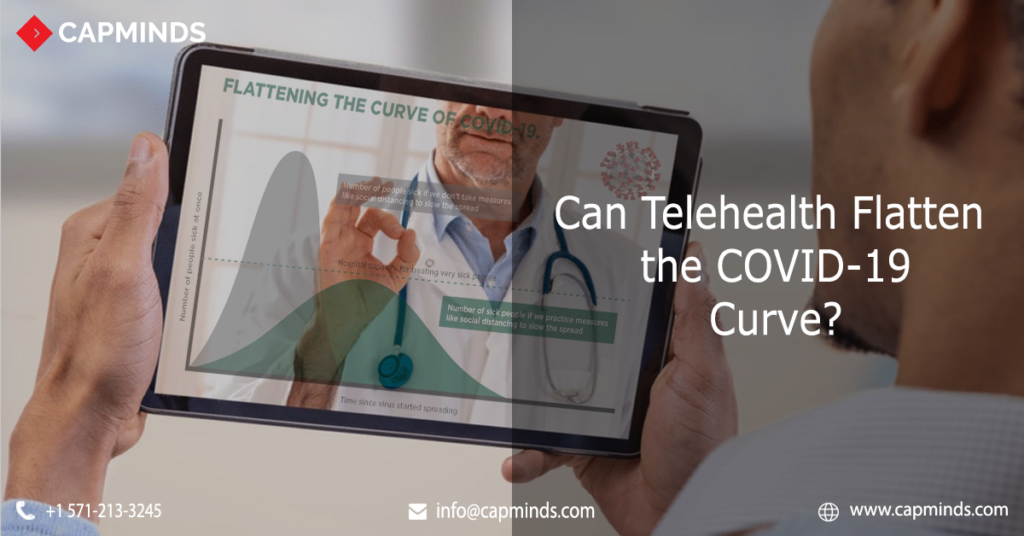 The virtual care platform that allows health care professionals to e-meet patients is called Telehealth. It seems as if it was built to face a pandemic like the one the world is seeing currently. For patients who cannot travel or are immobile, it is a blessing in disguise as they don't have to travel miles to find a healthcare center, especially at a time when they are incapacitated to take care of non-COVID patients.
Even places that have terrible weather will be immensely benefited from the benefits of Telehealth as traveling is a difficult aspect in such areas.
As Covid-19 is spreading across the world like wildfire, Telehealth is spearheading social distancing, inadvertently at that, by reducing the need for patients to travel to health care centers. It mitigates the spread of the virus while enabling patients to get the required medical attention. It reduces the number of patients who will flock to hospitals, some of them would even include patients who are COVID positive. This allows the opportunity for such people to quarantine themselves instead of putting everyone at risk.
Here are the ways in which telehealth can redefine the Covid-19 curve:
1. Helps healthcare workers scale operations:
It can be considered as Telehealth's biggest contribution to stem the spread of Covid-19. Patients with Covid-19 or at least the ones who might have it flocking to hospitals can have serious implications as they can spread the virus-like wildfire. Even healthy patients who visit hospitals for other issues are not put at risk. It immensely helps hospitals by reducing the number of people who might have converged there.
Patients who are diagnosed as likely to have Covid-19 via telehealth can then be sent for testing, thereby reducing the number of tests that people might have wanted to take just by observing one or two symptoms associated with the virus.
2. Reduces the need for people to travel:
If you are living in a metro city, you are not far away from a healthcare center. But that's not the case if you were from a village as you might have to travel for hours to get access to healthcare. Also, the healthcare facilities in rural areas are usually limited, which means that they have very few beds to take care of their patients. Even a single COVID positive visiting a healthcare center for any issue can easily spread the virus to people.
3. Helps healthcare workers take care of other conditions:
With most hospitals around the world not allowing patients from any other conditions during the pandemic, it becomes impossible for certain patients who might need immediate care. Thankfully, telehealth makes it easy by getting the required care needed for such patients. If other chronic conditions aren't taken care of, then the condition of these patients will deteriorate terribly and the aftermath from it will be a bigger scare that would require even more resources, time, and effort.
4. Helps patients self-identify at home:
With a lot of fake news floating around, it becomes impossible for people to stay sane as the thought that they might be carrying the virus is on top of their minds. People who aren't comfortable being in the dark about their COVID status, do not have to go to the hospital, instead, they could self-diagnose based on the pathways created by telehealth applications. They would not be taking up the time of overworked healthcare professionals by stepping into the hospitals, this is a bonus.
5. Increases revenue of hospitals:
An increase in COVID patients and a conscious decision to stop all other treatments like surgeries, elective procedures, inpatient stays, etc., means that their income is severely dented. This means that there is cost-cutting across all streams, including pay cuts which are terrible especially since healthcare professionals are overworked at this point. Telehealth is designed to increase the revenue of hospitals as they can afford to treat patients without them having to come to the hospitals. They can monitor the health of the patients in their homes.
6. Quarantined doctors can work too:
The magic of telehealth is that even healthcare workers who are under quarantine can continue working. Since there is no physical contact between the patient and the doctor, there is no risk of transmitting the virus. It reduces the burden on the heavily overworked healthcare workers as they can take care of patients who are COVID positive while the quarantined medical professionals can take care of patients with other conditions, over video calls.
Conclusion:
The screening questions that are asked during the call will help the healthcare personnel to find out if the patient is in a low, medium, or high-risk group and if they are at a risk of Covid-19 based on their symptoms. The key insights that are fetched during the call help them to assess if you should see a doctor in person or should you go to a hospital for better care.
We have outlined the incredible way in which telehealth does its bit in flattening the COVID curve. These are trying times for us. We need to help each other if we want to go back to a world where everything was normal. There is no man-made border anymore. Remember this- even if there is only one person in some part of the world who has the virus, there are chances that it could again spread across the world. If we need to make the world a better place, then we need to take care of each other and leverage technology like telehealth that helps us maintain social distancing.