Advanced Guide To Cloud Computing In Healthcare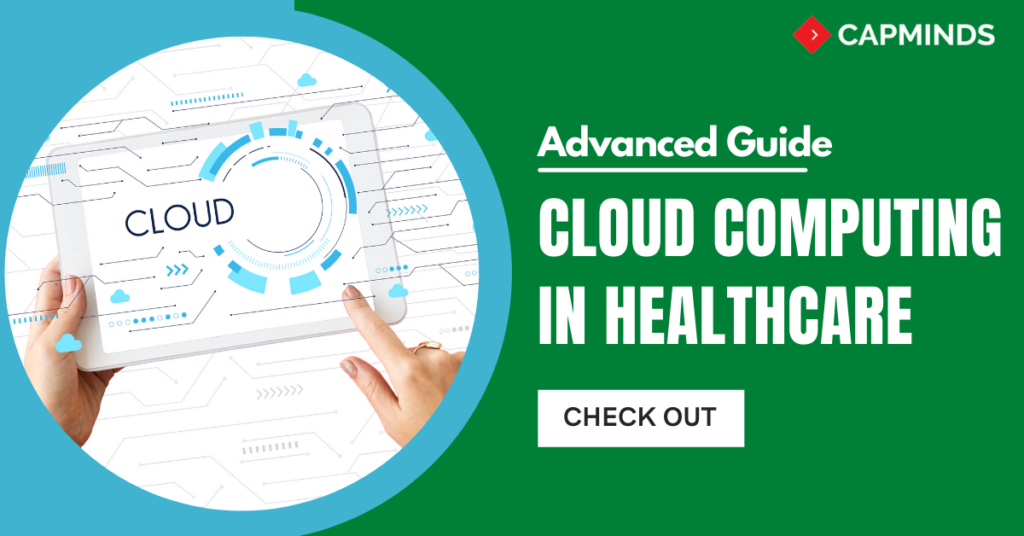 Today, the healthcare industry has started embracing cloud computing to enhance effective collaboration, innovations, and cost savings.
The Covid-19 pandemic has exposed technological challenges in need of solutions today. The healthcare providers, patients, payers are all expecting quick and easy access to medical data with top-notch data security. Cloud in healthcare is designed in a way to create a beautiful infrastructure to collaborate and solve the challenges they face.
Ready to explore everything about cloud in healthcare? In this article, we cover
What is cloud computing? (In general)
What is cloud computing in healthcare?
What does a cloud healthcare system address?
Why are health organizations moving to the cloud?
How cloud computing is transforming the healthcare industry?
What are the benefits of cloud computing in healthcare?
How to make the right investment in the cloud?
What is cloud computing? (In general)
In simple, cloud computing refers to the on-demand availability of system resources like data storage. The term cloud describes the data centers available to many users over the internet – that are distributed over various locations from central servers.
Before the introduction of the cloud, all of the applications and the software had to be available on the server or computer that you could only access at a specific location. But now with the help of the cloud, people could access their information using their internet from any device at any time easily.
What is cloud computing in healthcare?
Cloud computing in healthcare defines the process of implementing remote-based servers accessed via the internet to store, manage and process healthcare-related data.
To effectively address the growing needs of practices and patients, healthcare professionals are started moving towards cloud computing for all its stunning benefits. Cloud computing, with its internet-based services, on-demand availability, and data security – has greatly transformed the entire healthcare landscape.
Cloud storage offers the best solution that allows healthcare providers and hospitals to leverage a network of remote servers where they can store a huge volume of data in a secure environment.
Since the introduction of EMR, U.S. healthcare organizations have adopted cloud-based healthcare solutions for maintaining patients' health records securely. More healthcare providers are looking to work with vendors like CapMinds who offer healthcare cloud solutions to securely save and retrieve digital health records.
What does a cloud healthcare system address?
A Cloud-based healthcare system addresses the following essential requirements in the healthcare industry:
On-demand access to computing with enormous storage resources, which is not feasible in traditional healthcare systems.
Support large datasets for EHR, radiology images, and genomic data offloading.
Ability to share EHR among authorized physicians, hospitals, and care-providing institutions in different geographic locations, offering timely access to life-saving information and minimizing the need for duplicate testing.
Improvement in analysis and monitoring of the data on diagnosis, treatment, cost, and performance.
Why are health organizations moving to the cloud?
Healthcare organizations have been adopting new technologies to streamline processes, deliver new patient care applications and provide improved healthcare services. Despite these IT solutions, they face challenges like high infrastructure cost, the need for computational resources, scalability, all-over access, multi-tenancy, and rising demand for collaboration. The following characteristics of the cloud address these challenges:
On-demand service: The resources are provided immediately without any human intervention.
Resource Pooling: Multiple users can have access to cloud services at the same time.
Elasticity: It is possible to add, remove or upgrade as per the organizational requirements.
Broad Network Access: A wide range of network accessibility is provided from any location at any time.
Measured Service: Clients need to pay only for what they utilize.
How cloud computing is transforming the healthcare industry?
Moving over to the cloud has two-fold benefits. It has proven to be advantageous for both healthcare providers as well as patients. On the business side, Cloud computing has proven beneficial for cutting down operational expenses while allowing providers to deliver high-quality, personalized care.
The patients, who are growing accustomed to instantaneous delivery of services, get to avail themselves of the same promptness from the health sector as well. Cloud also amps up patient engagement with their health plans by giving them access to their healthcare data, thus resulting in improved patient outcomes.
The democratization of healthcare data and its remote accessibility free up providers as well as patients and breaks down location barriers restricting access to healthcare.
Benefits of cloud computing in healthcare
Cloud computing helps in maintaining efficient EHR
Today, the majority of hospitals and healthcare facilities have abandoned the practice of paper record-keeping when it comes to health records and is turning to cloud storage in healthcare. Electronic health records are stored in the cloud and updated electronically by physicians, nurses, and other healthcare providers.
Cloud in healthcare streamlines patient care
The implementation of cloud storage for electronic medical records has streamlined the process of collaborative patient care in America. Cloud-storage makes it easier for doctors to collaboratively view or share a patient's medical records.
Historically, a patient likely had separate files of medical records at each doctor, specialist, or hospital they visited. This made it very difficult for physicians to collaborate on the patient's care.
The widespread use of cloud storage in hospitals — specifically as it relates to electronic health records — make it easier for doctors to share information, see the results of interactions between other physicians and the patient and provide care that wholly considers what the patient has experienced with other doctors in the past.
Healthcare cloud reduces data storage costs
The basic premise of cloud computing is the on-demand availability of computer resources like data storage and computing power. Hospitals and healthcare providers are freed from the need to purchase the hardware and servers outrightly. There are no up-front charges associated with cloud storage of data. You only pay for the resources you use which result in massive cost savings.
Cloud computing also provides the optimum ergonomic environment for scaling which is a desirable quality in the current times. With patient data flowing in not just from the records in the form of EMRs but also through the plethora of healthcare apps and health wearables, a cloud-based environment proves to be perfect for scaling and undergoing a capacitive overhaul while keeping the costs in check.
Cloud means ease of interoperability
Interoperability aims at establishing data integrations throughout the healthcare system, irrespective of the point of origin or storage. As a result of interoperability fueled by cloud adoption, patient data is readily available for distribution and gaining insights to facilitate healthcare planning and delivery.
Cloud computing allows healthcare providers to gain easy access to the patient data collated from numerous sources, share it with the important stakeholders, and give out timely prescriptions and treatment protocols. It also diminishes the distance between the specialists allowing them to review cases and give their opinions irrespective of the geographical limitations.
Having the patient's data in the cloud also promotes interoperability among the various segments of the healthcare industry- pharmaceuticals, insurance, and payments. This allows for a seamless transfer of data between the different stakeholders thus accelerating healthcare delivery and introducing efficiency in the process.
Healthcare cloud computing offers advanced data security
In the past, physicians who used filing cabinets to store reams of patient records faced a significant risk of data theft or damage. Paper records are easily lost or stolen and could be destroyed by a flood, fire, or another natural disaster. The lack of security surrounding these documents was a significant risk to patient safety.
Once the EMR mandate was established, healthcare providers could establish their own on-site data storage infrastructure, but again, that would require the retention of IT staff that is knowledgeable in data security to ensure that patient data was protected.
As an alternative, healthcare providers have been able to outsource data storage and security to HIPAA-compliant cloud storage services. These services provide data storage of patient EMRs that complies with legally mandated requirements for data security and privacy. "The cloud" has helped to ensure that every healthcare provider can access a data storage solution that will adequately protect patients' sensitive information.
How to make the right investment in the cloud?
Given healthcare's industry-wide focus to move toward value-based care, health leaders should make strategic investments that support their cloud transition strategy.
To gain true ROI, health leaders and their partners must consider a cloud strategy that recognizes the big picture, one that extends beyond single-specialty needs. Cloud healthcare solution providers should look to these needs and challenges and build cloud-native solutions capable of addressing current challenges and evolving to meet future needs.
As healthcare organizations look to the cloud to address their needs and prepare for the future, they should look for strategies and solutions that can demonstrate immediate ROI, offer flexibility and performance.
Taking the time to create effective strategies today is the first step towards achieving success with future technologies. As the healthcare sector heads towards greater automation, the best healthcare cloud services will be the right choice to achieve better clinical and financial outcomes.
Explore how U.S healthcare organizations are working with CapMinds healthcare cloud services to enhance patient engagement, greater collaboration, improve clinical insights and achieve healthcare transformation.