5 HL7 Integration Challenges You Probably Don't Know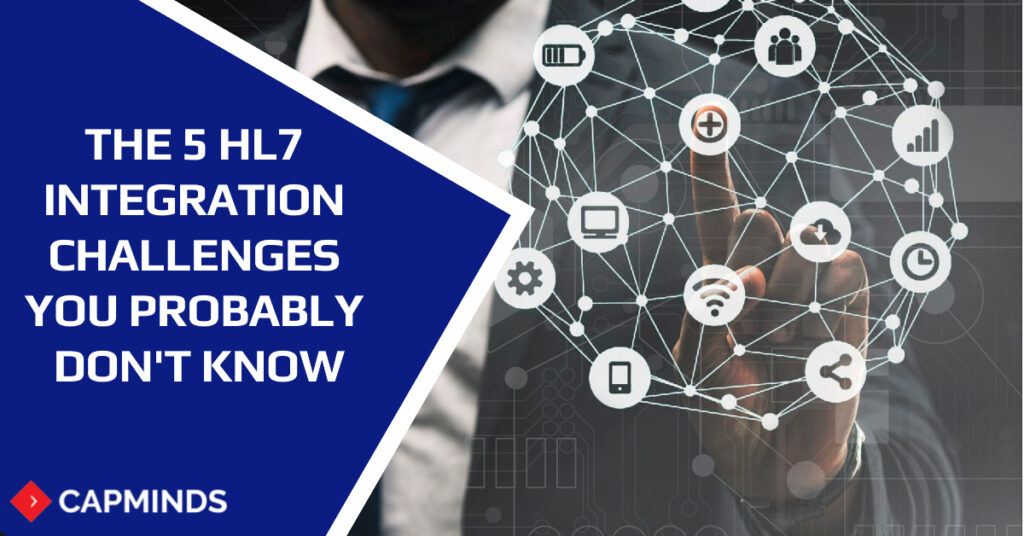 Health Level-7 or HL7 is an international message standard, that provides a framework for communicating patient information between healthcare providers in the healthcare industry. Then what is HL7 integration?
HL7 Integration
HL7 integration refers to the process that executes that data in a way that either the provider or software system can interpret the data on the receiving end. The integration process may look very simple, but actually, there are numerous challenges for healthcare providers and for software vendors in HL7 integration. Let's take a detailed look at HL7 integration challenges for healthcare providers and software vendors.
1. Integration is important for an application to be feasible
Clinicians won't leave the EHR stage, log in to an irrelevant framework, and copy information that is now in the EHR. As healthcare providers are facing lots of problems and pressures to run their practice effectively, this won't help them to increase their productivity. It doesn't matter how valuable the application might be if it requires copying their works, they essentially won't use it and it doesn't fit into their work process.
Then how an application should be built? What actually clinicians are expecting from an application as the best features? An effective application must be easily and quickly accessible to clinicians and should have the capability to eliminate the need for data duplication. IT groups regularly have critical overabundances, which means associations could be holding up months (or years) for IT to assemble the important interfaces for these integrations.
2. There's critical variance in how vendors implement HL7 principles
The considerable change in HL7 implementation slows cycles and makes integration more costly and time-consuming. Basically, it requires keeping up an alternate code base and integration points for each EHR. Additionally, it requires some significant resources especially for integration development, meaning fewer resources are available for other needs, such as enhancements to features and functionality.
Likewise, replacing or including interfaces impacts each application that interfaces with the refreshed/updated application – possibly affecting the whole framework. Each endpoint for the updated application must be either made or changed to encourage communication, and each vendor with interfaces joined to the application must replace or adjust their endpoints, also.
3. Better integration for better app creation
An absence of centralized monitoring implies additional time and money must be devoted to monitoring. Issues may go unnoticed until they've become an out-and-out emergency, and still, at the end of the day, it's hard to pinpoint the wellspring of the issue. There's an absence of important, framework-wide data accessible in an ideal way, so there's no compelling method to check the overall stress on a framework. In turn, that makes it hard to estimate resource needs, for example, server size, network communication, and support staff. All the more real-time information and read-write capacities are desperately required.
4. Poor HL7 data semantics leads to distortion
In today's advanced healthcare landscape, it's very basic that the applications not only understand the data values but one step ahead, it understands what those values actually mean.
To avoid confusion, HL7 interfaces must communicate their interpretation of the HL7 interface standard being utilized correctly. For example, the value of "NA" may mean to be "No Allergies" or "Not Applicable". Samwise, a value of "3" may represent a patient as a smoker in one system, but in another, that same value of 3 could mean that the patient is a former smoker or has never smoked at all.
This value-based confusion and the entire data quality have serious implications for patient care delivery. As today's advanced healthcare systems are increasingly regional, with numerous patient touchpoints, appropriate data integration is significantly more important.
5. Moving to a new EHR may bring about lost inheritance data
Moving to a new EHR poses a great challenge for healthcare organizations in today's marketplace. Some healthcare providers essentially select to keep up with various EHRs, expecting clinicians to log in to multiple platforms, or more regrettable, demand paper records.
While other healthcare providers decide to move all the existing data over to the new EHR system. In any case, they must prioritize data to move to the further process. So what data is most important and which one should be moved first?
The fundamental data such as medications, allergies, and diagnoses are to be prioritized first to migrate. And then the older lab results, images, and other data may be left behind. Also, it is probably not possible to change over specific sorts of data such as images or there might be some errors in information after transformation. In simple, migration results in technology costs, and the process will often be too lengthy.
Final Thoughts
These are the five key challenges of HL7 integration in today's healthcare marketplace. However, the successful path to HL7 integration has many challenges, but API solutions like Integrate put true interoperability within reach for software vendors and healthcare organizations.
CapMinds Technologies offers the perfect all-in-one Interoperability solutions for your clinical needs. Our HL7 integration and FHIR standards services facilitate the innovatory exchange to create new possibilities, client-centered services for keeping our clients in the limelight, clinical integrations facilitate EHR integrated laboratory, imaging, e-prescriptions, EPCS, pharmacy, and more and enhance the activation process for your individual and collective needs.
"CapMinds Technologies is the place that will make you achieve your goals by combining "Expertise+Hardwork+Commitment".
CapMinds FHIR APIs services cover your patients' health data with maximum security, privacy, and confidentiality. We update ourselves with the latest versions like HL7 Version 2, Version 3, FHIR, SMART on FHIR, CDA, X12, Mirthconnect, and security standards. CapMinds offers the best HL7 integration and HL7/FHIR interface development services for the federal government, health tech startups, laboratories, clinics, and practices.
"Unite with us to get the maximum benefits of our HL7 integration services and rise to be the first"