The Ultimate Guide To Clinical Collaboration In Healthcare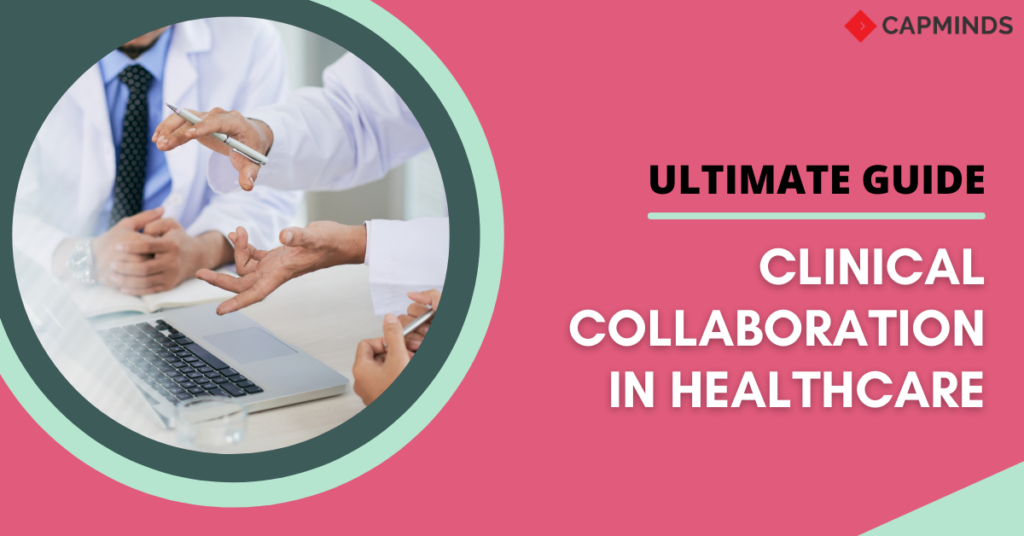 In this fast-moving world, access to healthcare services is easily made possible by electronic mediums. Digital transformation made all the healthcare services look so effortless and collaborative from the outside and also from the inside, didn't it?
Thanks to the development of technology, everything is available at one's doorstep these days. This is the same when it comes to the healthcare sector. The advancements and innovations of technologies happening in hospitals and medical practices allow and help the healthcare staff to collaborate and work as a team.
This team of collaborating medical professionals assists and helps the patients to get the best quality care they deserve and need. This in turn elevates the level of the positive patient experience.
To achieve effective and efficient collaboration, hospitals and practices must put money into communication technologies that help and allows the team to be connected and get access to patient information without any difficulties.
What Is Collaboration In Healthcare?
According to a source, "clinical collaboration is the collaboration of organizations, teams of professionals, or small groups of individual professionals, each having skills, equipment, or information that will complement what their partner has, all seeking to be more effective".
While clinical collaboration, which has been described as a "culture" rather than as something to be purchased, is not a "full-asset merger," a clinical collaboration does aid the financial goal of "maximizing the value of" a franchise. It also gives more eyes to aid in reducing risk.
Examples Of Clinical Collaboration In Healthcare
Choosing one's partner is important, and has been described as "similar to the accreditation process of the Joint Commission on the Accreditation of Healthcare Organizations". "CHOP Hub For Clinical Collaboration Arrives on the Skyline in University City, West Philadelphia" was a 2020 headline describing a coming 19-story medical building.
1. Multidisciplinary collaboration
Previous studies explain the term multidisciplinary team as a group of professionals from two or more disciplines who work on the same project, independently or in parallel.
A multidisciplinary team may consist of nearly 30 professionals in primary care including nurses, physicians, dentists, social workers, midwives, physiotherapists, pharmacists, administrative staff and managers, etc.
Primary care is patient-centered so the professional disciplines might be changed according to patient needs.
2. Interprofessional collaboration
The most accepted definition of interprofessional collaboration is "multiple health workers from different professional backgrounds work together with patients, families, caregivers, and communities to deliver the highest quality of care" – WHO, 2010.
The term "interprofessional" is becoming coincidently used with "collaboration" in healthcare territory. The term "interprofessional" is the updated version of older terms such as interdisciplinary, cross-disciplinary, and trans-disciplinary.
Healthcare Collaboration And The Growing Digitalization Trends
Digital innovations are constantly being done to make the work easier for healthcare people and their users. In this changing world of gadgets and technologies, investment in at least one of these digital innovations is essential.
And there are proven facts regarding this argument. This should be done regardless of the practice or the size of the organization.
1. Telemedicine
Telemedicine has widely helped physicians and service providers by giving them ways to reach their patients easily. This solves the problems faced due to lack of mobility, transport, epidemic or pandemic, lockdowns, low funding, lack of medical staff, limited access to care, and so on.

It mainly concentrates on "remote clinical services". The World Health Organization (WHO) uses telemedicine to describe all aspects of health care including preventive care. This platform is majorly useful to the elderly, sick people, and uninsured ones.
Telemedicine is an integral part of EHR, so for telemedicine to attain its fullest potential, hospitals and medical professionals must invest in EHR and digital technologies. This helps doctors and practices be easily visible and accessible to patients without any difficulties.
2. IoT and wearables
Lately, if you notice, the market for wearable technologies is increasing at a faster rate than before, and one of the reasons is the pandemic. We came to know that hospital visits are not only the way to get professional medical advice and consultations.
With the advent of remote care, many people started opting for wearables for keeping track of their health daily. These devices helped people to track their vitals like oxygen, blood pressure, heart rate, etc, and the calory tracking feature became more famous as people started to concentrate on maintaining their body and mind – a positive impact of COVID-19.
The Internet of Things (IoT) – enabled devices in the healthcare sector empowered the use of Remote Patient Monitoring and emergency notification systems, which helped in potentially keeping the patients safe and sound by providing ways to tend to them in time. It helps them deliver the highest level of care in the shortest time, to the most needed.
3. Cloud technology
We say that everything is possible with digitalization. But is it possible to connect and interconnect different healthcare organizations to make things easier? Yes, it is!
This is where cloud technologies come in. Access to highly classified and secured data, safeguarding patient and other information, and most important thing of interconnection between different healthcare organizations are made possible through cloud technologies.
Before the advent of cloud technologies, hospitals, and organizations were compelled to pay for expensive systems to store data and information. Now with the help of this technology, medical providers can do a continuous collection of data, research, and various other details from different sources without any obstacles.
A centralized cloud network provides a safer environment to store data as they keep moving from one server to another, despite being in one.
4. Big data
Big data usage mainly helps policymakers, scientists, and organizations to make appropriate and correct recommendations and life-changing policy decisions. Data analytics when put to use in the right way in healthcare, can help organizations and physicians to avoid preventable diseases, which is very important to the domain.
It also helps in reducing the cost of healthcare and at the same time, it improves the quality of care given to patients. Big data helps professionals to analyze patient self-care and their health conditions better. This results in better patient outcomes.
Why Clinical Collaboration Is Important?
It helps in the automation of the processes in healthcare.
It facilitates better patient management and delivery of care.
Improved patient care is achieved through collaboration.
Information regarding emergencies and other treatments can be shared with other physicians easily.
Medical errors due to communication gaps will be reduced and can be avoided.
High efficiency and cost-effectiveness can be achieved.
Physicians and medical staff can achieve higher job satisfaction when collaboration in practices is on.
The Bottom Line
Clinical collaboration will become the biggest hit in the future if it maintains its pace of growth. And we should thank technological development for that. Investing in collaboration technology will never leave your hands as a clinical practitioner.
The healthcare industry can improve communication between staff, providers, and patients through collaboration. This results in positive care delivery and service.
CapMinds is here to make your practice collaborative in nature. Our sophisticated telemedicine platform is a trusted one for improving the quality of healthcare.
It provides greater convenience and lowers costs with CapMinds video visits, access to healthcare is possible anywhere and anytime with our remote patient monitoring (RPM). And our online payment collection facility is faster. And please don't worry about the security, it is 100% safe and secure here with us.
Our cloud-based EHR software is a smart choice for better patient care. It has features like easy patient scheduling, customized templates, patient medical record, a patient portal, integrated telemedicine, an e-prescribing facility, etc.
We CapMinds help healthcare providers and patients to build and manage cloud, AI, and IoT-powered smart landscapes with complete security. Reinvent your healthcare organization with our comprehensive healthcare IoT solutions that help you to explore new opportunities.
Why and for what are you waiting for? Your practice's best buddy is here. Visit our website and contact us for more details. Let's join hands together towards betterment.

"Let's make your practice's collaboration experience an extravagant one, together"