The Role of EHR in Population Health Management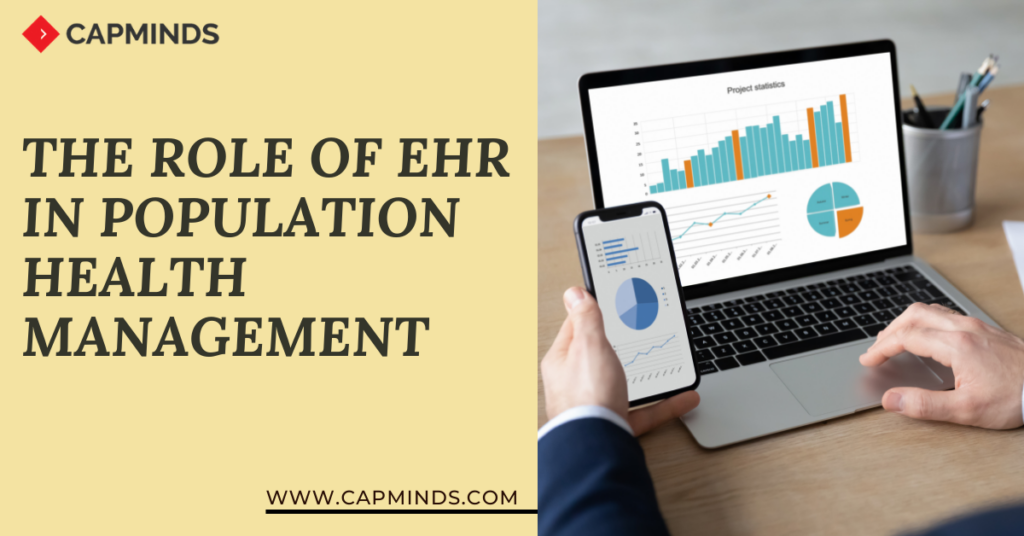 Population Health Management involves the analysis of patient health data from multiple sources. By producing a single patient health record, healthcare providers can easily able to improve both clinical and financial outcomes. In this article, we explain to you the importance of PHM and the role of EHR in Population Health Management .
What Is Population Health Management ?
Population Health Management (PHM) works towards improving the patient health outcomes of a group of individuals by analyzing patient data into actionable patient records. This can be achieved through which healthcare providers can provide better outcomes and government can define better policies and improve the public health system.
These individuals are a small part of a large group of a particular geographic area, those sharing a similar characteristic. For example, a group of individuals with specific diseases.
The main objective of PHM is to develop new strategies to improve patient outcomes by applying public health concepts for disease management such as Chronic Disease Management with the help of comprehensive data analysis.
Using EHR To Improve Population Health Management
Population Health Management programs use EHR software to populate patients' information and give a point-by-point report on the information of every tolerant to distinguish drifts and improve Patient Outcomes, bring down the expense for Public Health Systems.
The PHM goes beyond gathering clinical information and examines clinical, financial, and operational information that gives noteworthy bits of knowledge and unsurprising analytics. What's even more uncommon is the use of an EHR system for PHM that gives a comprehensive picture and incorporates all important data on patient's medical record, insurance claims, billing, labs, and pharmacies
Effective Population Health Management starts with the contribution of proper patient information during the patient visit. Patients that are seen by various suppliers will likewise have clinical records from different doctors, labs, and medical practices that should be composed inside the EHR system, so the essential consideration doctor can approach the full clinical profiles of all the practice's patients.
By utilizing the information from specific populations served by the independent physician's practice, a more significant plan for preventive care can be effectively implemented. CapMinds EHR empowers healthcare providers to effectively discover data that supports their clinical decisions at the right time the physician needs it.
A successful Population Health System
For a successful PHM program, real-time information and bits of knowledge are needed for both clinical and administrative; social determinants and claim information to recognize and address the existing care gap inside the Patient Population. This requires the use of an EHR system that can follow, dissect and submit information needed for making a total report on clinical and financial determinants.
EHR system giving patient risk scores in regards to health, way of life, and clinical history would help in making subpopulation, using this technique for hazard definition helps both government and the suppliers to understand population's healthcare needs and trends.
Population Health reaches out beyond the current patient care. Applying population health, the healthcare providers will know their high-hazard patients from the clinical viewpoint. The medical services industry needs to gather genuine patient results information; for instance, if an individual with diabetes has a foot test, and during the assessment, if the open injury is found.
The healthcare provider should clearly understand the cost at an individual level. Consequently, it is essential to understand the expense in population health and deal with that expense while ensuring patients' awareness. Though the EHRs are designed with the goal of fee-for-quality care, it makes it difficult for the populations to understand the cost of care. But, the population health is right now managing on a per-member, per-month basis.
Final Thoughts
The Population Health Management solutions offered through EHR permits healthcare providers to be watchful about gaps in the provision of value-based care. These kinds of solutions and their ability to provide population data analytics will help in increasing the productivity of healthcare. The acquired data can be used to give healthcare providers great opportunities to a more extensive local area by consolidating telemedicine solutions and arranging home medical care.
It is also important to understand the other challenges that have forced the healthcare industry to look beyond the EHR for population health. The viable Population Health Management is growing quickly as value-based reimbursement increases. The CapMinds EHR gives the right supplement and right solutions for your practice.