Not knowing the MIPS 2022 Final Rule can cause you big trouble!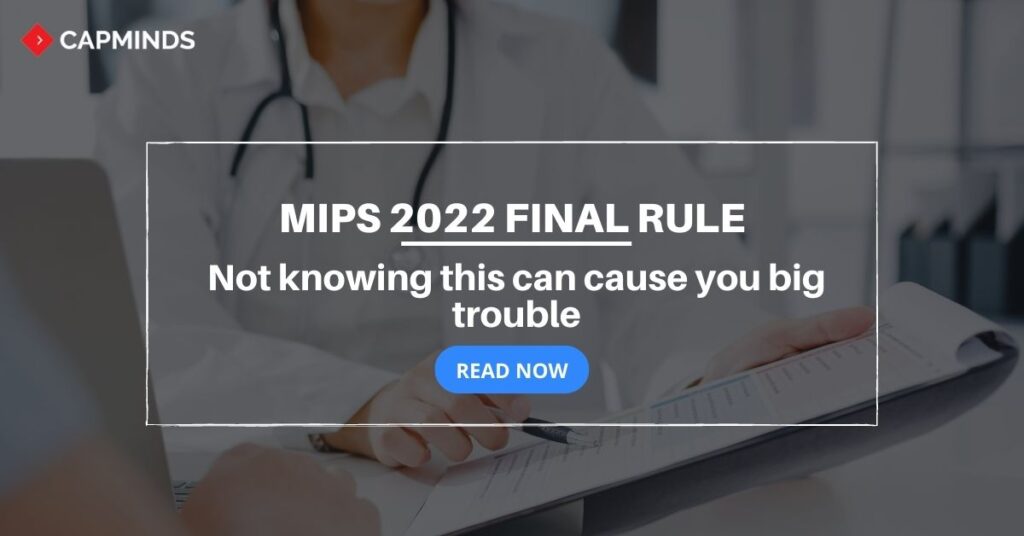 MIPS (Merit-based Incentive Payment System) was introduced in 2015 by MACRA law as a reimbursement system. If you or your practice meets specific criteria, you may need to file MIPS data. Not knowing these can cause you distress.
The MIPS program can capitulate higher reimbursements for your practice when you provide high-quality, better care. Whether you will qualify or not depends on your clinic type, billing volume, and other certain factors. These are not obligatory for all clinicians. Some are exempted from partaking and some's participation is mandatory.
This article covers the following contents;
What Is MIPS? (A Detailed Review)
MIPS (Merit-based Incentive Payment System) is a program that determines Medicare payment adjustments. This program contains a composite performance score. Using these the eligible professionals (EPs) may collect a payment bonus, a payment penalty, or no adjustment.
The CPS (composite performance score) has four performance categories;
Quality
Resource use
Clinical practice improvement activities
Meaningful Use of certified EHR technology
The MIPS score will annually measure eligible professionals in four performance categories to obtain a "MIPS score (0 to 100)". This score can remarkably impact a provider's Medicare reimbursement and depends on four factors.
MIPS Eligibility Criteria For Clinicians (Additionals)
Along with the existing list of MIPS-eligible clinicians, two new clinician types are added with the start of the 2022 performance year;
Clinical social workers
Certified nurse-midwives
Factors Of MIPS Scores
1. Quality
The quality you provide will be based on the standards already set by CMS & professional medical groups
You can choose the best suiting six quality metrics for your practice
CMS will evaluate you based on these chosen metrics
Quality will contain 30% of your MIPS score in 2022
2. Promoting Interoperability (PI)
This uplifts practice to the use of certified EMR software for easing the electronic exchange of health data.
PI will contain 30% of your MIPS score in 2022
3. Improvement activities
This score shows the initiatives you take to reinforce your patient care processes.
It tracks the way you improve patient engagement and access your care.
You can choose your improvement metrics like the quality metrics that fit your practice nature.
Improvement activities will contain 30% of your MIPS score in 2022
4. Cost
This one shows the costs you sustain for providing care to patients.
To calculate this, CMS utilizes the medical claims you send to Medicare.
The cost score will contain 30% of your MIPS score in 2022.
MIPS 2021 v/s MIPS 2022: Performance Category Weights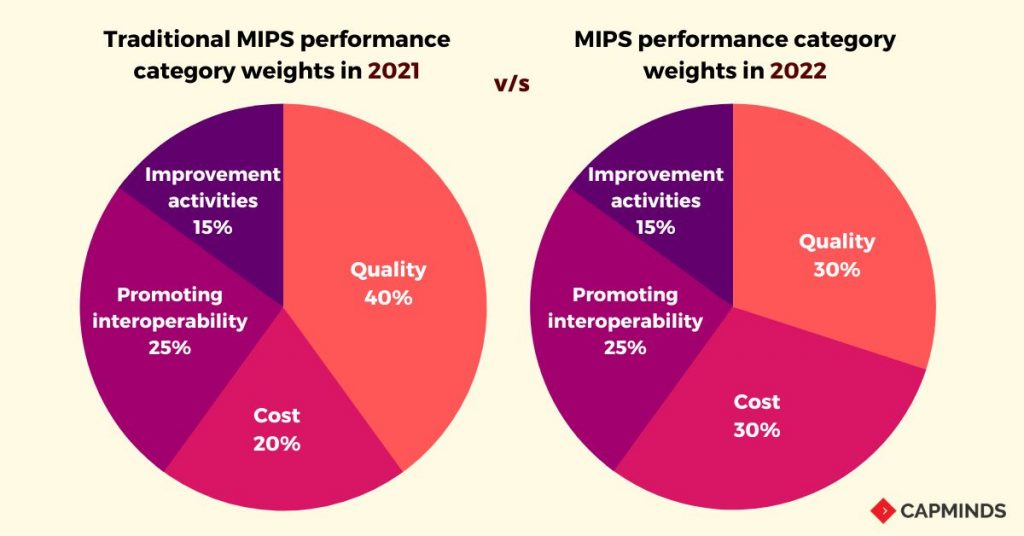 Performance Category Weights: Rearranging For Small Practices
The MIPS Final Rule 2022 also updates the performance category weights for small practice clinicians. They will have "promoting interoperability (PI)" automatically reweighted. The other categories will be as follows;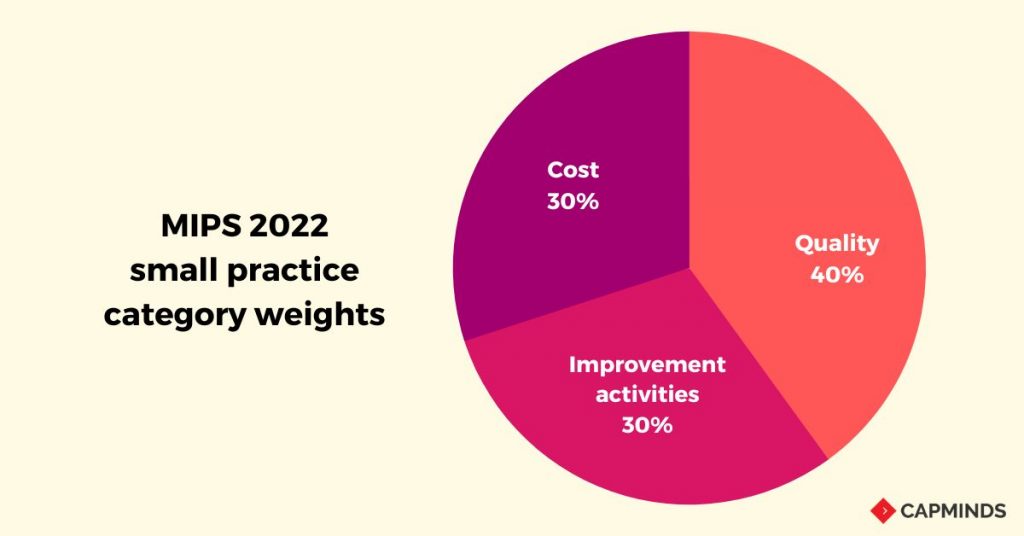 Normal weights will apply if the small practice reports PI data.
The quality and improvement activities will be equally weighed at 50% if both the cost and PI categories are weighted.
How To Meet MIPS Requirements By Practices? [5 Critical Steps]
Validate MIPS eligibility for all practitioners
Finish training on MIPS
Follow-up MIPS progress for all providers
Collect all supporting documents
Certify performance by submitting documentation
What Are All The Major Changes In 2022?
Knowing the additions and changes done to MIPS 2022 final rule is very crucial for avoiding any negative impacts on reimbursement possibilities.
1. Quality category
If your practice submits data as a group, only group-level scores can be submitted.
No bonus points for reporting additional outcomes, patient experience, high-priority measures than one required, or measures meeting end-to-end electronic reporting criteria, hereafter.
2. Cost category
Episode-based measures are added for colon/rectal resection, melanoma resection, sepsis, asthma/chronic obstructive, and diabetes measures.
No changes to the small practice bonus.
3. Promoting interoperability category
Small practices are reweighted to 0% automatically.
No need to submit a Hardship Exception Application or report promoting interoperability data to be reweighted.
New – SAFER guides attestation measure. Immunization Registry Reporting and Electronic Case Reporting measures are required.
For reporting optional measures, bonus points can be earned.
4. Final score recalculation
To provide more weight to improvement activities, points are redistributed for small practices.
5. Performance thresholds
To avoid a negative adjustment in 2024, a minimum final score of 75 points is needed now.
For exceptional performance, 89 points are needed.
2022 will be the last year that additional payments will be made for exceptional performance.
6. Complex patient bonus
The complex patient bonus for the MIPS 2021 performance yeah will continue to double.
7. Facility-based measurement
The MIPS quality and cost performance category score will be measured on the facility-based measurement scoring methodology unless a group or a clinician receives an excessive MIPS final score through another MIPS submission.
Health-IT Compliance services From CapMinds
CapMinds Technology is the "no-compromise" zone for compliance. You can rely upon us anytime because we strictly comply with HIPAA, Meaningful Use, MIPS, MACRA, and other healthcare regulations to protect practices from audit-related penalties, timely and perfect reimbursements, secure patient information, and ensure business continuity & disaster recovery.
CapMinds compliance with regulations ensures you and your practice get paid appropriately for the quality you serve, dodge difficulties, and achieve cost-efficiency. Improving care processes and health outcomes are our strengths by protecting health information and forecasting methodologies to reduce the cost of care.
"Take off the weight that holds you up from reaching the heights with CapMinds health-IT compliance Services"