How E-Prescribing Can Improve Your Practice?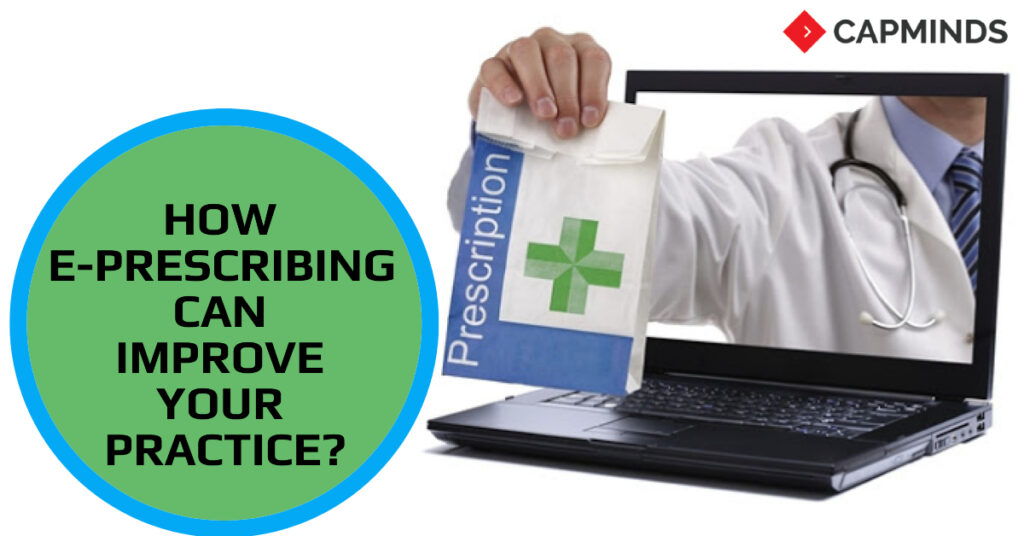 In today's digital world, almost everything is phased out to be substituted with the digital versions. We are enjoying streaming videos, digital music instead of visiting a store to buy physical recordings, read e-books in our mobile apps instead of visiting a library. In the same way, e-prescription is also trending today in the healthcare industry.
Here is a clear look at the benefits and challenges of implementing e-prescribing and how it can improve your practice management and the patient experience.
What Is E-Prescribing?
E-Prescribing – the process of sending digital medication orders to pharmacies via Electronic Health Record (EHR) software. E-prescribing can help practices improve their internal efficiency, either implemented as a stand-alone module or as part of a fully-integrated EHR system.
Electronic prescribing improves accuracy, enhances patient safety and quality of health care since there is no paperwork for the pharmacist to interpret or call in prescriptions.
Manage After-Hours Interruptions By E-prescribing
It is always not possible to address the parent requests for prescription refills after hours. Nowadays many physicians have discontinued providing after-hours refills services to patients. E-prescribing will be very useful for physicians who still offer after-hour refills. This modern technology allows access to patient health records from any time and anywhere if there is a good internet connection. Doctors can review the medical data of a patient before ordering a new medication or approving refills.
Take Away
E-prescribing reduces the amount of time required to address patient requests accurately and completely.
E-prescribing lowers the operating cost by increasing the efficiency of filling and refilling prescriptions.
Reduce The Administrative Burden By E-prescribing
In the case of paper-based prescriptions, the major problem is poor handwriting which leads to a call to the administrative office to clarify the dispensing orders. E-prescribing services reduce unnecessary telephone calls, the pharmacists rarely need to contact a physician to verify the medication.
Take Away
E-prescribing reduces the paperwork time, waiting time for patients at the pharmacy, and ultimately saves money, improving overall satisfaction levels.
E-Prescribing Vs Traditional Paper Prescription
Let's take a small comparison between traditional prescription and digital prescription. Healthcare data sharing is exponentially easier with digital formats than with traditional paperwork.
The handwritten prescription will take very lesser written time when compared to the digital script as it takes some more time to enter the details. But the main factor is, the overall time saving is high for E-prescribing.
For example, if a clinic needs to serve a patient means, first they should manually locate and pull out a paper script, then they should find the recent prescription data and review the healthcare information, finally, they offer to the patients. But with E-prescribing, retrieving a digital file is very easy. Plus, the maintenance cost associated with patient files in E-prescribing is low when compared to the expenses associated with faxing, printing, collating, and mailing paper files.
Take Away
Shifting to e-prescribing in healthcare systems, it has the potential to streamline your industry's workflow and provide more efficient patient health record management.
E-prescribing provides a fully-integrated system compatible with all remote devices from the place where there is an internet connection.
Reducing Patient Return Visits And Preventable Errors
An estimated 13% to 27% of emergency department (ED) visits in the United States could be managed in physician offices, clinics, and urgent care centers resulting in an annual savings of $4.4 billion (Weinick, Burns, & Mehrotra, 2010). It is true, eliminating unnecessary patient return visits could increase the overall savings of the healthcare sector.
A recent survey shows that medical error exceeds nearly 200,000 and the preventable medical error saves thousands of lives every year. Reducing preventable errors in all prescription processes will improve patient outcomes, compliance, and overall satisfaction level.
Implementing E-prescribing In Healthcare Networks Are Easy Today
In today's healthcare industry, it's important to shift to digital health records. As providers and medical sectors embrace cloud-based technology, portable files ensure patients receive high-quality care in their own place, and whenever they leave their home region.
The cost of implementing a new E-prescribing system was more in the past. But today, there are a lot of free and low-price systems for companies of all sizes. More pharmacies are making use of electronic prescribing technology today than ever before.
Take Away
As technology improves and more patients become comfortable with web-based medical services, the E-prescription adoption rates will continue to increase.
It promises healthcare sectors to simplify and improve patient services and practice management.

Get Started With E-prescribing
Going forward, the more providers and medical facilities that embrace e-prescribing technology, the better it will be for all healthcare providers when it comes to increasing the revenue cycle.
E-Prescribe from any internet-connected device to over 10,000+ pharmacies with the help of CapMinds E-prescribing software. From streamlining prior authorization submissions to sending e-coupons to the pharmacy with an order, our easy-to-use software gives your patients the convenience and flexibility they need to get their medications quickly and easily.
If you're interested in switching to E-prescribing, our quick demo on electronic prescribing software will help you to start with it.