EHR Implementation In Billing: Everything You Need To Know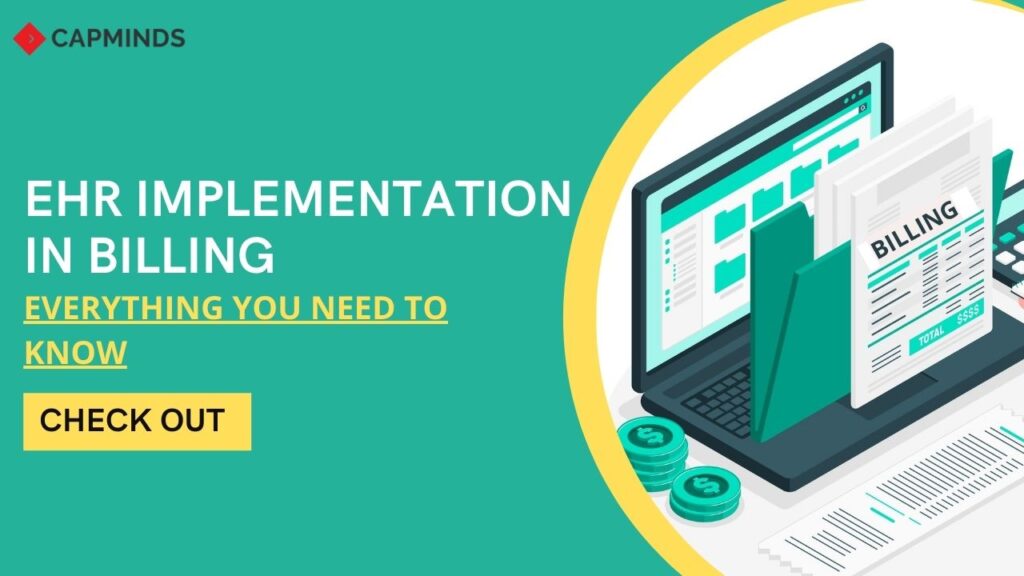 In this digitally driven world, treating patients isn't that much complicated for physicians. But this sometimes depends on the medical history of patients in case of emergencies.
Every one of us; at least once in our lifetime is compelled to consult a doctor no matter what. And think of the situation of people with poor health. They might need to visit physicians and hospitals often.
But thanks to the growing technology in the healthcare industry, the need for taking a paper-filed medical history along with us for every visit has now been reduced with the help of electronic health records (EHR)/electronic medical records (EMR).

So, What Is An Electronic Health Record (EHR)?
Electronic Health Records (EHR) comes in handy for physicians when it comes to treating patients, especially the ones with chronic illness. Patients' medical history speaks everything about their health.
These records help physicians to find exactly what they are looking for. This is extremely helpful in emergencies. EHR is the digital version of a patient's paper record.
Electronic Health Records software helps the healthcare providers or physicians to manage the patients' medical records easily without taking much time and increases the provider's efficiency by automating the clinical workflows.
In simple words, it is aimed at documenting and storing a patient's medical information/history digitally. This helps to make a more accurate diagnosis and treatment.
It helps in reducing the time taken for the providers by eliminating manual tiresome work.
It's a modern and sophisticated tool that uses graphical representations, chart notes for recording a patient's medical history, allergy information, test results, etc. In short, all the information regarding the patients.
EHR vs EMR: The Difference And Benefits
The terms electronic health records (EHR) and electronic medical records (EMR) are commonly used interchangeably by many. For most people, they are the same except for healthcare professionals dealing with policymaking. Let's look into the differences in detail.
As you all know, EHR stands for electronic health records. Here, according to a source, World Health Organization (WHO) defines the term "health" as "a state of complete physical, mental and social well-being and not merely the absence of disease and infirmity".
It is a much broader term that covers more than just medical. On the other hand, the term "medical" in electronic medical records means, the things or materials related to medical procedures alone, involving diagnosis and treatments.
The interoperability facility is higher in EHR than in EMR. The access to EHRs by patients enables them to consult various doctors and reach various healthcare organizations easily.
This enables the caregivers of the patients to help with the diagnostic process and actively participate in the treatment along with the physicians.
This reduces the risk of man-made and unknown errors. EHR increases the satisfaction level of physicians, patients, and caregivers. This collaboration of caregivers, patients, and their doctors helps especially the people who suffer from unknown and rare disorders.
In addition to these benefits, electronic health records (EHR) software also enables experts in public health to get in touch with the medical information of a huge number of patients.
This became essential while fighting the COVID-19 pandemic and it will be crucial at all times to face this kind of unfortunate event.
Using this bulk patient information, the experts can help understand the disease and the symptoms, allowing the policymakers to execute steps to control the spread of infections.
EHR Software is also an amazing tool for improving the process of population health management.
Importance Of EHR In Billing Integrations
Medical billing is a crucial process for every healthcare organization. And it can be challenging for many. Even smaller mistakes and errors made in this process can affect the revenue of the organizations.
1. Paperwork- reduced
Tons of paperwork involved in medical billing. A dedicated team should be there for doing this. And it can be tiresome. However, it is possible to minimize the work by using an integrated billing system.
This helps the staff from getting frustrated due to the heavy work and increases their job satisfaction, work productivity, and profitability of the clinic. Integrating medical billing can reduce human errors and other mistakes. It can save the healthcare organization from claim rejections and denials to a great extent.
2. Better and efficient interoperability
Certified EHR technologies can help organizations to achieve interoperability at higher levels. EHR billing integrations allow sharing of patient data between providers and practitioners.
Data and information other than the sensitive ones can be accessed by third parties to improve patient care.
3. Automated billing processes
In this digitally modified world with automated processes, medical billing is not left alone. EHR integrated medical billing solutions can reduce the number of tiring paperwork and increases efficiency by automating the processes.
Automation speeds up the entire process and reduces human errors and mistakes which causes claim rejections and denials.
4. Higher patient satisfaction
You will agree with us when we say that the healthcare billing/payment process for a patient is a stressful one and can affect their satisfaction level.
But, when implementing an EHR integrated medical billing system, the verification process of patients' insurance plans can be done faster and the waiting time for approval of treatments by physicians can be reduced.
Unforeseen expenses by patients can be avoided by letting them know exactly what the payers cover, which will create more convenience for both the provider and the patient.
5. Better Analytics
The important decisions regarding the growth and improvements of your client's clinics' financial operations can be analyzed by taking advantage of the EHR integrated billing systems.
This will help the clients to measure how well their clinic is doing and the changes that need to be made.
Analytics furnishes integrated financial and administrative data adjacent to the information that can support efforts taken in inpatient care, better services, and improve existing procedures.
Challenges/Barriers In Implementing EHR In Medical Billing
Every EHR system cannot handle medical billing processes. Integrating EHR with billing without knowing the capability of the system can ruin everything.
A billing-friendly EHR can simplify your/your clients' billing tasks without disturbing other patient data.
Mishandling, misusing or losing data can cost billions of dollars. It is common to lose data while the transformation is done from an existing to a new system.
To avoid this, data migration is required to improve interoperability, share health/medical history, etc. Data migration ensures the reduction of errors.
Training is another barrier to implementing EHR in billing. Every new implementation of software and processes needs proper training from and to the staff who handles them.
Every staff is assigned to the work they know and are trained to do, and everyone is not technologically well versed.
So the providers must help the staff with the required training and must help them understand the aspects of EHR and EMR in medical billing.
Training staff well reduces errors made and increases productivity.
The costs of implementing EHR in medical billing are increasing these days. This does not include the cost of the software alone, it also includes the cost of training and other additional resources of the overall package.
Conclusion
Integrating EHR into your medical billing software is an essential process to ensure your practice yields more productivity and profitability. This integration also increases your practice's efficiency.
CapMinds, with our 11+ years of experience in medical billing experience, can empower your practice with ease. Our EHR integrated medical billing supports HIPAA ASC X12 Version 5010 Transaction and Code Set Standards.
We provide services like insurance verifications, certified medical coding, claim submission, payment posting, denial management, patient billing, etc. With our powerful analytics, gain access to the important financial information about your practice, you need to monitor.
A dedicated client manager will be assigned and available for your account, around the clock. So, what are you waiting for? Get started with us today.
"Let's make your medical billing easier by integrating EHR, together"