6 Most Well Guarded Benefits Of E-prescribing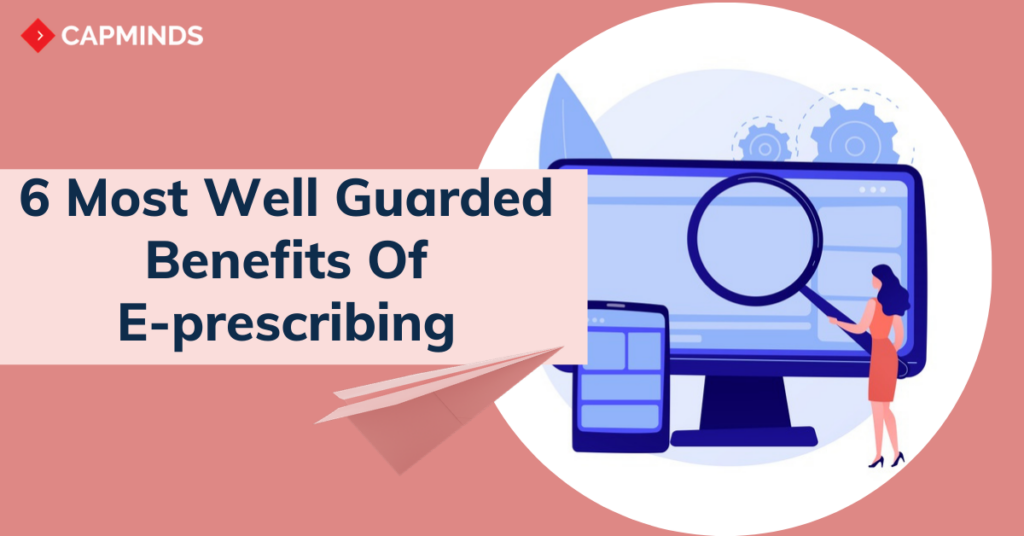 With the old prescription process, the healthcare providers of today are considering it as a tedious task and time-consuming process. To overcome such kinds of hassles, the EHR software has now set a great way where physicians can easily prescribe medications and treatments electronically. The medication details can also be updated easily in the software and pharmacists can view it electronically.
In this way, e-prescribing benefits healthcare providers, pharmacies, and also patients to understand the prescribed medications without any error. By understand this, today most of the EHR software includes e-prescribing as a feature for timely processing of healthcare. Here are some of the valuable benefits of e-prescribing that everyone should be aware of.
1. Increased Productivity
Writing down prescriptions manually can prove to be a daunting task for clinicians at times since these prescriptions usually need to be drawn up and authorized on an individual basis.
With ePrescription systems, clinicians can automatically refill hundreds of thousands of RXs at the same time, leaving more time on the clinicians' hands to review them. This can minimize the prescription error rate, increase efficiency, and reduce no-show appointment rates for that particular healthcare facility.
Technology is rapidly improving patient outcomes in the field of pharmacy. An ePrescription system can also be integrated with a transcription service within the healthcare facility.
Doing this will not only take care of the facility's documentation, but it will also look after its compliance requirements simultaneously. In such a manner, clinicians can easily free themselves of all the data entry related tasks and additional paperwork, and focus on tasks that are directly related to enhancing care delivery.
2. Speedy Medication Process
The previous modes of prescription do not accompany the history of patients accurately. Manual tracking of medical records for a person with critical illness is construed as difficult especially to reconcile medication information.
Electronic prescriptions make it easy to update patient medication history instantly. Besides that accessing electronic prescriptions is easy with the easy software interface. Electronic prescriptions take into account drug-to-drug interaction and fetch data directly from the pharmacy benefit management to speed up the prescription process.
3. Reduce Readmissions
Every year, there are more than 1.6 million hospital readmissions, and more than 13 percent of them are caused in part by adverse reactions to drugs. Of these, 95 percent were due to inappropriate prescription practices — including failure to consider potential side effects and interactions.
When integrated with records systems that provide access to information about a patient's allergies and drug history, e-prescription systems can reduce errors.
They also can give clinicians better information about potential interactions and side effects that they can use to inform their prescription practices. Clinicians that work with e-prescription systems can expect to reduce patient readmissions, saving both doctors and patients time and money.
4. Easy Insurance Verification
Handwritten prescriptions and medical bills submitted for insurance claims build up a critical scenario on insurance approvals. The manual verification of such documents and medical invoices takes a lot of time and effort. In some cases, insurance claims are also rejected.
With an electronic prescription, the healthcare software itself tally the prescribed drugs, pharmacy invoices, and authorizes a particular insurance claim in favor of the patient.
5. Cost Savings
All these advantages also can result in cost savings for practices that adopt e-prescription systems.
The benefits of e-prescription — including improved outcomes, increased efficiency, and reduced patient visits — have been shown to save practices between $140 and $240 billion over the last 10 years. The amount of money saved may even increase in the future as e-prescription systems advance and as pharmacies grow more accustomed to handling them.
6. Augmenting the outcomes of EHR
In the United States alone, more than 4.5 million visits to hospital emergency rooms (ERs) and physicians' offices happen due to avoidable adverse drug events (ADEs) each year. These ADEs normally occur because of allergies, interactions with treatments or drugs prescribed for an existing condition, and other such factors — like high drug dosages and chronic use of certain medications.
The majority of e-prescription systems employed in healthcare facilities today are designed in a way that integrates seamlessly with electronic health records (EHRs), collecting information about patients' past and present medical history, including existing allergies.
These EHR systems can alert clinicians if the chances of a prescription interfering with another treatment are high. They can also prevent clinicians from prescribing a medication that a patient would be allergic to.
Therefore, it can be safely assumed that when used alongside an ePrescribing system, EHR outcomes of hospitals can be ameliorated considerably.
Innovations in technology are helping healthcare providers achieve far more than they'd ever comprehended, especially during the COVID-19 pandemic. ePrescribing has immense potential when it comes to ameliorating overall patient outcomes.
How CapMinds EHR Benefits Your Practice?
Whether your practice is looking to implement EHR software that sends e-prescriptions or needs a different e-prescribing feature, here CapMinds cloud-based EHR services will help you in increasing the efficiency of prescribing, while also improving patient outcomes.