#1 Guide To CMS Rule Towards Healthcare Interoperability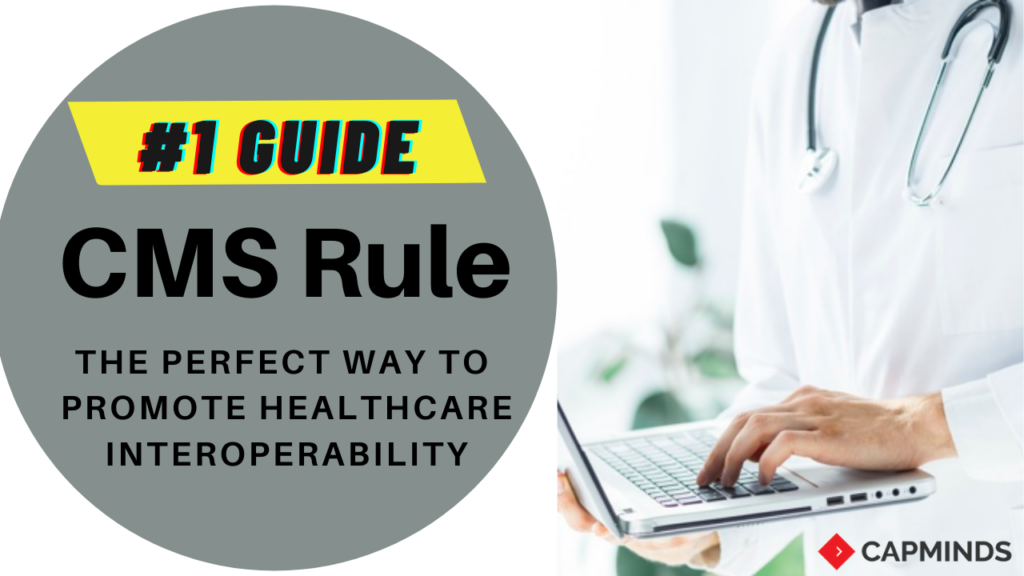 Interoperability challenges have termed a common word in the healthcare industry today. Keeping this in mind, the CMS rule focusing on U.S. healthcare organizations is the perfect way to promote interoperability effectively. And also it is significant for healthcare organizations to adopt APIs as products and API management beyond fast healthcare interoperability resources (FHIR), preparing towards the competitive digital healthcare ecosystem.
Need to know more about CMS Final rule 2020 and healthcare interoperability? Then this article is for you. Here is all about CMS rule and healthcare interoperability challenges.
What is CMS Final Rule 2020?
CMS stands for Centers for Medicare and Medicaid Services – the federal agency within the United States Department of Health and Human Services (HHS) that directs the country's significant medical care programs. The CMS manages programs including Medicare, Medicaid, the Children's Health Insurance Program (CHIP), and health insurance standards. CMS gathers and examines information, produces research reports, and attempts to take out occurrences of misrepresentation and maltreatment within the healthcare framework.
The Goal of CMS Rule:
To promote data sharing more effectively than ever, ONC and CMS delivered their last interoperability rules on March 9 and 25 individually. It ensures that without any advanced technical skills each American can able to access all electronically available medical records relevant to his/her health and care.
The three important things that should be noted with the CMS rules are
Effective data sharing – improved interoperability
Easy patient access to their health information
Prevention of information blocking
CMS Healthcare API Policies
CMS finalized the Patient Access API and Provider Directory API policies for Medicare, Medicaid, and CHIP successful from January 1, 2021.
CMS will exercise enforcement discretion for six months in connection with these two API provisions.
So, as a result of pandemic COVID-19 and also to provide extra flexibility to payers, CMS won't implement the new prerequisites under 42 CFR Parts 422, 431, 438, and 457 until July 1, 2021.
CMS also finalized the Patient Access API for Qualified Health Plan (QHP) issuers on the individual market Federally-Facilitated Exchanges (FFEs) beginning with plan years beginning on or after January 1, 2021. CMS will not enforce the new requirements under 45 CFR Part 156 until July 1, 2021.
Interoperability: A great challenge in today's healthcare
Today, Improved healthcare interoperability is a top priority for everyone in the healthcare industry. Both the public and private organizations are working towards the seamless health data exchange between health IT systems to coordinate care across various health settings nationwide.
A productive, convenient, and advanced method of transferring health information to new networks is critical for patients moving between healthcare organizations, for example, clinics, care homes, or distinctive medical care payers. So, healthcare industries are in a place to provide full interoperability while competing for customer loyalty through higher value.
What are the Challenges in Interoperability?
The top 5 challenges to true interoperability:
1. Developing a standardized way of identifying patients
2. Enforcing health IT interoperability standards across care settings, facilities
3. Enforcing industry-wide interoperability measurement standards
4. Coordinating stakeholders across the industry
5. Ending information blocking and data sharing impediments
Developing a national patient identifier, improving better standardization and collaboration across the healthcare industry, and reducing information blocking are all remaining hurdles standing in the way of true interoperability.
The CMS Rule & Healthcare Data Exchange
The CMS rule serves as the base for healthcare data being exposed in a standard configuration namely FHIR Release 4 (R4) APIs as defined by the healthcare standards organization HL7
This implies that health insurance companies will expose clinically and claims information of patients as FHIR compliant APIs to the patients themselves, or to third-party systems that the patient chooses. The systems that access these APIs can be healthcare apps that the patient consents to and uses, or they can be a different healthcare provider that the patient exchanges.
As the CMS rule can be understood very clear, the implementation details behind the rule will differ with the key concepts. For that, the standard FHIR APIs provide the perfect start for healthcare innovation. Today, the rules specify APIs for patients, claims, and providers, with notifications on patient admissions, discharge, and transfers, paving the way for healthcare interoperability between payers, providers, and vendors.
Becoming compliant with these CMS final rules involves multiple stages and the 4 key important steps are:
Identifying and validating data sources
Integrating with source systems
Translating existing formats to FHIR R4
Exposing FHIR resources as APIs
Conclusion: Beyond Promoting Interoperability
Moving towards the next phase of interoperability is the key that healthcare providers need to embrace if they wish to start ahead in the marketplace. It will give providers across the care continuum access to the data they need for enhanced care coordination and better care delivery at a low cost. And this is possible with CMS rule.