Psychiatry OpenEMR: Solving top 5 Problems of the Specialty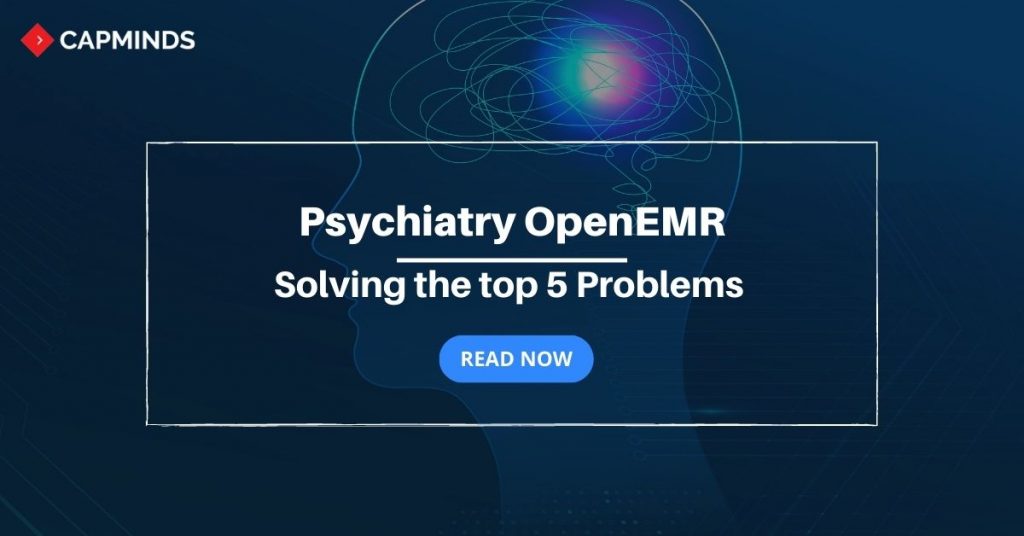 An OpenEMR is a free source of EMRs and practice management. It facilitates a space for clinics to centralize health records, finances, and calendars.
It covers functions from scheduling to the final payment of any by patients. It is full-on HIPAA compliant for the entities covered by it. The covered entities are under the compliance of OpenEMR's federally certified software, HIPAA-compliant cloud services, and AWS's Business Associated Services.
Why does Psychiatry need OpenEMR?
Not all departments in the healthcare spectrum are the same. Each one has its own requirements and needs special attention to carry out its functions.
Psychiatry is the medical specialty devoted to the diagnosis, prevention, and treatment of mental disorders. These include various maladaptations related to mood, behavior, cognition, and perceptions. Psychiatric patients cannot be dealt with like other patients. Dealing with their health documentation needs special tools.
OpenEMR features can highly benefit Psychiatric departments. It allows therapists to record the health conditions and encounters of patients. It also helps therapists to handle financial processes and alerts patients about follow-ups.
OpenEMR gives perfect solutions to the problems faced by Psychiatric specialties. Let's go through the problems and how this adoptable OpenEMR can solve them actively.
Psychiatric problems solved by OpenEMR
1. Outpatient documentation and other complicated tasks
Solution: Composite inpatient/outpatient support system
The present situation of the outpatient and in-patient focus and the composite/hybrid support of OpenEMR for the outpatient community are;
Encounters
Documents
Scheduling
Billing
Medical coding
Cloud-based
Demographics
Lab integration
E-prescribe
SOAP notes
Decision support
Problem/Med list
OpenEMR is also keen and working on features like smart self-measuring and clinical text analysis. This can improve the Psychiatric specialty's in-clinical scaling and communication technology.
OpenEMR is working on facilitating Psychiatry by getting regular vitals for in-patient management. Then it will hook them into their big data platform to provide the therapists with more insights and valuable information. This helps them to get more knowledge rather than providing raw data with features like hospital unit support.
2. Unsecured data exchange between systems
Solution: Highly compliant and secured infrastructure
OpenEMR is 100% HIPAA compliant. A security risk assessment is a requirement in the US for compliance with HIPAA and Meaningful Use. Psychiatric departments can gain the utmost security with OpenEMR which provides protection to;
The support for a role-based menu (that allows customization of OpenEMR's main menu) and a custom-based menu (while developing it each menu item has some fields)
Ability to encrypt patient documents (it uses the PHP mcrypt library)
Active directory support
Database correction encryption support
Supports fine-grained per-user access controls
Remote access from any latest web browser with an appropriate security certificate
3. Disorganized claims and billing processes
Solution: Ultra-modern billing and advanced claim management
OpenEMR's medical billing feature supports;
5010 standards that regulate the electronic transmission of specific healthcare transactions
Institutional Billing Standards (UB-04), the uniform billing form for institutional providers
Electronic billing to clearing houses like Office Ally and ZieMED using the Accredited Standards Committee X12
Paper claims
The medical claim management interface
Insurance Eligibility Queries
Insurance Tracking Interface
Accounts Receivable Interface
EOB Entry Interface
OpenEMR billing is customizable to work with a clearing house for automated Electronic Remittance Advice entry
Has a flexible system of coding including CPT, HCPCS, ICD-9, ICD-10, and SNOMED codes, and the ability to add others.
These integrations allow easy billing and unity of insurance processes for Psychiatry. It saves time for therapists so that they can concentrate more on patient-centric and well-being activities.
4. Inappropriate monitoring of prescriptions and medications
Solution: Smart & faster prescribing
Tracking prescriptions are tiring for Psychiatric therapists with patient-managing tasks. OpenEMR's e-prescribing solves all the issues with tracking and managing patient prescriptions. OpenEMR's prescription feature facilitates;
Tracking of patient prescriptions and medications
Online drug research
Layout customization (with options for Drug Enforcement Administration, National Provider Identifier, and state license numbers.
Creation and sending of prescriptions
Internal pharmacy dispensary support like in-house prescription dispensing, inventory of internal medications, and other healthcare supplies.)
Therapists can just focus on their patients while OpenEMR does the tracking for them.
5. Wrong and untimely clinical decision making
Solution: Advanced Clinical Decision Rules
These tools are created to help Psychiatric therapists make therapeutic and bedside diagnostic decisions. There are 3 stages involved in developing a CDR;
Inference
Authentication, and
Implementation.
Many standards need to be satisfied while designing and analyzing the results of an implementation trial. The CDR feature covers the following functions;
Patient and physician reminders
Automated Meaningful Use Measurement Calculations
Fully Customizable and Flexible
Clinical Quality Measure Calculations
These features will guide therapists in situations of emergency. These will help them make prompt and correct decisions with all the health data available about the particular patients.
OpenEMR Services From CapMinds
OpenEMR consigns clinicians with the best features and ways to integrate. It makes their workflows more efficient and filtered. The integrated features will allow them to combine the ability of patient record management with conceptual and concurrent reminders. This enhances the process of decision-making and improves patient care and quality.
Get the best technologies and HIPAA-compliant and efficient OpenEMR tailored to fit your practice from CapMinds Technology. CapMinds OpenEMR services facilitate a Modern User Interface (UI), customization, production support & training. It also enables billing, report & specialty enhancements, clearing house integrations, e-prescription, cloud, and more.
"Dissolve your Psychiatry clinical issues with CapMinds OpenEMR smart solutions"