Healthcare Trends in 2020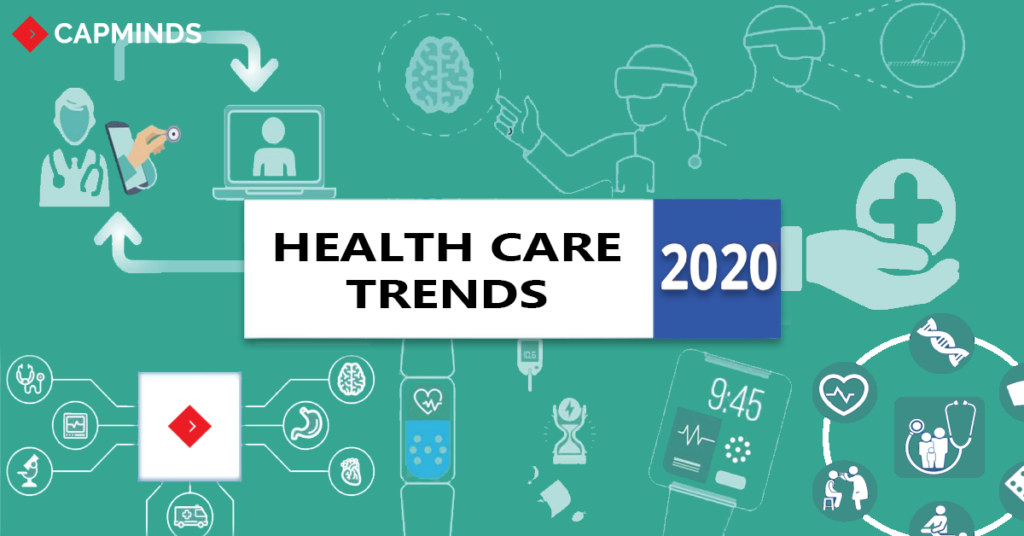 Blockchain, Machine Learning, Artificial Intelligence, 3D Printing, Natural Language Processing- all of these things are going to decide the healthcare trends for 2020. In fact, we suspect that there would be more factors that will affect the world of healthcare deeply. Healthcare is a dynamic industry and the only way to save more lives is to find better ways of treatment. The demand for innovation is always there as it will lead to more positive outcomes, faster disbursal of treatment, higher recovery rates, lower costs, and so on.
Here are some healthcare trends for 2020:
1. Data Sharing:
There is a lot of real-world information that is floating around on social media networks willingly shared by people these days. It would have been preposterous to believe a few decades ago that people would be open to sharing sensitive information about themselves. This is good for health care. Why? Because the more information you have about patients, the better equipped you are to handle their case. Not only that, but companies that have millions of data points will also be in a position to use data to predict when people will get sick. Researchers have found out that based on the spending patterns of people in an area, it could be possible to track the effects of an outbreak.
In fact, there are a lot of organizations that are using people's health-related information to predict illnesses and medical conditions. A few researchers in the UK have used digital receipts of grocery bills to predict geographical areas that have more people with diseases like high blood sugar, cholesterol, and blood pressure.
2.Prices of prescription drugs:
There has been a lot of discussions between pharma companies and governments as to who should bear the skyrocketing prices of prescription drugs. If the government offers to pay, then it will lead to affordable drug prices for the people. In 2020, it is expected that a solution for this would come about.
3.Care model of innovation:
Patients don't want to be just treated for their ailments anymore. They are also demanding a transparent infrastructure where they have access to more personalized services and conveniences. This year, you can expect more medical organizations to take this into account. Offering virtual care via video calls and reducing physical footprint will be essential for starters. With the proliferation of a pandemic like COVID-19, people would be wary of getting infected even through a stray interaction. Hospitals can also offer segmented customer experience and invest in core analytics to streamline the operations as much as possible.
4.Usage of the cloud for collaboration:
Medical organizations are notorious for working in silos and their mantra is not sharing information as patient details are sensitive. But adopting cloud-based solutions breaks down the information barrier. For eg, having a digital copy of a medical document saves time-saving than carrying it around to different places. Doctors who are in different places can also access each other's knowledge without having to travel. When you have the information of a patient readily available on the cloud, it takes a few seconds for medical professionals to go through it. In fact, the same can be shared for different professionals all at once. This will help the hospital make informed medical decisions.
5.Simplifying healthcare data for patients:
Patients these days are not just satisfied to know if they have been treated and cured completely of their diseases. They are also curious to know about what affected them and how they can stay away from similar problems in the future. They would like detailed access to what ailed them and even want to understand the complex reports. Thankfully, there are technologies that are being developed to help them interpret complex medical terms.
6.Home-based healthcare:
The need for home-based healthcare will be on the rise as more patients want to be treated at home, especially since the percentage of older people are increasing in most countries. Transporting the patient is actually a big hassle and if there is a way to decentralize the treatment given to patients at their homes itself, it will reduce the heavy load of hospitals. With IoT devices, pacemakers, blood pressure devices, glucometers, and other smart devices, home-based healthcare is getting more acceptance these days.
7.AR/MR/VR in Healthcare:
The arrival of augmented and virtual reality have made dramatic changes in healthcare. From helping students learn to plan complex surgeries, simulated environments can lead to a lot of new perspectives being unearthed without having to test with a live patient. Patients who have dementia and other cognitive impairments can go through simulated environments where they can unlock memories and improve they're well being.
By being able to render 3D information in real-world, it allows surgeons to get familiar with procedures while having access to other types of data through different kinds of technologies.
8.Chatbots:
Routine questions asked by patients can be solved by using AI-backed chatbots which will help address such questions. It will save a lot of costs for the hospital as they don't have to get the help of customer service agents for answering repetitive questions. Instead, your customer service team can work on more productive tasks that will smoothen the operations. They wouldn't have to worry about taking care of mundane questions while more challenging questions can be addressed by them with the utmost attention given to them.
Conclusion:
With healthcare at the cusp of all of these trends in the year 2020, hospitals should have a clear-cut objective of what they aim to achieve. Technology is going to be a major enabler in making that happen. Medical organizations need to open themselves to the possibility of newer technologies that can radically shape the way they function. It is only going to result in reduced expenses, better interoperability, and a streamlined operation process. What are your goals in improving your incumbent operations?