CapMinds Integrated Electronic Lab Ordering: Helping Physicians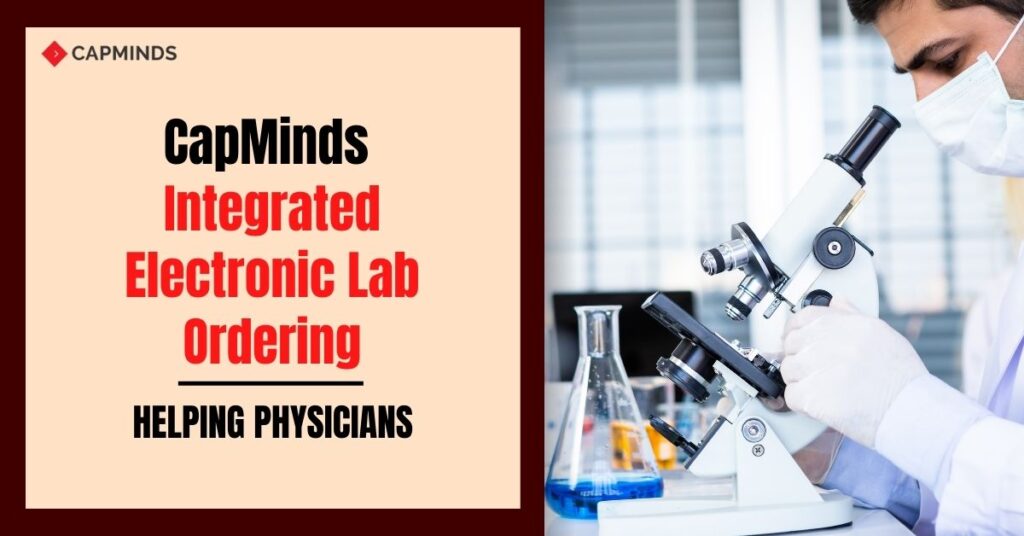 Physicians face more than a few difficulties in their daily lives. Managing lab orders electronically is one of the notable ones. Not having an automated lab ordering in their system even if they have embraced EHRs brings struggles for them daily.
The traditional methods of ordering and getting laboratory results proved to be a waste of time and increased failures. Usually, physicians create lab orders and fax them to labs or a particular lab's web portal. This creates lags in the ordering process increasing the chances of errors and missing information. These mistakes impact the patients, clinic, and lab.

Integrating Electronic Lab Ordering With CapMinds EHR Solutions
CapMinds EHR solution with integrated lab ordering can:
Empower your clinics, hospitals, and other healthcare organizations to handle incoming lab outcomes properly.
CapMinds EHR services can warn providers of outside lab conditions.
Helps providers to find and target patients with unusual lab results for follow-up care.
Help providers know the necessary lab tests.
Notifies your practice to order the only required tests.
Helps your practice to improve the quality of care.
Utilizing CapMinds EHR services results in improved patient care.
CapMinds EHR services with lab integration assist your practice to promote healthcare quality.
The lab integration feature helps practices to handle properly and scrutinize incoming lab outcomes in ways that matter to patients.
Meeting Meaningful Use requirements in transferring lab orders is made easy here.
CapMinds EHR Lab Integration Services Are Clear, Absolute, And Practical
The data transmitted will be clear, logical, and absolute. But making sure of adequate lab results is important as the otherwise circumstance can lead to many problems since labs usually face shattered ways to how data is transmitted from different EHR systems.
---
As CapMinds EHR services automate most of the data involved in a lab order, the physicians have to do only a few things to establish the required additional information. This decreases the possibility of failure and errors.
Our EHR services add extra precautions to ensure that errors on the part of physicians get avoided, like blocking the wrong labs or duplicate labs from being posted.
---
CapMinds EHR services: The Recognized One For Future
The bigger potential gains for utility and effectiveness in EHR lab orders are shortly for both the physicians and the patients. CapMinds will be the one who leads you to this advanced betterment of healthcare services.
CapMinds EHR customization and lab integration services enable practices to enjoy the benefits of lab orders and customized services for achieving perfect effectiveness, patient satisfaction, provider satisfaction, coordination, engagement, patient outcomes, and increasing the quality of care provided.
CapMinds cloud-based EHR solution offers the right tools you need to deliver better patient care from documentation, billing, and reporting. The user-centric design and quality performance system allow your practice to work efficiently, leaving a lot of time for your patients. Our cloud-based EHR relieves you from maintaining expensive servers and IT staff.
Visit our website to know about more integrated and other solutions and services provided by us.
"Let us transform the way of lab ordering for you"