Can large clinics use OpenEMR? [Top 8 challenges & shotgun solutions]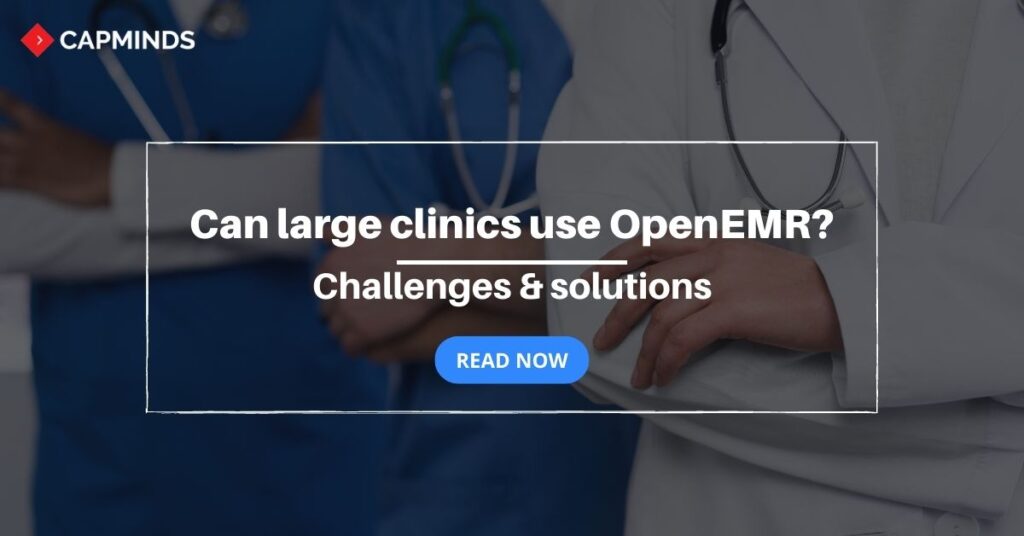 An OpenEMR to begin with is a free source of electronic medical records and practice management. It facilitates a space for clinics to centralize health records, finances, and calendars.
It covers functions from scheduling to the final payment of any by patients. It is full-on HIPAA compliant for the entities covered by it. The covered entities are guaranteed compliance by OpenEMR's federally certified software, HIPAA-compliant cloud services, and AWS's Business Associated Services.
OpenEMR serves as a cement to the challenges faced by large clinics. Let us concentrate on the problems and how this adoptable OpenEMR can solve them diligently.
Problem 1: The complicated in & outpatient documentation and related tasks
Solution: Hybrid inpatient/outpatient support
The current status of the outpatient and in-patient focus and the hybrid support of OpenEMR for the outpatient community are;
Encounters
Documents
Scheduling
Billing
Medical coding
Cloud-based
Demographics
Lab integration
E-prescribe
SOAP notes
Decision support
Problem/Med list
OpenEMR is also keen and working on features like smart self-measuring and clinical text analysis.
For hospitalized/in-patient management, they are working on facilitating hospitals and clinics by acquiring regular vitals and hooking them into their big data platform to provide the physicians with more insights and useful information rather than providing raw data with features like hospital unit support. The web PACS system allows providers to read the radiology report along with the ability to see the DICOM image.
Problem 2: Managing claims, A/R interface, insurance queries, etc.
Solution: Advanced billing
OpenEMR's medical billing feature supports;
5010 standards that regulate the electronic transmission of specific health care transactions
Institutional Billing Standards (UB-04), the uniform billing form for institutional providers
Electronic billing to clearing houses like Office Ally and ZieMED using the Accredited Standards Committee X12
Paper claims
The medical claim management interface
Insurance Eligibility Queries
Insurance Tracking Interface
Accounts Receivable Interface
EOB Entry Interface
OpenEMR billing is customizable to work with a clearing house for automated Electronic Remittance Advice entry
Has a flexible system of coding including CPT, HCPCS, ICD-9, ICD-10, and SNOMED codes, and the ability to add others.
These billing abilities and integrations allow easy billing and coordination of insurance processes.
Problem 3: Secured electronic data exchange across different systems
Solution: Rocksolid security
OpenEMR is 100% HIPAA complaint. A security risk assessment is a requirement in the US for compliance with HIPAA and Meaningful Use. The OpenEMR provides security to;
The support for a role-based menu (that allows customization of OpenEMR's main menu) and a custom-based menu (while developing it each menu item has some fields)
Ability to encrypt patient documents (it uses the PHP mcrypt library)
Active directory support
Database correction encryption support
Supports fine-grained per-user access controls
Remote access from any latest web browser with an appropriate security certificate
Problem 4: Cost-budget barriers to effective treatments
Solution: Low-cost medical devices connectivity
The major challenges faced by practices are the cost associated with developments and upgrades. OpenEMR is an open source which means it's free to download, install, upgrade and use. The cost enters only when additional support is needed. The cost of OpenEMRs is comparatively lower than most proprietary EMRs developed by traditional vendors. This is the sole reason why they provide low-cost medical device connectivity.
Problem 5: Proper tracking of patient prescriptions and medications
Solution: Quick & effective prescribing
Tracking and managing patient prescriptions is always a headache for healthcare providers along with all the other tasks they do. OpenEMR's e-prescribing solves all the issues with this particular problem. OpenEMR's prescription feature facilitates;
Tracking of patient prescriptions and medications
Online drug research
Layout customization (with options for Drug Enforcement Administration, National Provider Identifier, and state license numbers.
Creation and sending of prescriptions
Internal pharmacy dispensary support like in-house prescription dispensing, inventory of internal medications, and other healthcare supplies.)
Problem 6: Making timely appropriate clinical decisions
Solution: Clinical decision rules
These tools are created to help physicians to make therapeutic and bedside diagnostic decisions. 3 stages are involved in developing a CDR;
Inference
Authentication, and
Implementation.
Many criteria need to be fulfilled while designing and measuring the results of an implementation trial. The CDR feature covers the following functions;
Patient and physician reminders
Automated Meaningful Use Measurement Calculations
Fully Customizable and Flexible
Clinical Quality Measure Calculations
Problem 7: Language and cultural barriers
Solution: Multilingual support
OpenEMR is software that is being adopted globally for its versatile use and abilities and the barrier to language does not bother its adoption as it now supports nearly 34 languages. Any language can be added and translated using a collaborative google docs spreadsheet managed by the OpenEMR community.
It fully supports UTF-8 encoding (an encoding system for Unicode. It translates any Unicode character to an equally unique binary string, and can also translate the binary string back to a Unicode character)
Supports RTL (right to left)
Supports the use of multiple languages within the same clinic
Problem 8: Patient Access
Solution: Patient portal
Facilitates patient-provider communications and empowers patients to take care of their health, diagnoses, and treatment by themselves. OpenEMR patient portal serves as a direct platform for communication within appointment scheduling and document and file sharing.
In OpenEMR there are two options for setting up a patient portal.
Functional patient portal (included with OpenEMR).
CMS patient portal (uses a set of APIs included within OpenEMR).
The patient portal feature in OpenEMR contains the following functions;
Scheduling and appointments
Online payments
Modern User Interface
Secure messaging and chats
Direct messaging for sharing records
New patient registration
Customized forms
CCDA support
Labs
Reports
Medications & medical problems
Allergies
Secure API that Supports Third Party Patient Portals
Appointments
---
Note: OpenEMR is being constantly updated and patched for improving the vast workflow functionalities of hospitals and other healthcare providers by its community. Constant OpenEMR upgrades are required for extracting high productivity from its side.
---
OpenEMR Services From CapMinds
OpenEMR consigns clinicians with the best features and ways to integrate easily and make their workflows more efficient and filtered. The fully integrated features will allow them to combine the ability of patient record management with conceptual and concurrent reminders to enhance the process of decision-making and improve patient care and quality.
Get the best technologies and HIPAA-compliant and more efficient OpenEMR that can be tailored exclusively to fit your practice needs from CapMinds Technologies. CapMinds OpenEMR services facilitate a Modern User Interface (UI), customization, production support, training, compliance, billing and report enhancements, specialty enhancement, clearing house integrations, and lab & e-prescription (eRx) integrations, payment and communication, and cloud & security.
"Let's dissolve your clinical issues with smart solutions along with CapMinds OpenEMR services"